Across the UK, many office workers are struggling with neck and back pain. Sitting for prolonged periods of time will create pressure in your neck and back, which could cause serious issues such as bulging discs and scoliosis.
There is a range of familiar products that have been around for many years that can offer some assistance, such as ergonomic office task chairs, anti-fatigue mats, kneeling chairs and even exercise balls. However, height-adjustable desks are increasingly becoming the go-to option for office workers, which highlights just how many of us suffer from back pain.
This article will explain how adjustable desks can help back pain, how sitting for prolonged periods can cause back pain, and how often you should sit and stand at work.
Click on a link to jump to that section:
Read about the link between prolonged sitting and back pain.
Common mistakes made in the office that can contribute to back pain.
Find out more about adjustable workstations and how they can help prevent and reduce back pain.
The correct way to stand at an adjustable workstation.
Find out how often and how long you should stand at an adjustable workstation.
Find out how moving regularly can benefit you.
The correct way to sit while working to prevent back pain.
Our recommended products to help back pain while working.
Tips on preventing and reducing symptoms of back pain when working from home.
Tips on preventing and reducing symptoms of back pain when working from home.
Why can prolonged sitting cause back pain?
We all know that leading a sedentary lifestyle is not good for our health, and neither is sitting at a desk all day. Sitting for long periods puts pressure on our spinal discs and back muscles, with poor posture also being a leading cause of back pain. A study conducted at Loughborough University found that prolonged sitting time is also associated with a higher risk of obesity in adults, which can also increase the risk of back pain.
Common mistakes made in the office
If you are suffering from shoulder strain or back pain whilst working, there is a high chance that poor posture is contributing to your issues. The following are the most common posture mistakes:
1) Incorrectly positioned monitor – A monitor which is too high or low will force your neck to extend, causing fatigue in your muscles and compressing joints. Your desk, task chair and computer screen should be positioned so that your eyes are in line with the top of the screen.
You can read more about maintaining a correct ergonomic monitor height here.
2) Slouching in your chair – If you are slouching in your chair, it is likely that it is either too high or low. This can lead to poor circulation, fatigue and issues with your spine. A footrest under the desk will also help to prevent leg fatigue and lower back pain.
3) Incorrect office task chair – Your workstation task chairs should provide sufficient lower back support via an adjustable backrest, in addition to armrests supporting your elbows. The chair should be positioned so that your knees and hips are at 90-degree angle sitting position, as this will prevent injury to the lumbar spine.
4) Mouse and keyboard position – Your mouse and keyboard should not be positioned too far away, as repetitive reaching and stretching can cause tension within the neck, back, shoulders and arms. Instead, use an ergonomic keyboard which results in only a slight tilt of the wrist and a mouse that is within close reach.
What are adjustable workstations and how can they help back pain?
A sit-stand desk is an ideal solution for those who need to spend hours each day in front of a computer screen. The adjustable height of these desks is designed to improve posture, relieve neck and back pain and can also increase productivity. Although standing desks are a relatively new concept, there are various studies which have supported these claims.
For example, a study in 2016 found that employees using a standing desk within a call centre were 45% more productive than employees who remained sitting at a traditional office task chair and desk. The ability to quickly switch between sitting and standing relieved muscle tension and allowed employees to stretch and feel more refreshed throughout the day, which is also known to reduce and prevent back pain.
A great example of a sit-stand desk is our Active Electric Sit Stand Workstation, which instantly converts any desk into an adjustable desk. The user can quickly move from sitting to standing, simply by touching a button.
Active Electric Sit Stand Workstation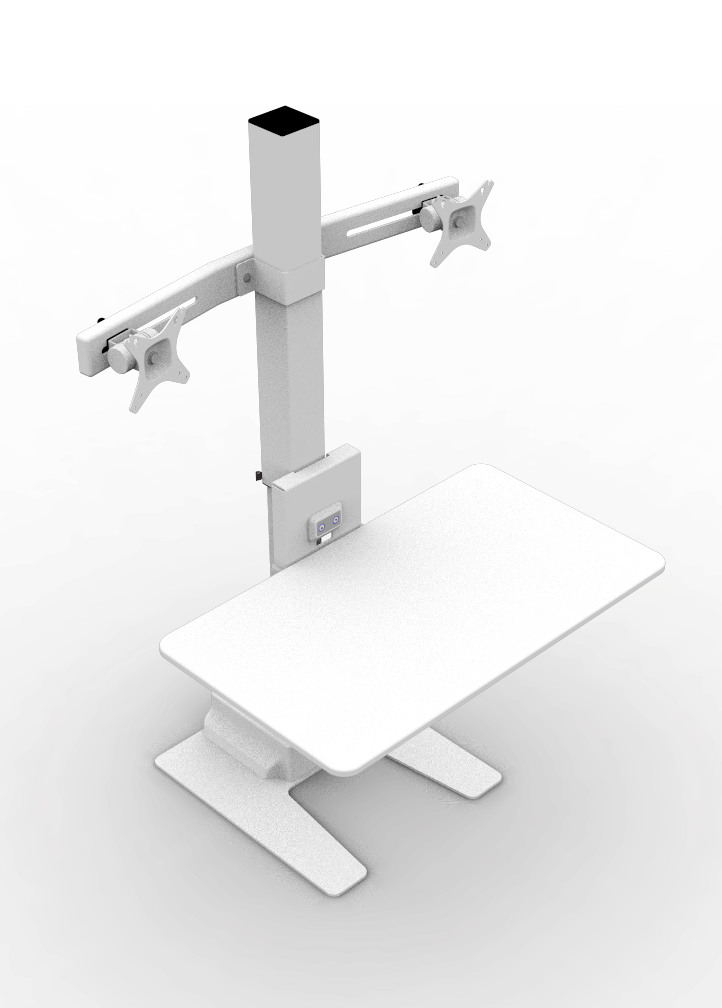 Instantly converts any desk into a sit-stand workstation
700mm x 400mm solid working surface
Quick and easy assembly
Comes complete with a single and double supports
Power assisted height adjustment
Single option supports monitor weights up to 7kg and the double option supports monitor weights up to 14kg
How should I stand at an adjustable workstation?
The first thing you need to do is adjust the desk to the correct height so that your back is not slouched or arched. The ideal height will allow you to rest your wrists flat on the desk, so your elbows are positioned at a 90-degree angle. Then, you should stand with your head tilted slightly back, your hips facing forward and your spine correctly aligned with a natural 'S' curve. Finally, position the monitor so that the top of the screen is at eye level.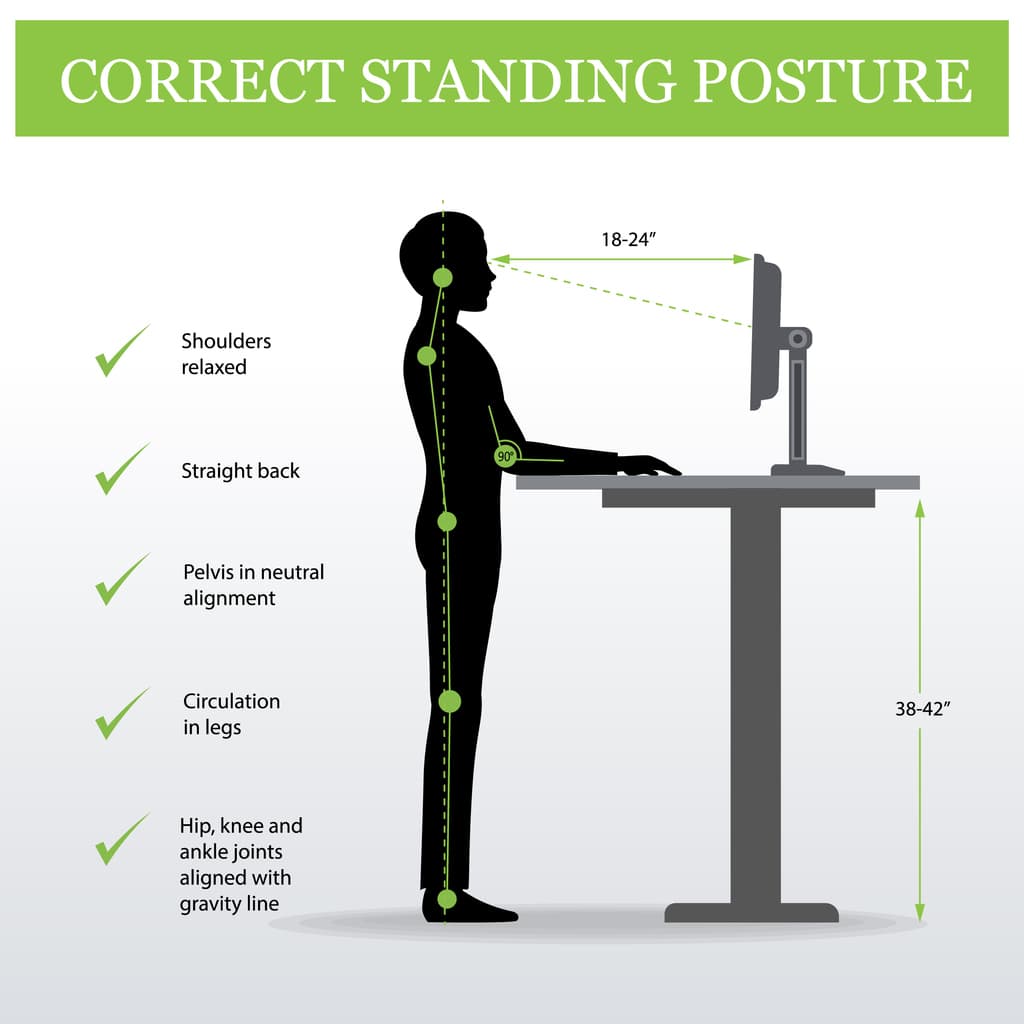 How often should I stand to treat back pain?
If you suffer from back or neck pain, incorporating good posture through the use of a standing desk will help. However, you should ease into using the desk slowly as prolonged periods of standing when your body is used to sitting can be stressful on your back. Begin by standing for 30 minutes three or four times per day, then build up to blocks of one hour or longer over several weeks.
Can I do any exercises while standing?
Although standing at a desk will reduce the stress on your back, it is important to move regularly. Simply changing positions, walking on the spot, or taking a short walk every 30 minutes can provide pain relief and reduce muscle fatigue.
How to sit to prevent back pain
If you are sitting on an office chair, there are steps you can take to prevent back pain. The task chair itself should be adjustable and able to support the spine's natural curve. Firstly, make sure your lower back is correctly supported by sitting far back into the task chair, relax your shoulders, then position your neck and head in a neutral position for good posture. It is also important to position your feet so that your knees are in line with your hips, with feet either on the floor or on a footrest.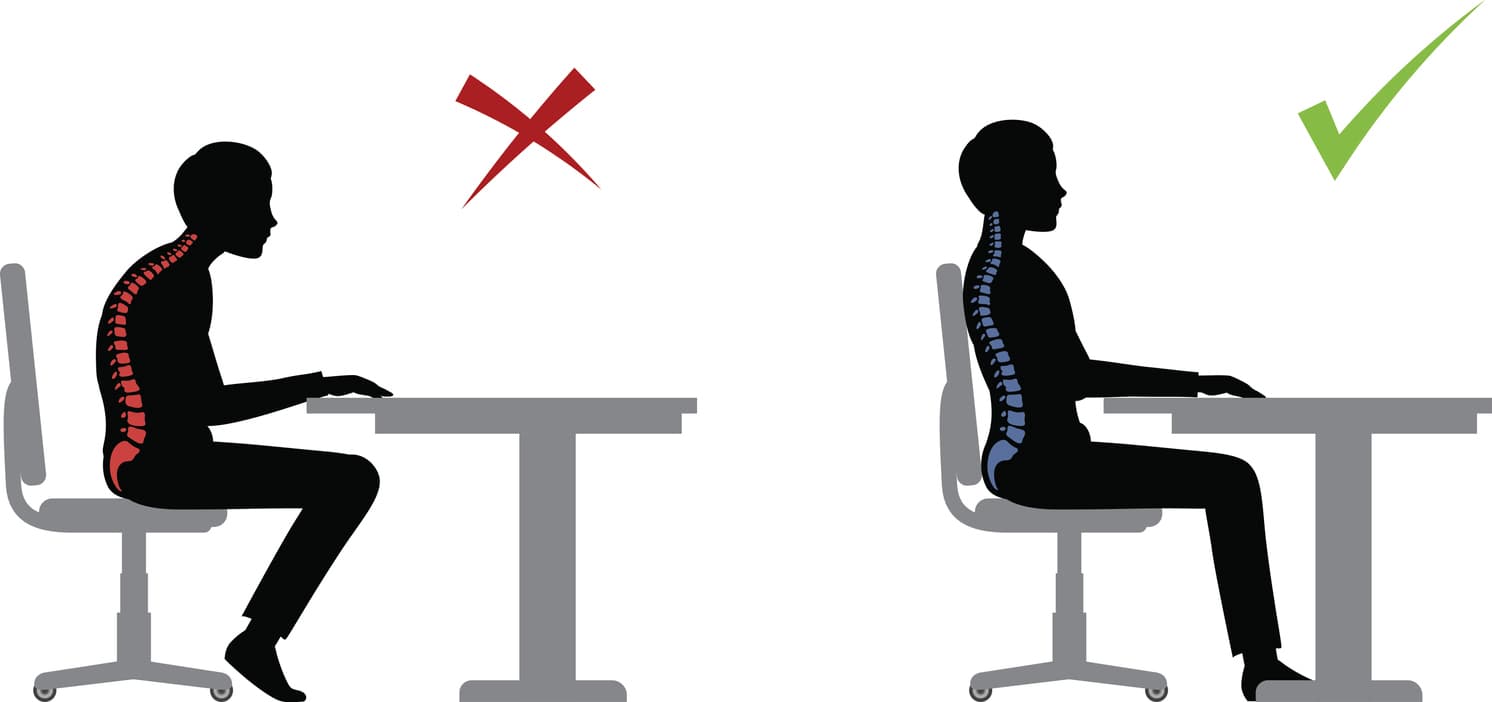 Other products that can help back pain
There are several additional products that can assist with proper posture, including:
1) Monitor and laptop stands
2) Ergonomic pillows
3) Ergonomic task chairs with lower back support
4) Correctly positioned hardware
5) We have several ergonomic solutions available which are designed to improve productivity and posture; these are viewable here.
Working from home with back pain
An increasing number of people are working from home, so there are many situations where we have to adapt our home environment to suit desk working. Although adjustable workstations are a great way to prevent back pain, there is a financial investment. If you are looking to improvise during the short term, there are ways to improve your setup to avoid back pain.
For example, you can adjust the height of your monitor with books to ensure it is correctly aligned or use a pillow on your chair to create the best seating position possible. It is important to take regular breaks from your chair so try to stretch, change position and walk as much as possible.
Our Vision H ergonomic workstation is specially designed for offering ergonomic support for home workers. The range includes; a single monitor support, a dual monitor support and a single monitor and laptop support and can be adjusted to a range of heights to suit individual users.
Vision H Ergonomic Workstation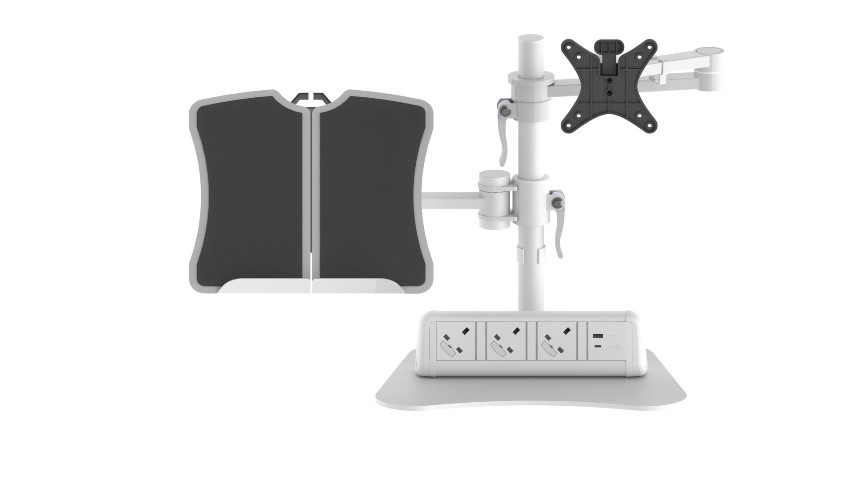 Available in white
The range includes a single monitor support, a dual monitor support and a single monitor and laptop support
Optional 3x power and 1x USB Type A&C charger sockets
Includes cable management clips to secure cables to the arm and pole sections
Supports monitors and laptops up to 5kgs (2x 5kgs when used with a dual monitor support or a single monitor and laptop support)
Quick and easy to install
Are you currently from home? You can view our full range of homeworking products here.
Frequently asked questions
Can stretching help prevent back pain?
Regular stretching will help to protect your back, as the movement increases flexibility and helps to reduce the risk of injury.
How do you fix minor posture problems that lead to back pain?
Poor posture can lead to disc degeneration and chronic back pain, as well as pain in your shoulders, neck and hips. To fix minor posture issues, you should avoid tilting your head. Rest your back flat against the back of the chair, pull your shoulders back and rest your feet flat on a footrest or on the ground.
Does lumbar support actually help?
Yes, lumbar support helps to improve posture by filling the gap between the office task chair and the lumbar spine. This supports the inward curve, which is positioned in the lower back and helps to prevent slouching.
What can you do about forward head posture?
There are some small exercises you can use to improve forward head posture. Try to tilt your head forward so that your chin rests on your chest, hold the position for five seconds. Then, rotate your head to each side for five seconds until you feel a slight stretch. Finally, push your head forward until you feel the stretch and hold for five seconds. Repeat these exercises four times a day, with four sets of the exercises, and you should see an improvement in your posture.
What height can a standing desk be raised to?
A sit-stand desk should be raised to a height that allows you to rest your arms comfortably at your sides whilst typing on the keyboard, with your hands in line or just below the level of your elbow. Naturally, the height of the standing desk will vary depending on your own height; for example, an individual measuring 180cm tall would have their desk set to roughly 111cm high.
We are committed to helping office workers create the ideal ergonomic workspace. For more information on working ergonomically, visit our ergonomics advice centre.
Related content
The best ergonomic products for shoulder pain
Maintaining the correct ergonomic monitor height