According to a study from AXA Health, almost three-quarters of the UK workforce spends the majority of their workday sitting down. Of those questioned in the study, 46% reported that they are seated for between 4 to 6 hours during office hours, while a further 25% said they spend up to 7 to 8 hours sitting while at the office.
With such a huge proportion spending long periods sitting, it's no surprise that many Brits are struggling with shoulder pain. Poor sitting posture is a common cause of shoulder pain. In this article, we'll explore the causes of shoulder pain in the workplace and lay out essential tips on setting up an ergonomic office.
Click on a link to jump to that section:
Read about the common causes of shoulder pain, and how the incorrect work set-up can cause or worsen symptoms.
Find out about how different posture mistakes and other habits can cause shoulder pain.
Read our tips on sitting correctly while working to avoid shoulder pain.
Recommended ergonomic products for treating shoulder pain.
Read our tips for working from home ergonomically, including how to improvise with your surroundings and useful homeworking products.
Frequently asked questions on preventing and treating shoulder pain.
What causes shoulder pain?
Pain in the shoulders can range from a mild ache to a burning sensation, and is often caused by repetitive strain on the tendons and ligaments that surround the joint of the shoulder. It is also possible to injure the cartilage, menisci and bones in the shoulder joint.
Although a shoulder injury can be caused by big and strenuous movements such as lifting heavy objects, it is also very common to injure the shoulder by performing small movements repeatedly, such as when using a mouse or typing on a keyboard.
Shoulder pain might also be caused by musculoskeletal disorders. For example, chronic pain and stiffness in the shoulder are symptoms of arthritis or a condition called frozen shoulder, while pain that gets worse when moving the arm and shoulder could be caused by bursitis, tendonitis or impingement. All of these conditions might be worsened by improper sitting posture and long-term computer use.
What are common causes of shoulder pain in the workplace?
There are several potential causes of shoulder pain in the workplace, many of which are related to the use of computers.
Repetitive movements
Repetitive strain injury (RSI) occurs when muscles and tendons are overused as a result of repetitive movements, such as operating a mouse or typing on a keyboard. Although these aren't the most strenuous of activities, over long periods, they can lead to a range of shoulder pain symptoms including:
– Aches, pain, cramps and tenderness
– Throbbing
– Stiffness
– Tingling or numbness
– Weakness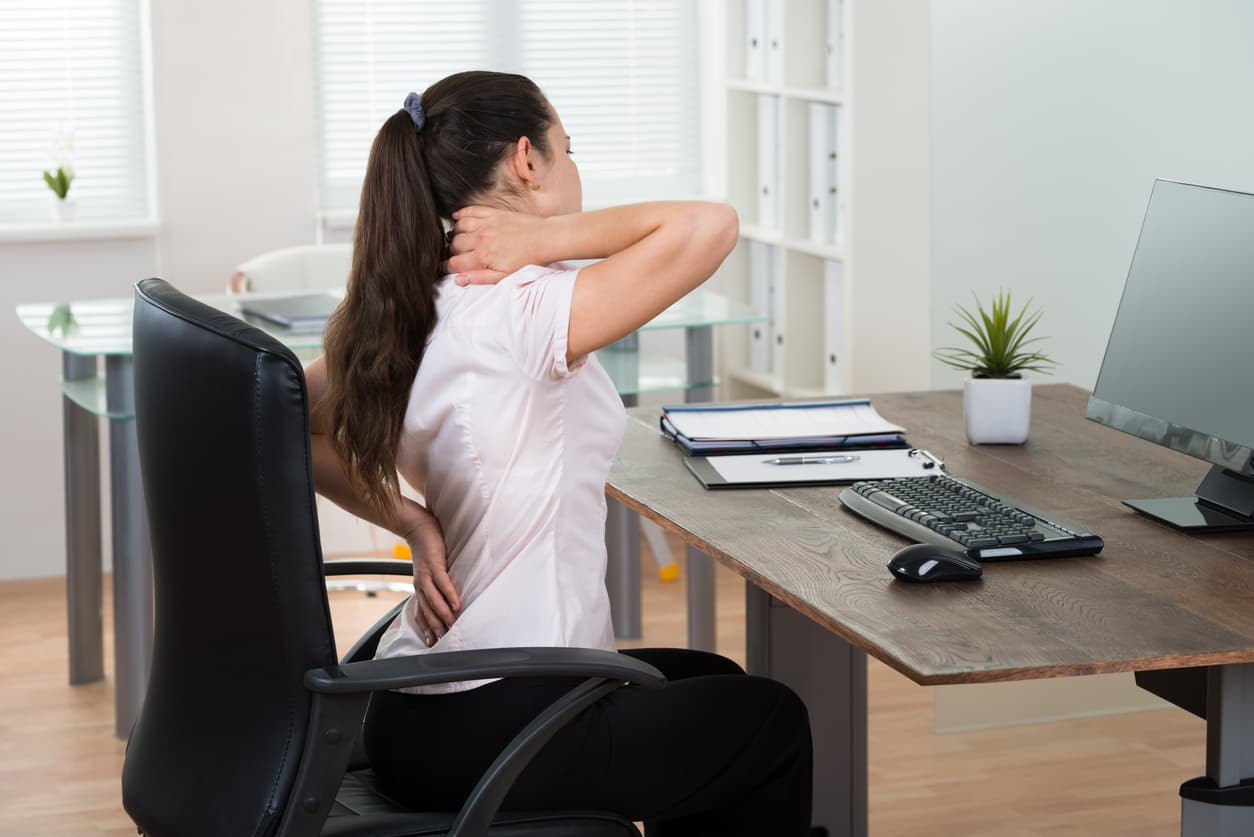 Mouse movements and typing
If you experience aching or burning shoulder pain that radiates down the arm attached to your dominant hand, it could well be what is known as "mouse shoulder". The muscles, tendons and ligaments surrounding the shoulder are often overused when using a mouse. Though only a small amount of force is needed to drag or click a mouse, repetitive use of such force can lead to shoulder pain. Similar problems can occur from persistent keyboard use.
If the mouse and keyboard are too far away from the user, additional strain will be placed on the shoulders due to the need to reach towards them.
Poor posture
Computer users often find themselves hunched over their desks in unnatural positions due to the incorrect desk height, chair height, and monitor, keyboard and mouse placement. Poor monitor placement can lead to straining of the neck which impacts the shoulders too. Office task chairs that do not support the back, neck or arms can also contribute to shoulder pain.
Lack of breaks
A major cause of shoulder pain in the workplace is simply a lack of breaks from repetitive movements and sitting positions. To avoid strain and keep muscles and tendons flexible, it's a good idea to take plenty of short breaks rather than infrequent long breaks. Try slowly raising the shoulders up towards the ears and back down, or interlocking the fingers and extending the arms out in front of you to stretch the wrists.
How can I sit correctly to avoid shoulder pain?
Sitting in a neutral posture will not only help to minimise shoulder pain, but it will also reduce the risk of injury to other parts of the body. Follow these steps to sit correctly at your desk:
1. Sit up straight with your head aligned over your neck and chest.
2. Adjust your office chair to ensure your hips are raised slightly higher than your knees when feet are on the floor or on a footrest. Elbows should be bent at a 90-degree angle when the palms rest on the desk.
3. Raise or lower your monitor to ensure you can see the whole screen without tilting the head up or down.
4. Keep the mouse and keyboard close to your hands.
What are the best ergonomic products for shoulder pain?
Ergonomic task chairs, which are designed to support the natural posture of the body, can help you to maintain a neutral sitting position to reduce shoulder pain. Choose an ergonomic task chair with armrests to reduce the need to lift the arms to reach your mouse and keyboard, and if possible, pick one with a memory foam headrest to support the neck.
Adjustable desks, such as the Active Sit Stand Workstation will also help you to achieve a healthy sitting position that is just right for your body.
Recommended products
Active Sit Stand Workstation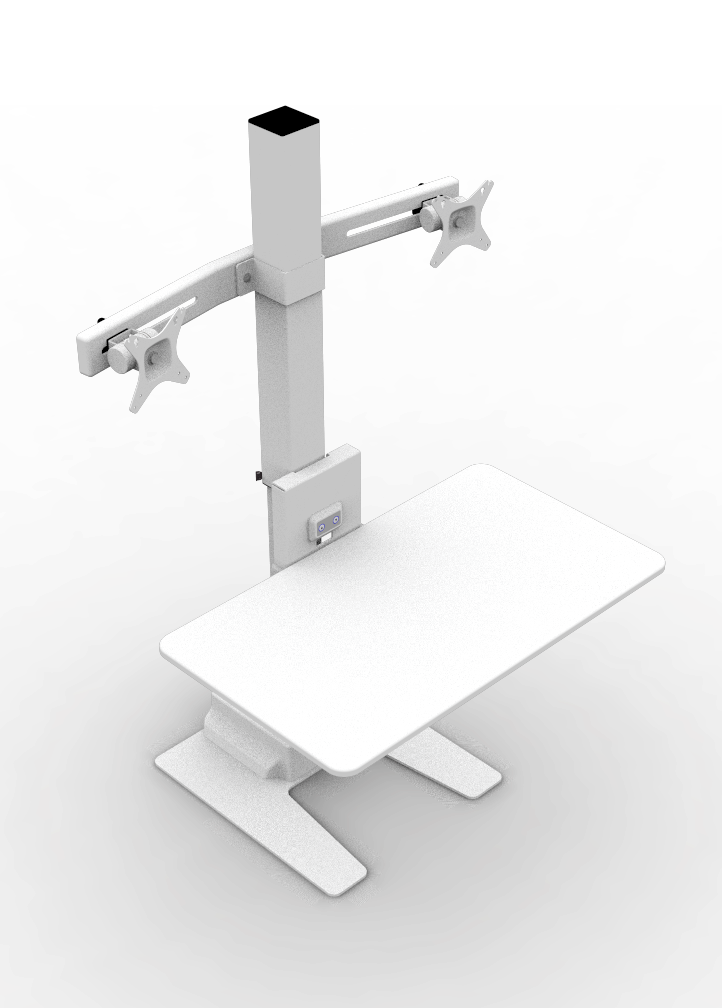 Instantly converts any desk into a sit stand workstation
700mm x 400mm solid working surface
Quick and easy assembly
Comes complete with a single and double supports
Power assisted height adjustment
Single option supports monitor weights up to 7kg and the double option supports monitor weights up to 14kg
VESA Complaint 75mm & 100mm
To avoid holding the neck in an awkward position, try a monitor stand to ensure your computer screen is at perfect eye level. Document holders are also very handy for avoiding craning the neck or hunching the shoulders when referring to physical documents while using a computer.
CMD Reach Spring Assisted Monitor Arm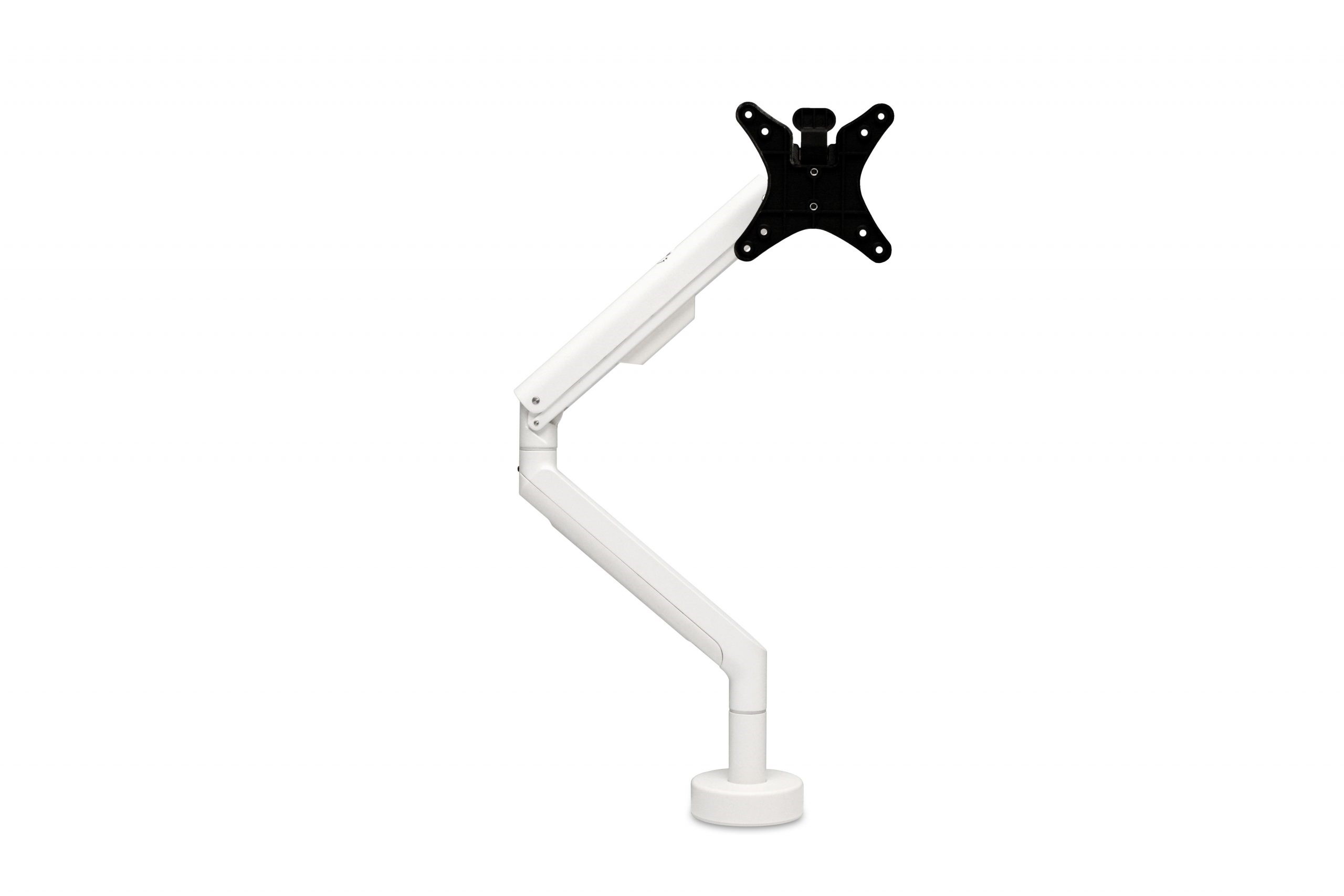 Awarded Ergonomics Excellence by FIRA
10 Year Warranty
Spring assistance for fingertip movement
Folds flat into 80mm of space
Integral cable management
Standard Arm supports monitor weights between 2Kg- 5Kg
HD version product supports monitor weights between 3Kg- 8Kg
Supplied with top mounting universal C-Clamp, Through Desk & Grommet hole fixing
Available in three colours, Silver, Black & White
An ergonomic mouse, which fits more naturally into the palm of the hand than a traditional mouse, could help you to avoid over-rotating the wrist and putting strain on the shoulder. Adjustable keyboards are another great way to avoid having to tense the arms or wrists while typing.
Working from home with shoulder pain
It can be tempting when working from home to simply rest a laptop on your knees and work from a comfortable armchair, sofa or even bed. However, this is bad news for the back, neck and shoulders which will be unnaturally hunched over while working. Instead, try to work at a dining table and sit in a task chair with a firm back for lumbar support.
Use pillows to raise yourself higher if necessary and place a couple of books on the floor to use as a footrest. You should also use books, or even a monitor stand to raise the height of your monitor screen. You can also use a laptop stand to raise the height of your laptop if you have an external keyboard and mouse.
Recommended products
Laptop stand for homeworking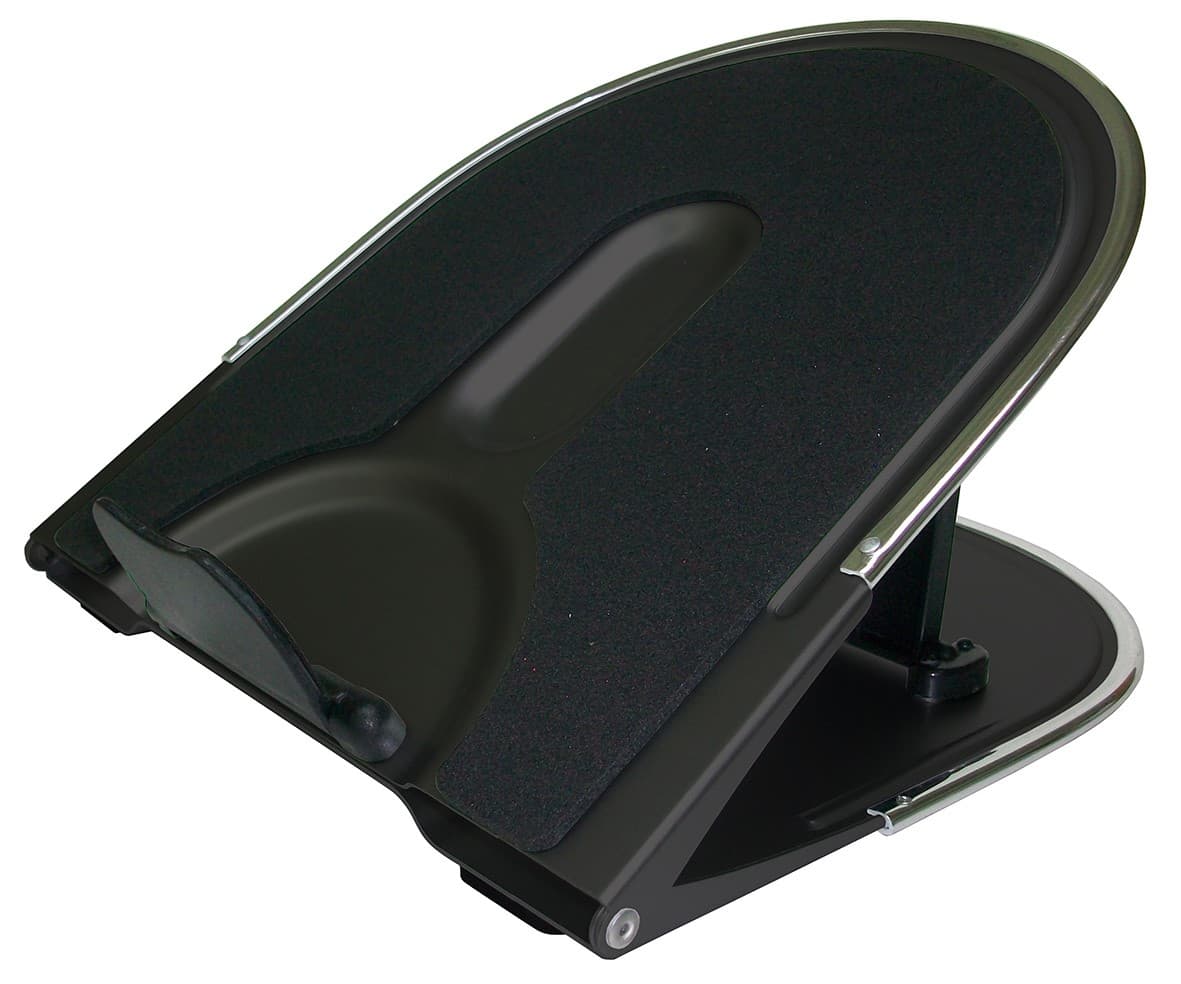 This laptop support is perfect for the home worker, where space is limited. Made from lightweight aluminium, the laptop support folds flat for easy portability and storage.
Available in black.
Suitable for laptop or tablet.
Folds flat for easy storage and travel.
Supports laptops and tablets up to 4kgs.
Vision H Ergonomic Workstation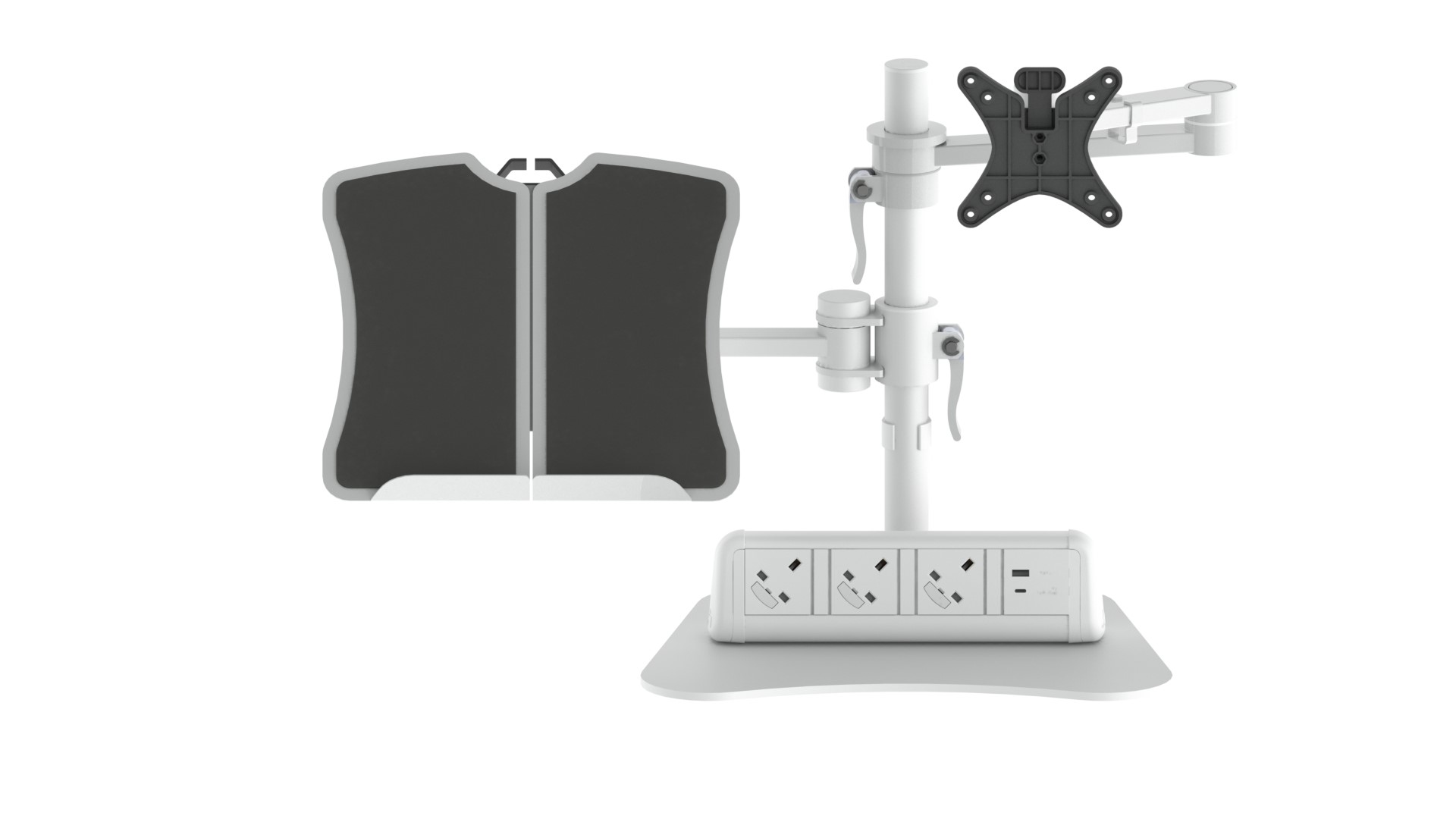 This new ergonomic workstation, with the option of integrated power and charging module, has been designed to offer ergonomic support for home workers. The range includes a single monitor support, a dual monitor support and a single monitor and laptop support.
Available in white
Optional 3x power and 1x USB Type A&C charger sockets
Includes cable management clips to secure cables to the arm and pole sections
Supports monitors and laptops up to 5kgs (2x 5kgs when used with a dual monitor support or a single monitor and laptop support)
Are you currently working from home? View our full range of homeworking products here.
Shoulder pain FAQs
What is the best home remedy for shoulder pain?
A great home remedy for shoulder pain is to take a warm bath or shower to relax the muscles before gently massaging the area. You could also try some gentle physical activity that will help to stretch the neck, shoulders and back, such as yoga or Pilates.
Is heat or cold better for shoulder pain?
Heat can relieve tightness in the shoulders, so you could try applying a hot water bottle or heat pad to the sore shoulder. If the shoulder is swollen, cold will help to reduce inflammation.
Why use memory foam headrests?
Memory foam headrests can help to gently support the neck while sitting for long periods of time, which can reduce strain and prevent neck and shoulder pain.
What causes shoulder pain that radiates down the arm?
This type of pain could be caused by a rotator cuff injury, particularly if the pain stops before reaching the elbow. Pinched nerves in the neck might also cause this.
How do you massage a sore shoulder?
You can massage a sore shoulder by kneading the shoulder with the thumb or rubbing the fingertips in a circular motion from the shoulder up to the neck.
Will shoulder pain ever go away?
Shoulder pain should go away if you improve your sitting posture while working, but if it doesn't get better you might have a more complex injury or condition. Always consult your doctor about ongoing or acute pain.
Related content
The best ergonomic products for neck pain