Working from an ergonomic monitor height is an important aspect of any working environment. Your ergonomic computer monitor being set in the correct position is a key factor in producing an ergonomically healthy workstation. When your computer screen is set to the right height, your body can find its own natural position, preventing back, neck and shoulder injuries that come with poorly supported posture.
Here, we explain why computer monitor height is so important and how CMD can help achieve the perfect monitor height for you.
Click on a link to jump to that section:
Read the physical and mental health benefits of working from the correct computer screen height.
Find out how to ensure your monitor screen is setup at the correct height.
Read our product recommendations for ensuring your screen is at the correct height.
Find out what height is ideal for your computer desk.
We answer common queries on working from the correct computer screen height.
Why is it important to work from the correct computer screen height?
Correct computer screen height is essential for bringing a wide variety of health and comfort benefits to your working environment. These benefits can include:
Reducing the risk of long-term injury and musculoskeletal disorders
Correct computer screen height will allow your body to sit in a supported position, thus reducing the risks of any long-term injuries or musculoskeletal disorders. These occur when your body is in a poorly setup position which results in damage to the spine, muscles, nerves, and tendons in your back. The risks of these injuries can prove serious, but by making improvements to your workstation now, most can be avoided. These injuries are much less likely to occur when healthy posture is made a priority, and correct screen height can help attain this.
Taking better care of your neck, back, and shoulders
Your neck, shoulders and back are under constant tension when sitting at work all day. With poor monitor height, your body is forced to lean into an unsafe position for extended periods, creating additional pressure on your neck and shoulder muscles. This can result in continual pain and stiff movement at work due to the constriction your muscles and nerves experience from poor posture.
Read our full guide to choosing the best ergonomic products for neck pain here.
Taking better care of your eyes
Your eyes are also affected by the monitor height. When set up correctly, your line of sight should be 5-10cm from the top of your screen, when sat up straight. However, if set up incorrectly, you may experience eye strain that occurs when you spend too long focusing on something, and this can be made worse at a computer. This leads to soreness, blurred vision, and headaches, which are easier to avoid with optimal screen height. The experience of these symptoms is known as computer vision syndrome.
Improve comfort and productivity
A laptop or monitor set to the correct height will make your entire working experience much more comfortable. The strain and discomfort of poor positioning can be lessened, and you can view your work comfortably all day. As a result, this could also lead to a more focused and productive working day, since the distractions of poor viewing or even pain can be minimized, and you can work much more efficiently.
Are you struggling with aches and pains due to working from the incorrect screen height? Shop our ergonomic products to improve your setup.
How to ensure your monitor screen is the correct height
The exact monitor position will vary depending on your individual height, but there are key things to consider in your setup that will allow you to find your own correct measurement.
Your eye line should be around 5-10cm below the top edge of the screen when your monitor is adjusted correctly. The centre of your screen should also sit around 17 to 18 degrees below your eye level. This will allow you to have comfortable viewing of your monitor. A screen too high will cause your head to tilt backwards, and a screen too low will mean your neck cranes forwards, so having this setup produces the safest and most comfortable posture.
What equipment can help ensure your screen is the correct height?
There are many ways to ensure your monitor is at the correct height, such as monitor stands and arms. CMD offer a range of fantastic, easily adjusted products that can guarantee you the perfect computer screen height.
Monitor arms and stands
Monitor arms can also help with screen positioning. Products such as the Reach Plus help you set your monitor to the ideal height with adjustable arm functions that are simple to use. There are also options such as the Vision H Ergonomic Workstation, that can give you perfect screen height on multiple monitors at a time, so your healthy posture is uncompromised, no matter how many screens you're keeping track of. This product has been designed to offer ergonomic support for home workers, so it is a handy option for when you are working remotely. If you are working from a laptop, you also have the option of laptop stands.
Reach Plus Monitor Arm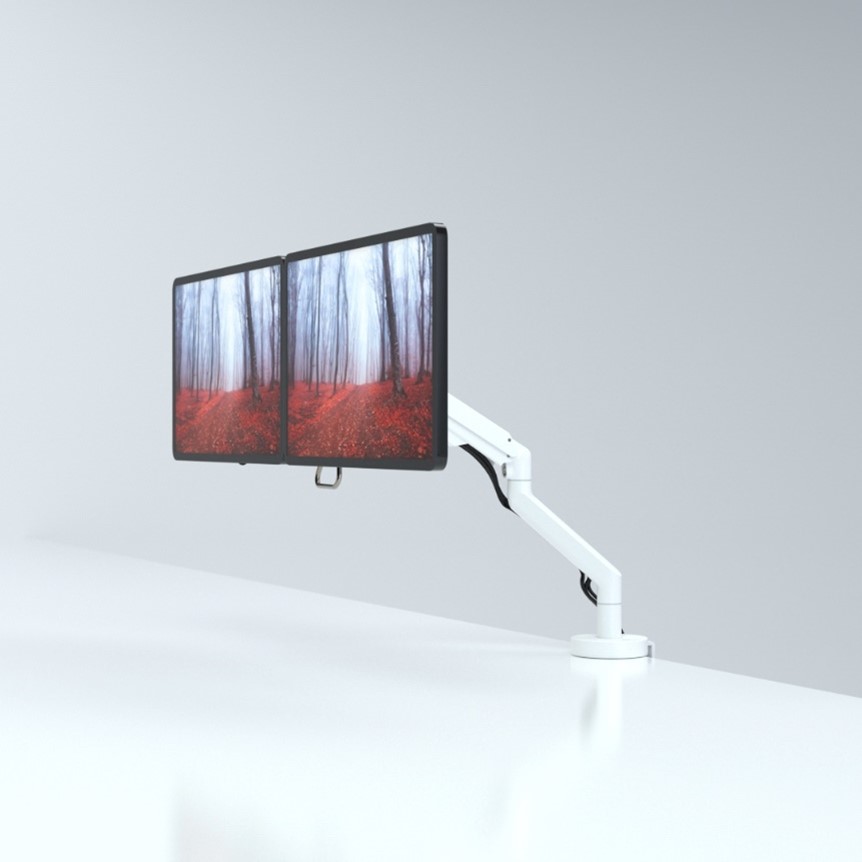 5 Year Warranty
Fingertip movement
Integral cable management
Quick release VESA (Supports VESA 75mm & 100mm)
Reach Plus supports combined monitor weights between 6kg – 15kg
Supplied with top mounting universal C clamp fixing
180 Degree lockout option as standard
Folds flat into 80mm of space
Available in three colours; Silver, Black and White
Vision H Ergonomic Workstation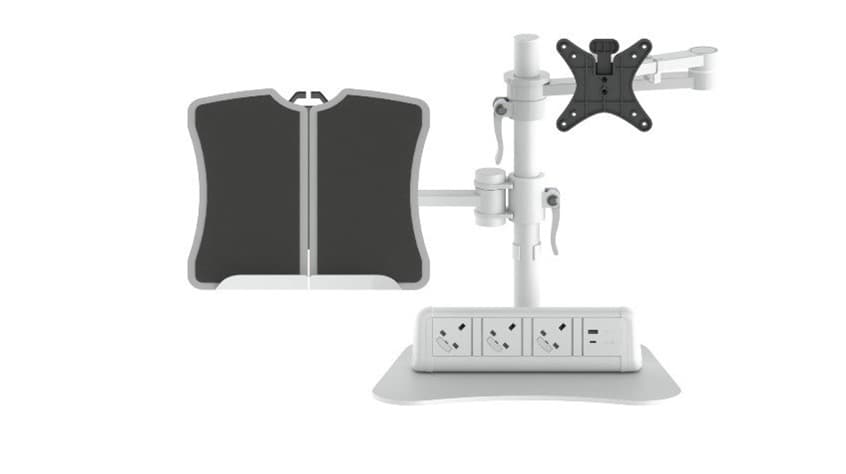 Available in white.
Range includes a single monitor support, a dual monitor support and a single monitor and laptop support.
Optional 3x power and 1x USB Type A&C charger sockets.
Includes cable management clips to secure cables to the arm and pole sections.
Supports monitors and laptops up to 5kgs (2x 5kgs when used with a dual monitor support or a single monitor and laptop support).
Quick and easy to install.
Laptop Stand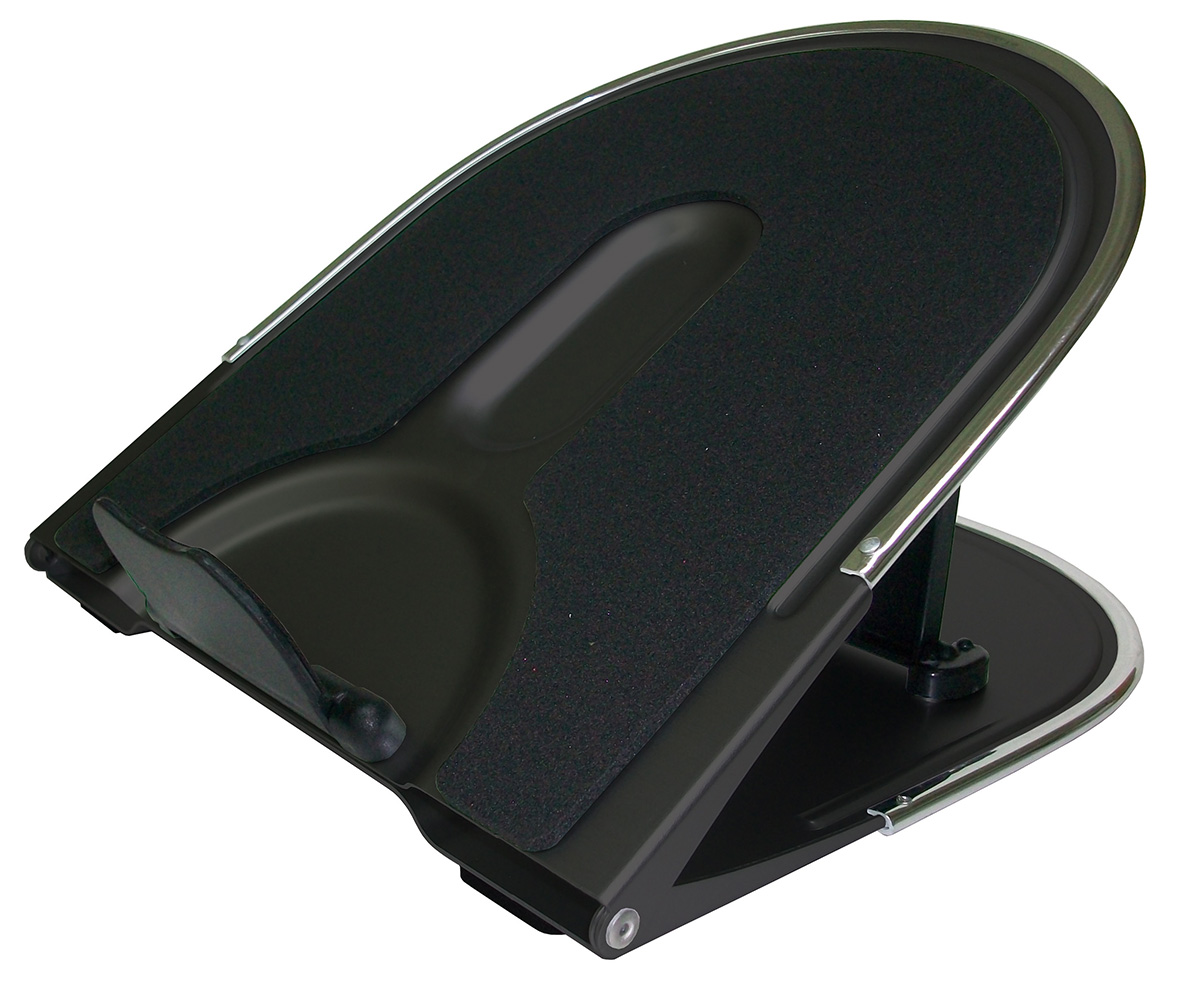 Available in black.
Suitable for laptop or tablet.
Folds flat for easy storage and travel.
Supports laptops and tablets up to 4kgs.
Adjustable standing desks
Sit-stand desks such as the Active Sit-Stand Workstation allow you to achieve the correct monitor height with easy adjustment settings for simple use. This allows for optimum monitor height in both seated and standing positions and can easily switch between the two. Studies have shown that prolonged periods of sitting can be harmful to productivity and health, so it is good to have a balance of both. With just one button, this workstation gives you optimal screen height and viewing distance no matter your preferred position for your workstation.
Active Electric Sit Stand Workstation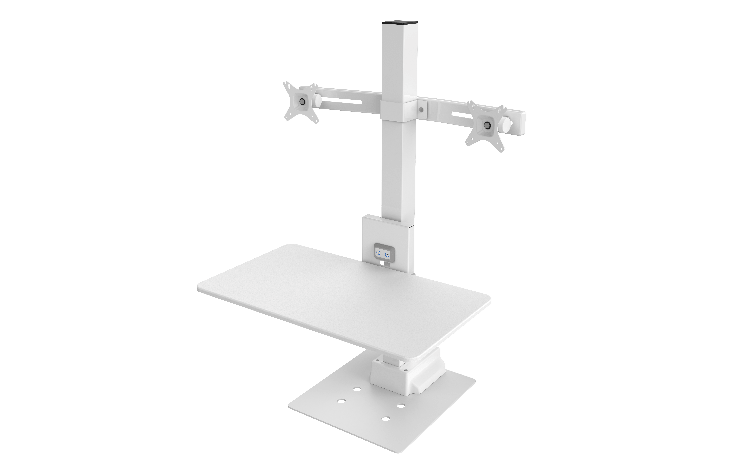 Instantly converts any desk into a sit-stand workstation.
700mm x 400mm solid working surface.
Quick and easy assembly.
Comes complete with a single and double supports.
Power assisted height adjustment.
Single option supports monitor weights up to 7kg and the double option supports monitor weights up to 14kg.
VESA Complaint 75mm & 100mm.
Travel range is 450mm ±5mm.
Travel time is approx. 11 seconds.
What is the best height for a computer desk?
Having the correct height for a computer desk is just as important when it comes to a healthy ergonomic setup, making sure the use of your monitor and keyboard is comfortable and healthy. A simple formula that can help you find an accurate desk height is: (Your height in inches) + 1 = Ideal desk height in cm.
To help you, here are some of the examples of this equation in action:
A 5ft 3inch (or 63 inches) person would need a desk height of 64cm.
A 5ft 7inch (or 67 inches) person would need a desk height of 68cm.
A 6ft (or 72 inches) person would need a desk height of 73cm.
Are you struggling to find out whether your task chair is the correct height? Read our guide to ensuring your task chair is the correct height here.
Frequently asked questions
What is the best height for a computer desk?
To find your ideal computer desk height, use the above formula: (Your height in inches) + 1 = Ideal desk height in cm.
How can you type with the keyboard at forehead level?
It is recommended to have an external keyboard connected that can be placed in the correct position below (level with your elbows).
Read our full guide to the correct ergonomic keyboard height here.
Which screen is best for your eyes?
This will depend on your individual eye condition and needs, but screen functions can often be adjusted in computer settings. These settings can include 'night light' – reducing the blue light given off by your screen, and 'dark mode' – changing the colour scheme of your PC to darker background colours and lighter text, making it less strenuous to look at.
How can you elevate your laptop?
You can purchase monitor stands and monitor arms at cmd-ltd.com to elevate your laptop correctly.
What equipment do you need to work from home?
A desk, chair, and computer screen are the essential basics of any home workstation. To find out what we consider the best ergonomic equipment for home working, you can read our article here.
How does ergonomics affect your performance?
Having a more comfortable ergonomic workstation allows you to focus more on your work without the distractions of discomfort or pain caused by poor posture.
Why do your eyes tire when working from a computer?
Prolonged periods of screen time can cause eye strain, which results in many things, including eye tiredness.
Related content