Whether working from home is a temporary solution for you or you have always worked from home – ignoring ergonomics is always a wrong move. Many people use working from home as an opportunity to work comfortably from the sofa or bed, as was recently reported in an article from the BBC. However, not working ergonomically can quickly cause muscle strain, poor posture, repetitive strain injuries and other aches and pains.
In this guide, we explain how to avoid neck strain and carpal tunnel syndrome. With a few adjustments and some vital ergonomic pieces, working from home can be a breeze – and much less of a pain in the neck.
Click on a link to jump to that section:
Read our tips on ajusting your working from home set-up.
We provide product recommendations for working from home ergonomically.
Read our tips on improving your working set-up without having to spend too much money.
Find out how you can comfortably work from a laptop at home.
We answer frequently asked questions on working from home ergonomically.
Tailoring your set-up to work from home
When working from home, there are a few items you should always have ready to ensure you aren't left with aches and pains. At a minimum, you should consider:
A comfortable, supportive, and adjustable chair.
A monitor or laptop at your eye level.
A keyboard and mouse at the right height and distance away from you.
To be as ergonomic as possible with your set-up, it's all about getting your posture right. Your feet should be flat to the floor, and you should be seated upright, with your arms at a 90-to-110-degree angle. You also shouldn't be slouching – keep everything at eye level and invest in a mouse and keyboard, so you aren't inches from your screen to type.
Can't quite get it done with your current set-up? That's where investing in some key ergonomic pieces can make a world of difference.
Investing in ergonomic products suitable for homeworking
So, what should be your priority when investing in a homeworking set-up? If you're working from home, you don't have to break your budget for ergonomic accessories to make your life a little bit easier. Here are just a few of the options to consider investing in:
A laptop or monitor stand
Having an appropriate stand for your laptop or monitor can be an invaluable way to improve your working posture and ensure better comfort throughout the day. The following laptop and monitor support from CMD is the ideal choice for homeworkers, allowing for optimal usability without sacrificing portability.
Recommended product
Vision H Ergonomic Workstation
The Vision H Ergonomic Workstation could be the ideal desk converter for you. This product includes a single monitor or dual monitor support and a single monitor and laptop support.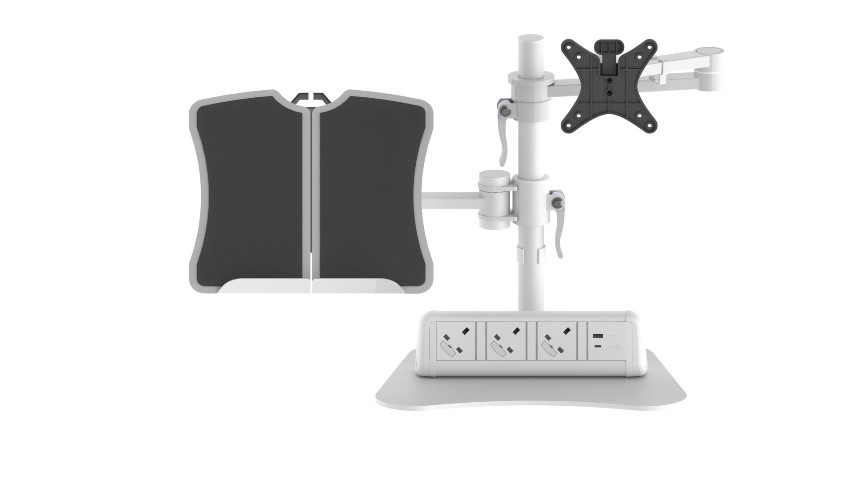 Designed for homeworking
Optional 3x power and 1x USB Type A&C charger sockets.
Includes cable management clips to secure cables to the arm and pole sections.
Supports monitors and laptops up to 5kgs (2x 5kgs when used with a dual monitor support or a single monitor and laptop support).
Quick and easy to install.
A keyboard tray
A keyboard tray ensures you have plenty of room to type as well as ensuring you don't injure your wrists. If you are using an external keyboard, a tray can help to prevent common issues caused by working from a laptop.
Footrests
Footrests help ensure your feet are in the best position for your posture and are a highly affordable addition to any ergonomic set-up. If you haven't got a lot of cash to spare and you want to make an instant improvement, a footrest is an all-around good choice.
Cable management
Cable management can prevent you from straining to reach wires and potentially pulling muscles. The spiral cable spine is a great solution for any set-up, and can ensure you don't risk injuries through straining or tripping over wires.
Are you interested in finding more products for homeworking? You can shop our homeworking bundles here.
How do you improve your set-up without investing too much money?
Not all of us have the cash to spare to create a more ergonomic set-up. You can do a few things to ensure comfort in the long-term, even if you happen to be working from home temporarily. It's all about the height – so consider putting your laptop higher up on something stable (if you have an external keyboard), reducing your chair height or even boosting yourself with a cushion, so everything is more in line.
Back support is also essential, so grab a pillow and stick it behind you to get everything nicely lined up. If you don't give yourself the support your spine needs, you can end up slouching or find your posture getting worse by the day. Think of aligning your spine first, and your set-up is far more likely to work well for you.
You can get more tips on our homeworking advice page.
Working from a laptop comfortably
If you've been unable to secure a monitor set-up to work from home, using a laptop ergonomically is something you need to think about to improve your overall health. Here are just a few of our top tips to ensure your laptop is working for you:
Take frequent breaks to get up, walk around and get out of that 'laptop' posture.
Check-in with your posture often, and take care not to 'lean in' to your screen.
Align your wrists and arms properly, placing your laptop on a solid surface.
Use an office chair and a desk whenever possible.
Consider investing in an external keyboard and mouse, and placing your laptop on a stable object.
Make sure your screen brightness is set to the right level.
Don't be afraid to stretch and get away from your laptop when you feel tense or in pain.
Are you working from a standing desk? Read our tips on working from a laptop at a sit-stand desk here.
Answering your frequently asked questions
What is the best ergonomic task chair for lumbar support?
The best chair for ergonomic support is any chair that properly aligns your spine and provides lumbar padding. You can add a specialist lumbar cushion if needed.
What is the correct posture for sitting at a laptop?
Laptops should always be at eye level where possible – you should never be looking down or leaning forward.
Will a gaming chair support your back whilst working from home?
Some gaming chairs are ergonomically designed, but in most cases, your best bet is a specialist office chair.
Why should you be using a laptop stand?
Because a laptop stand can help maintain better posture, keeping you free of neck and back pain.
What are the principles of ergonomics?
Ergonomics are all about the spine and alignment. So, for good ergonomics, you should always be considering your posture and how you're sitting throughout the day.
Should you look up or down at your computer screen?
Your computer screen should be on eye level with you – your head should not be tilted up or down.
How can you make your chair more comfortable?
An adjustable ergonomic chair can be altered to fit you well, and you can add lumbar cushions for greater comfort.
Does a chair offer good support while reclined?
You'll always get better support from a fully upright chair.
Are you interested in learning more about ergonomics for your work-from-home set-up? Get in touch with our team today to find out more about how we can set you up for ergonomic success.
Related content
Working with carpal tunnel syndrome
Using a laptop at a sit-stand desk