When you are an employer, you have certain responsibilities to your employees. These responsibilities include making sure that your employees are comfortable and that you have put everything in place to prevent avoidable injuries from occurring. This can be a challenge, but knowing the meaning of an ergonomic hazard and how to spot the signs of an ergonomic hazard are vital ways to ensure your employees are protected from injuries in the workplace.
On this page, we explore what an ergonomic hazard is, how to spot ergonomic hazards and what kinds of injuries might occur due to ergonomic hazards. We also examine how common office-related injuries are and what increases potential health risks.
Click on a link to jump to that section:
Read the meaning of an ergonomic hazard, and the different types of hazards in the office.
Find out what potential injuries may arise due to ergonomic hazards in the office.
Find out what scenarios may increase the risk of injury.
Find out how to spot ergonomic hazards in the office, and what factors to look out for.
Read the difference between administrative and engineering controls when it comes to preventing ergonomic hazards.
What is an ergonomic hazard?
When it comes to identifying and remedying ergonomic hazards, it is important to know what you are looking for. An ergonomic hazard is any factor in the workplace that may cause injury or health issues, such as musculoskeletal injuries. Objects, environments and systems are the three primary types of ergonomic hazards that can result in poor posture or uncomfortable working conditions.
There are many different kinds of ergonomic hazards you may encounter in the workplace, including task chairs that are unsupportive or ill-suited to the individual employee. Other hazards might include a poorly designed workstation, monitor height that is unsuitable for the employee, or technology (such as a computer mouse) that is not ergonomically designed or placed correctly.
Additional ergonomic hazards can also be factors you may not typically look for – such as lighting that is too bright and noisy equipment, which may lead to headaches and eye strain. Encouraging sedentary working for long periods can also be an ergonomic hazard to employees, as this can increase the risk of issues such as back pain and stiff muscles.
What potential injuries can arise from ergonomic hazards?
Many injuries can result from ergonomic hazards. For example, employees working in non-ergonomic environments are more likely to develop repetitive strain injuries caused by adapting an unnatural working position or uncomfortable repetitive movements. Hand and wrist pain is a common complaint among office workers, particularly those working in a non-ergonomic setup.
If employees are not encouraged to sit with good posture, slumping can cause back and neck pain to occur. Back and neck pain can sometimes even indicate more serious issues such as disc degeneration.
Sitting uncomfortably can also cause digestive issues to occur, as employees are not seated in an optimum position for their digestive tract to function as it needs to.
Other injuries that can be caused by poor ergonomics include vision issues and headaches caused by computer use, as well as carpal tunnel syndrome, which causes hand and arm stiffness, numbness, tingling and pain. This is most commonly caused by the incorrect placement of your mouse and keyboard.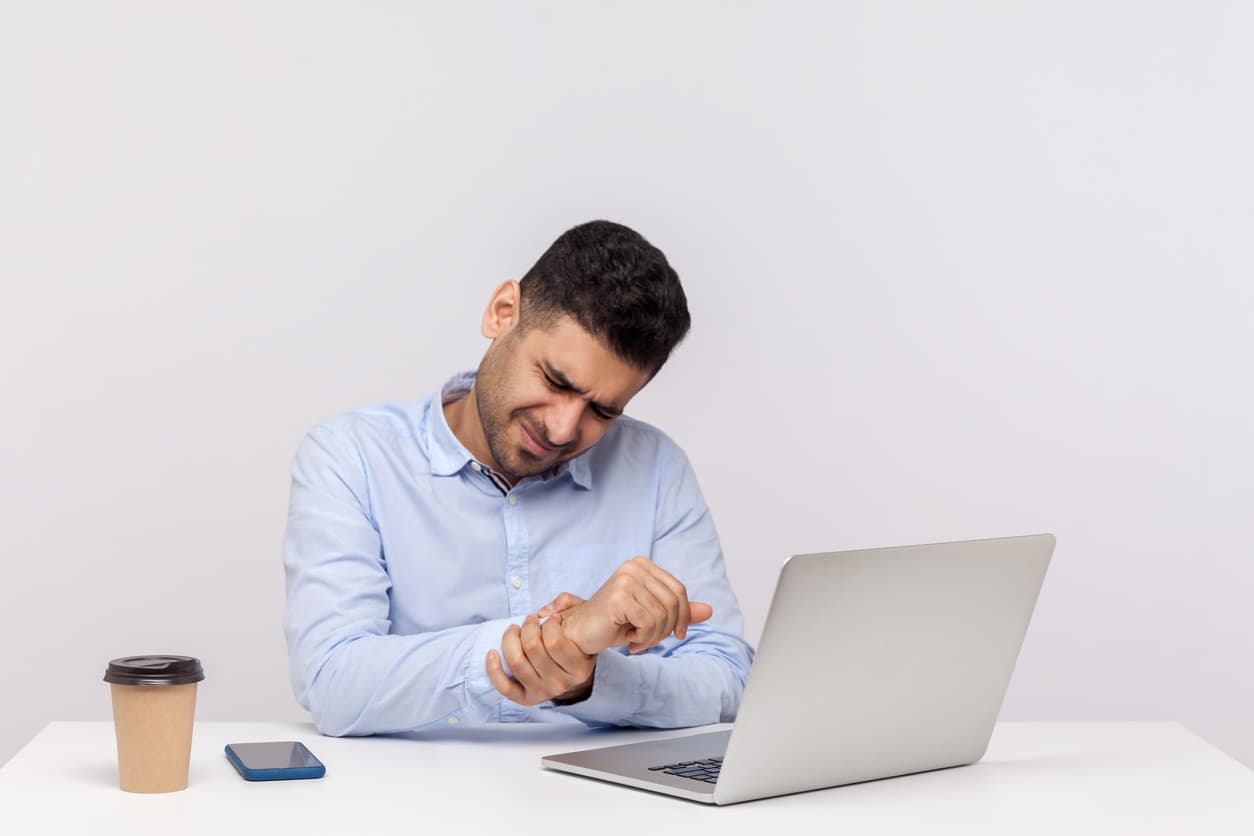 How common are office-related injuries?
In the UK, office-related injuries are quite common. In the past year, HSE revealed that 480,000 workers are suffering from musculoskeletal disorders which are either new or longstanding. These injuries are often caused by ergonomic hazards not being addressed.
What situations can increase the risk of injury due to ergonomic hazards?
There are certain factors that can increase the risk of ergonomic hazards. These include working alone, as in this case there may be no one there to help if an injury does occur. Additionally, people working alone are less likely to reach out for support in setting up their working environment to be ergonomically sound.
This is also an issue when employees work from home, as they will not always have the correct set-up in their own living space. As an employer, you can assist by carrying out a home assessment of where your employee will be working, and do all the safe health and safety checks you would do in an office environment. Ensuring that your employee has the correct equipment to do their job safely (including a chair, desk, etc) is an essential part of this and can lower the risks of ergonomic hazards.
If you do not carry out frequent assessments of your office equipment, then you are also raising your risk of ergonomic hazards. Needs grow and change with your staff, whether you have new employees or an ageing workforce, and it is essential to ensure that the furniture and equipment you have is still in good condition and suitable for your employees.
How to spot ergonomic hazards
In order to spot ergonomic hazards, there are certain factors that you as an employer should keep in mind.
For example, you should ensure that workspaces are kept tidy using cable organisation products such as cable baskets to ensure that cables are easily accessible but kept out of the way to reduce the likelihood of employees tripping.
Recommended products
Premium cable basket
Available in Silver (RAL 7040) or White (RAL 9010)
5 Standard lengths – 1,000mm, 1,200mm, 1,400mm, 1,600mm, 1,800mm
Includes an earthing point
Width 150mm x 85mm high
Mild Steel Nylon coated Wire Basket
Weight depends on length
Fusion cable basket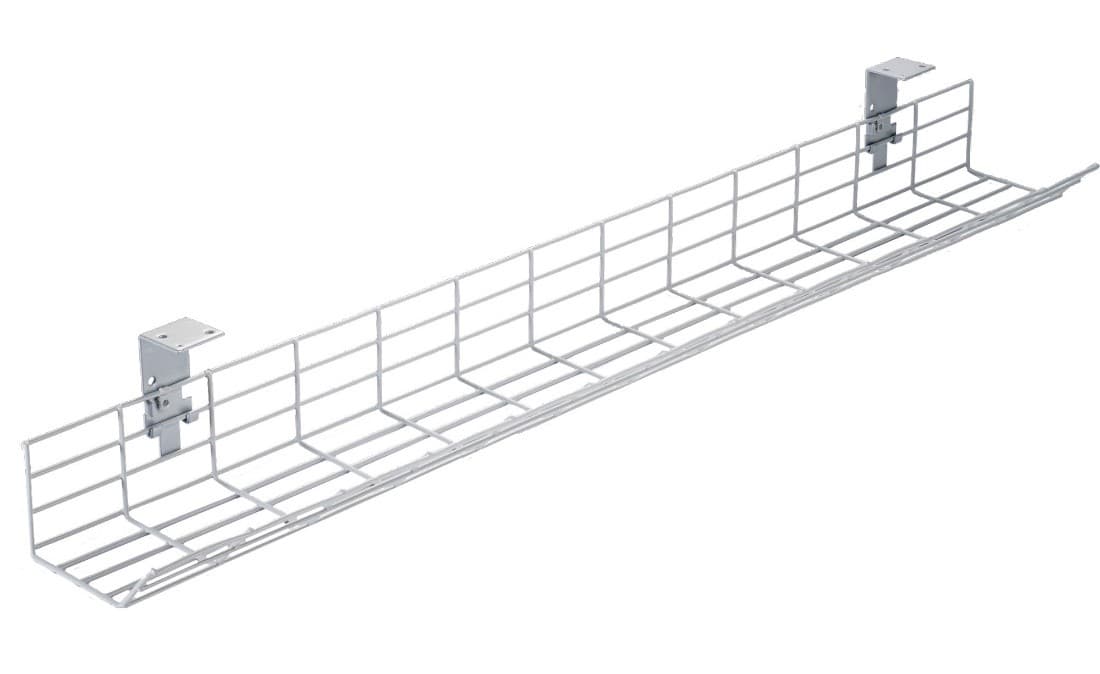 Silver low density poly coated wire basket complete with 2 brackets
Available in 5 standard lengths, 800mm, 1,000mm, 1,200mm, 1,400mm, 1600mm.
Weight depends on length
Sloped on front facing side for easy access
Silver (RAL 7040)
Includes an earthing point
You should also ensure that task chairs are suitable for the employee using them; they should be comfortable and customisable so that employees can adjust them to suit their own height.
The correct keyboard, mouse and monitor placement are also essential to your employee being comfortable and avoiding injuries. The mouse and keyboard need to be placed towards the front of the desk so that employees are not stretching to use them. The keyboard should be roughly 5cm from the edge of the desk, with the mouse in line with this. Monitors should be placed at arm's length from employees, and should be positioned at, or just below, eye-level. Investing in monitor arms can be a great help in ensuring monitors are placed correctly.
Recommended products
Reach Plus Monitor Arm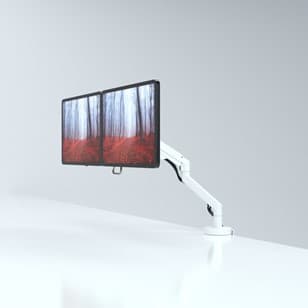 5 Year Warranty
Fingertip movement
Integral cable management
Quick release VESA (Supports VESA 75mm & 100mm)
Reach Plus supports combined monitor weights between 6kg – 15kg
Supplied with top mounting universal C clamp fixing
180 Degree lockout option as standard
Folds flat into 80mm of space
Available in three colours; Silver, Black and White
Vision H Workstation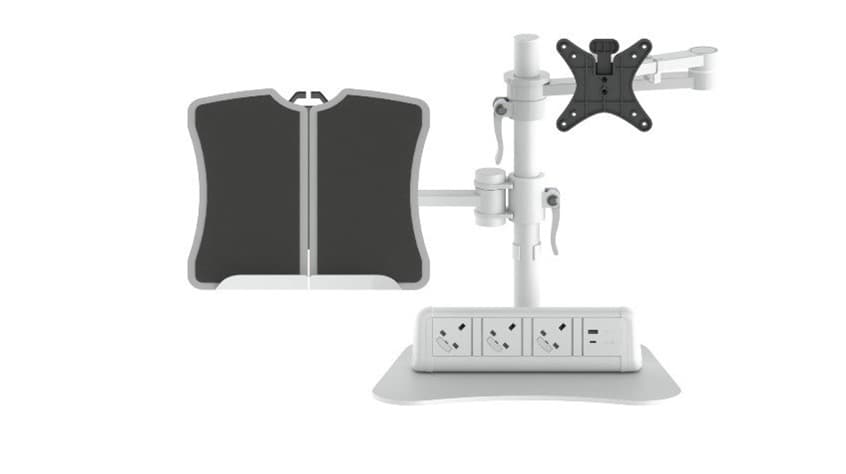 Available in white.
Range includes a single monitor support, a dual monitor support and a single monitor and laptop support.
Optional 3x power and 1x USB Type A&C charger sockets.
Includes cable management clips to secure cables to the arm and pole sections.
Supports monitors and laptops up to 5kgs (2x 5kgs when used with a dual monitor support or a single monitor and laptop support).
Quick and easy to install.
The design of your desks and their height is also very important. A normal desk can be useful, but a sit-stand desk allows employees to alter their position and can encourage higher energy and alertness while reducing pressure on the body. The height should be suitable for the employee so that they do not have to strain or hunch in order to work effectively.
Recommended product
Active Electric Sit Stand Workstation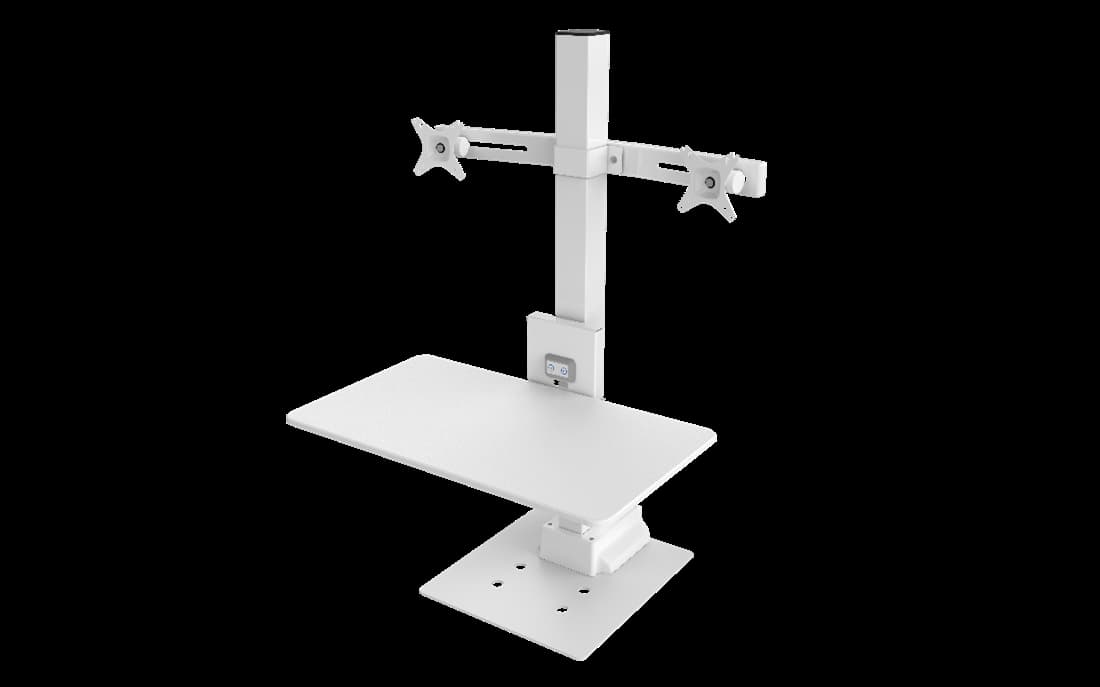 Instantly converts any desk into a sit-stand workstation
700mm x 400mm solid working surface
Quick and easy assembly
Comes complete with a single and double supports
Power assisted height adjustment
Single option supports monitor weights up to 7kg and the double option supports monitor weights up to 14kg
VESA Complaint 75mm & 100mm
Travel range is 450mm ±5mm
Travel time is approx. 11 seconds
You should also be aware of preventing slippery surfaces, encouraging staff members to be conscientious when using these spaces. It is also important to provide reception staff with signage and a way to keep floors from becoming slippery and dangerous.
The final considerations are ensuring that the lighting in your office is stable and that employees are not surrounded by too much noise. The correct workplace design can help with this – you should be able to isolate staff who need to focus on their work so that they do not become distracted and irritated, while still providing some spaces for collaborative working and areas such as breakout rooms where employees can be free from their usual desk space and stretch out.
Administrative vs. engineering controls
Reducing the likelihood of safety hazards in the workplace requires both administrative and engineering controls.
The administrative controls reduce these risks by altering work processes and making them safer by providing employees with more break times, labelling heavy items and ensuring employees are not always doing the same strenuous tasks.
Engineering controls, on the other hand, reduce safety issues in a more physical way. This includes repositioning equipment to make it easier and more comfortable to use, redesigning workspaces to suit individuals, and reducing employee exertion by breaking tasks down into manageable weights and amounts of time.