In the last year, millions of office workers have adapted to home environments for their work. Working from home forced many workers into cramped spaces with awkwardly placed laptops, makeshift office devices and inventive seating positions, which unsurprisingly caused many people to develop bad posture and workspace habits.
Now that many employees can return to their offices, it is important that any bad habits picked up at home are improved to help maintain good physical health and workplace efficiency.
Keyboard ergonomics is often the last thing that office staff consider when finding ways to improve their workspace – however, the keyboard is an important aspect of your office setup. This article will guide you through choosing an ergonomic mechanical keyboard, how to correct your office posture and how to set up your workspace.
Click on a link to jump to that section:
Read why it is vital to work from ergonomic office equipment.
Find out what factors make a keyboard ergonomic.
Read our guide to the correct ergonomic typing posture.
Find out where a keyboard should be positioned for ergonomic working.
We explain the different specialist ergonomic keyboards.
Why is it important for office products to be ergonomic?
Ergonomics is the science of establishing an ideal fit between a worker, their working environment and the tasks they carry out. A study by Smith & Bayeh (2010) showed that employee work performance increased by 50% after implementing ergonomic improvements into the office. An ergonomic office helps employees to concentrate on their tasks by preventing uncomfortable equipment, furniture or layouts from distracting them. Ergonomic products are also easy to use, so they won't cause employees to feel frustrated or waste their time on unnecessary tasks. Investing in ergonomic office products can have many benefits to your workplace, including:
Improved employee well-being and happiness
Increased productivity
Improved posture
The prevention of injuries
What makes a keyboard ergonomic?
Whether you work from a laptop or a desktop, there is no doubt that your keyboard will play a huge role in your working day. Therefore, your keyboard must be comfortable to use, practical and highly ergonomic. Despite being a fairly simple piece of equipment, many aspects of a keyboard could affect its ergonomic level.
Keyboard size
The size of your keyboard should fit nicely into your office workspace whilst providing adequately sized keys for efficient typing. If the keyboard is too big, it may not fit well onto your desk space, which could make the environment cramped or prevent you from placing other pieces of equipment within reach of your desk. If the keyboard is too small on the other hand, you may struggle to type efficiently or use the mouse and your hands could become cramped.
Comfort
An ergonomic keyboard will prevent the need for you to slouch or strain whilst typing. The keyboards should have a clear layout that is easy to access from a comfortable typing position. Slouching or straining at your desk could cause long-term habits to form that may affect your physical health.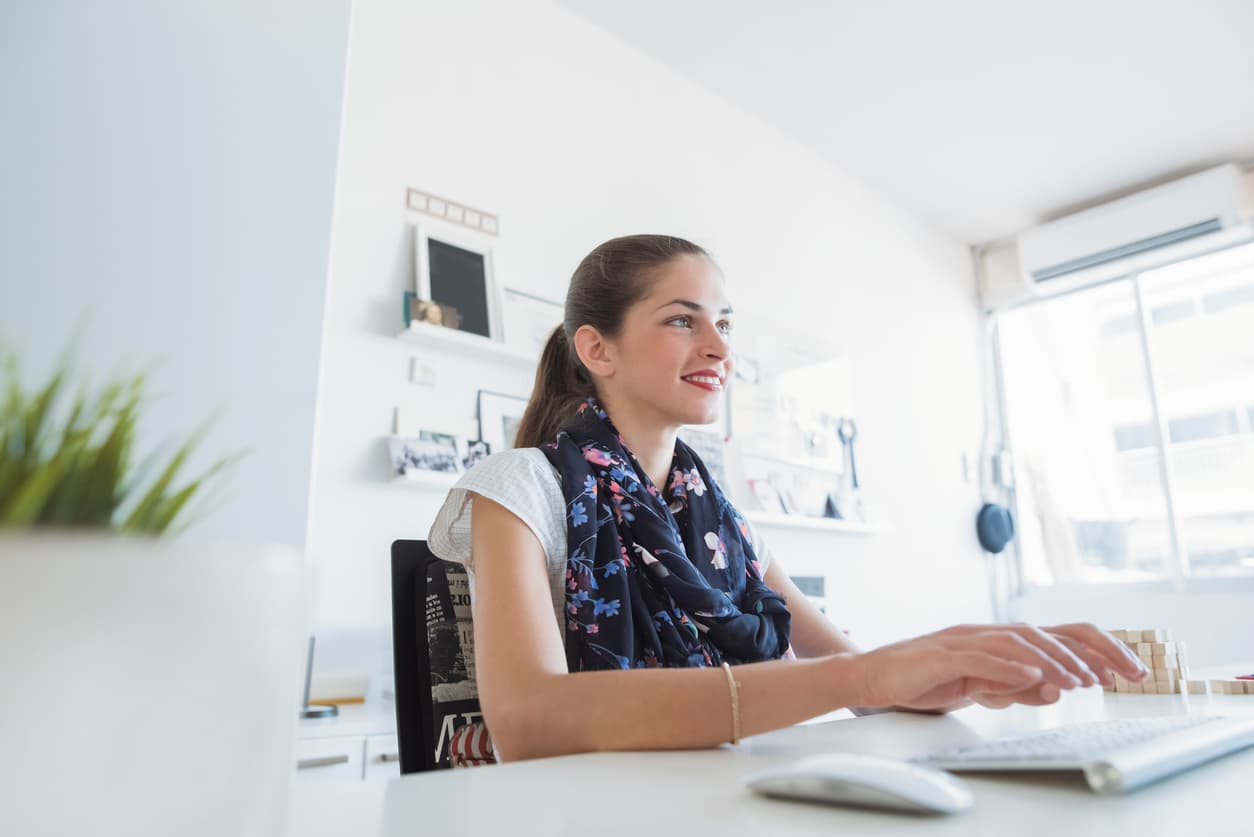 Healthy wrist and hand position
The position of your wrists and hands whilst working from a keyboard is more important than you may think. Poor wrist/hand position could result in the development of carpal tunnel syndrome, which is the irritation of the median nerve in your carpal tunnel which causes pain and discomfort. Ergonomic keyboards should prevent this by keeping your wrists and hands in a healthy position.
Productivity
Ergonomic keyboards should be designed for maximum productivity. That means that they should be easy to use, provide shortcuts for highly used features, and feel comfortable so that they can be used for long periods of time.
What is the proper typing posture?
To maintain good physical health and prevent injury, you should try to adopt a good typing posture whilst working. Good posture protects your wrists, spine and hands while typing and can be adopted with the following steps:
Keep neutral, straight wrists
Elbows should be at a 90-110 degree angle
Your back and neck should be straight
Your eyes should be level with the top of your screen
Feet should be flat on the floor
Read our full guide to the correct ergonomic typing posture here.
Where should a keyboard be placed?
Your keyboard should be placed just below elbow level at a distance that allows your arms and elbows to remain close to your sides. The keyboard should sit flat on your desk or gently sloping away from you. It may be a good idea to invest in a keyboard tray that can be used to correctly position your mechanical keyboard.
Additional tips for preventing injuries caused by constant typing
Your office keyboard is not the only cause of injury or pain. Jobs that require constant typing put you at risk of several different health problems, but these can all be prevented by following these simple tips:
Avoid typing too harshly
Take regular breaks
Keep forearms horizontal or tilted slightly downwards
Use both hands to type
Don't slouch at your desk
Recommended products for ergonomic working
Reach Monitor Arm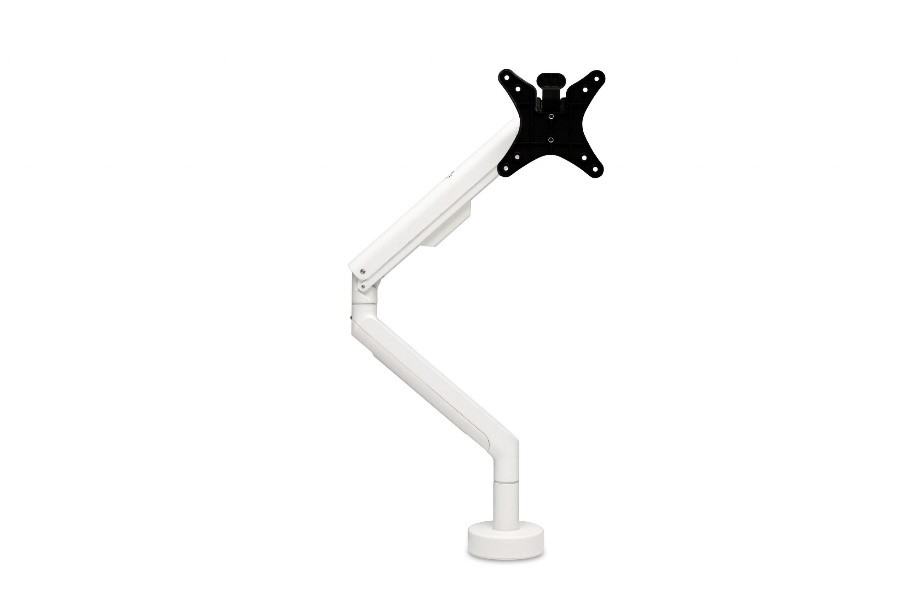 Awarded Ergonomics Excellence by FIRA
10 Year Warranty
Spring assistance for fingertip movement
Folds flat into 80mm of space
Integral cable management
Quick release VESA (Supports VESA 75mm & 100mm)
Standard Reach arm supports monitor weights between 2kg – 5kg
Reach HD arm supports monitor weights between 3kg – 9kg
Reach Plus Monitor Arm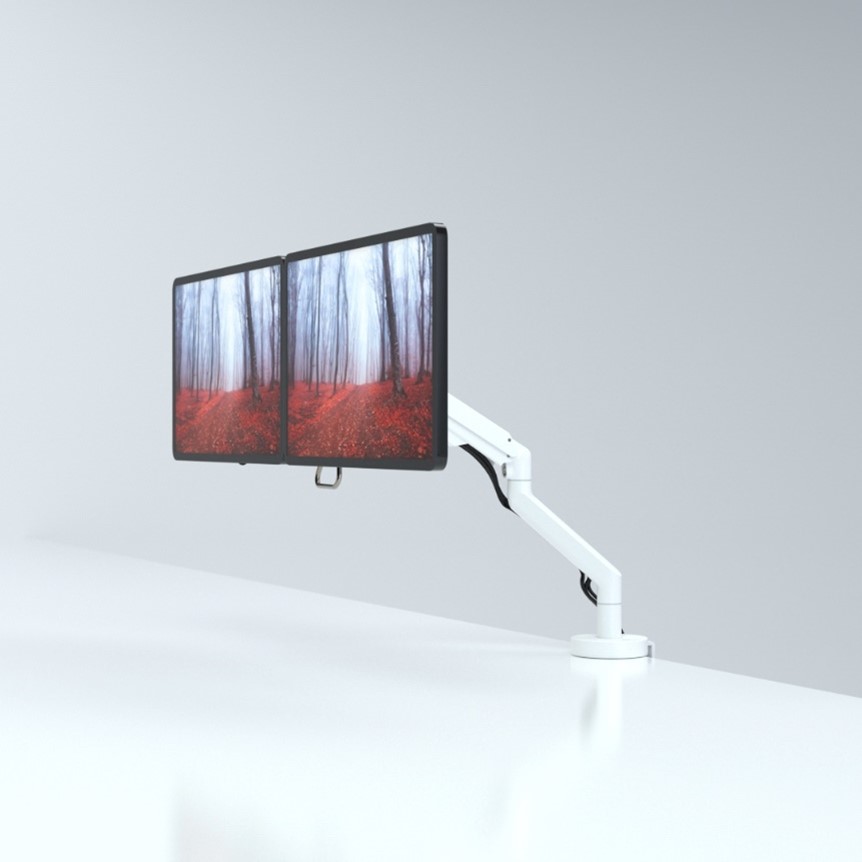 5 Year Warranty
Fingertip movement
Integral cable management
Quick release VESA (Supports VESA 75mm & 100mm)
Reach Plus supports combined monitor weights between 6kg – 15kg
Supplied with top mounting universal C clamp fixing
180 Degree lockout option as standard
Folds flat into 80mm of space
Available in three colours; Silver, Black and White
Vision Heavy Duty Monitor Pole Arm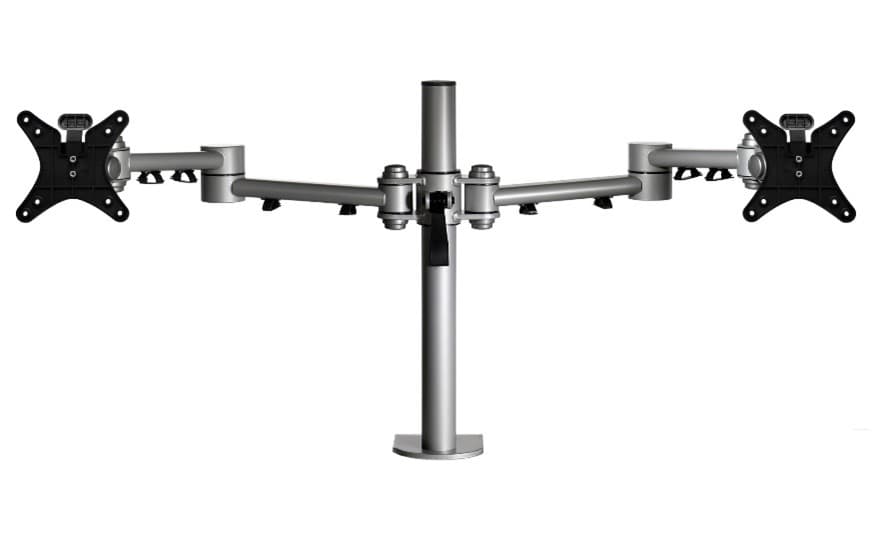 Quick release VESA now standard (VESA 75mm & 100mm)
Each arm can support up to 8Kg
400mm pole as standard, 38mm Diameter
330mm screen height adjustment
C clamp, Grommet Mount & Through Desk fixing included as standard
Available in 3 colours, silver, black and white
Full rotation about the pole and head tilt of the screen
Types of professional ergonomic keyboards
Although you can adjust your keyboard and desk setup to ensure you are working ergonomically – there are professional ergonomic keyboards that you can choose from if you're willing to pay for a professional product.
Split keyboard
Split keyboards are exactly what their name implies. They are keyboards split in half, creating two separate pieces that are either connected by a cable or have a wireless connection. Split keyboards mean that functions, such as the number pad and mouse, can be spread out for easy access and increased productivity. Split keyboards are also good for awkwardly shaped desks that may not be able to accommodate a regular keyboard.
Natural ergonomic keyboard
Natural ergonomic keyboards are mechanical keyboards that are designed for maximum comfort. The keyboards follow a soft, rounded shape that fits well with the human hand and they often have a split layout that will keep wrists and hands in a relaxed position.
Natural ergonomic keyboards come in a range of designs, sizes and shapes and can often be tailored to meet your specific needs. They help to prevent injury whilst maintain a slick, professional look for your office space. The keyboards are also compact and easy to fit into your working environment.
Are you struggling to work ergonomically in the office? CMD offers a range of fantastic ergonomic office supplies that will help you to create a great office space. Our range of products are designed to complement any ergonomic office space and provide office workers with the solutions that they need.
Shop our full range of ergonomic office products here.
Related content
Choosing an ergonomic office desk and chair