Working at a computer for prolonged periods can be harmful to your overall health when you don't monitor your working environment. You put yourself at risk of a range of health issues when you forget to ensure you're working ergonomically, including:
Neck and back pain. Straining your muscles to look at a computer is a common cause of back and neck ache, as your body forced into an unnatural position. This is particularly a problem when people find themselves looking down to see their computer screen rather than adjusting the monitor to match their eye level.
Computer vision syndrome.
Headaches and eye strain.
Carpal tunnel syndrome.
Computer ergonomics addresses ways to optimise your computer workstation to reduce the specific risks of computer vision syndrome, neck and back pain, and carpal tunnel syndrome. It also reduces the risk of other disorders affecting the muscles, spine, and joints.
Read on to find out what products can improve computer ergonomics in the office!
Click on a link to jump to that section:
Read our recommended products for improving computer ergonomics in the office.
Find out how to make sure your monitor height and placement is ideal for working ergonomically.
Read our additional tips on improving computer ergonomics and preventing injury.
Key products that can help improve computer ergonomics
A monitor arm
An adjustable monitor arm allows you to set your screen to your ideal height so that you naturally adopt a healthy posture, with your back straight and supported by your task chair, your hips far back in the chair and your eyes level with the top of the screen. Adopting this posture allows you to prevent issues such as backache, neck ache and can prevent the need to slouch or sit in an unhealthy working position.
A monitor arm also allows you to reposition the screen if needed.
Recommended product
Reach Plus Monitor Arm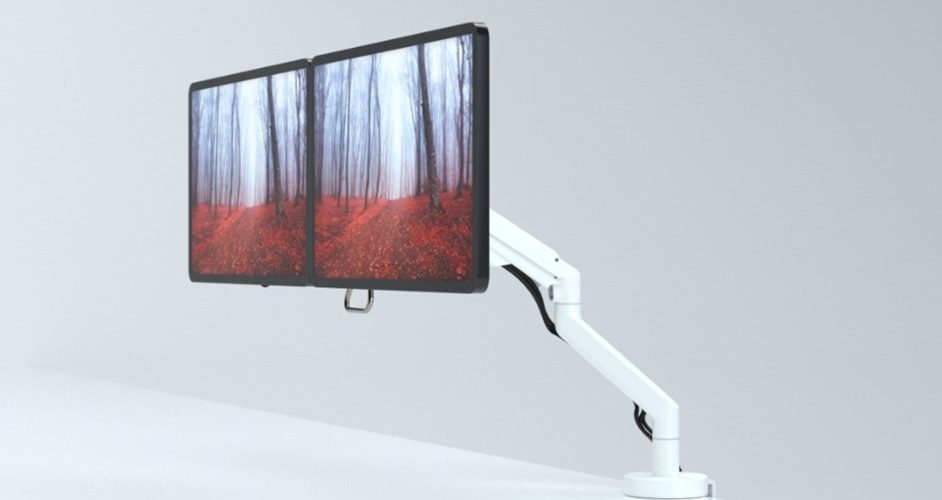 5 Year Warranty
Fingertip movement
Integral cable management
Quick release VESA (Supports VESA 75mm & 100mm)
Reach Plus supports combined monitor weights between 6kg – 15kg
Supplied with top mounting universal C clamp fixing
180 Degree lockout option as standard
Folds flat into 80mm of space
Available in three colours; Silver, Black and White
Are you looking for tips on making your office desk more ergonomic? Read our full guide to office desk ergonomics here.
A laptop stand
You have probably already heard that laptops are less than ideal – however, sometimes, they can be unavoidable. A laptop stand is a great option for minimising the risk of injury and the negative impact of using a laptop. The distance between screen and keyboard is much too small with a laptop, which forces you to hunch over it. Using a laptop stand allows you to place your screen at the right distance so you can adopt an ergonomic posture.
Recommended product
Vision S Pole Monitor Arm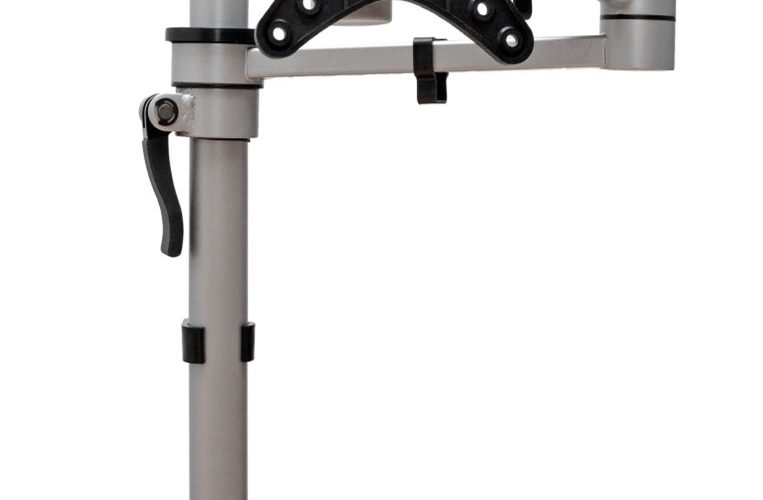 Quick release VESA now standard (VESA 75mm & 100mm)
Single or dual screen options available
Supports monitors up to 6Kgs (6Kg per arm on Vision S Double)
Optional laptop support available
Slimmer pole – 32mm diameter
Arm sections have been dramatically reduced and reshaped
New Cable management clips
A document holder
A good document holder can also increase your productivity. It keeps your documents closer to eye level and your screen, preventing breaks in your attention by having to look down or to the side constantly. Your options include in-line document holders and sloped desks, which both sit in between your keyboard and monitor. Other options include a screen-mounted holder which sits on either side of your computer and a free-standing document holder, which can sit upright on its own.
An ergonomic mouse
A good ergonomic mouse fits snugly into your hand and is designed to suit the amount of clicking, scrolling, and browsing you do. They can keep your hand in as comfortable a position as possible. This allows you to work for longer without feeling discomfort.
An anti-glare filter or anti-glare glasses
Adjust your monitor so that its brightness is approximately equal to the area behind it. If you experience screen glare that isn't reduced when you have changed the brightness, you can cover your computer with an anti-glare filter and wear anti-glare glasses.
Anti-glare filters and glasses are an affordable solution for preventing eye strain and headaches when working at a computer and are available on a range of online stores.
CMD's range of ergonomic products
At CMD, we offer a range of ergonomic solutions to help you work as comfortably and ergonomically as possible. Our range includes monitor arms, laptop arms, sit-stand desks, cable management solutions and more.
Shop our full range of ergonomic office products here.
What is the correct monitor height and placement to work ergonomically?
Placing your computer monitor, so it is not level with your eye line is a huge mistake when it comes to working at a computer for long periods, and can easily cause computer vision syndrome and issues such as neck ache. To avoid potential health issues, ensure the following: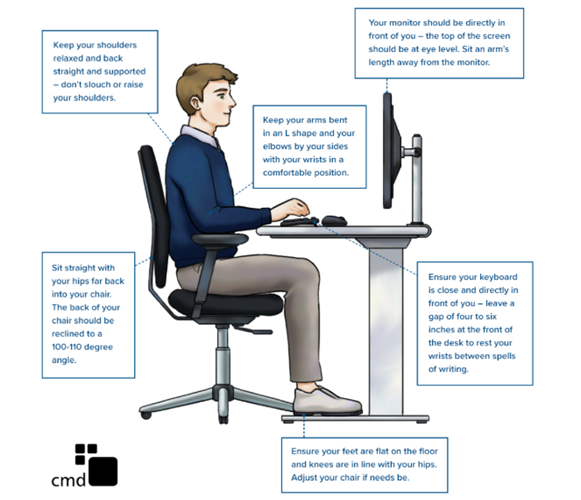 Additional tips for improving computer ergonomics in the office
The following tips can also help you work at your computer more ergonomically and prevent injury:
Ensure your keyboard is placed correctly. Find out more about ensuring your office keyboard is ergonomic here.
Keep your wrists in a neutral position, rather than bent up or down. Your elbow should be bent at 90 degrees when you are using a mouse. Your wrists should not be straining, nor should they feel uncomfortable during use.
Repeating the same movement continuously through the day can cause strains. If it is possible to alternate tasks, it is advisable to do so. If job rotation or alternating tasks throughout the shift is unrealistic, be sure to incorporate several rest breaks.
Related content