The importance of being comfortable during your working day cannot be overstated. Sitting for long periods in the same position can lead to injuries such as carpal tunnel syndrome and back pain. Increased comfort at work has even been linked to an increase in productivity.
Sit-stand desks can help to prevent the risk of common injuries. In this article, we explore the benefits of working from a sit-stand desk and explain why investing in an anti-fatigue mat; also known as a standing mat, can further improve your comfort and prevent the risk of injury. We also look at other products that can improve your comfort.
Click on a link to jump to that section:
Read the key health benefits of working from a sit-stand desk.
Find out the purpose of an anti-fatigue mat and how it can improve your comfort and working position.
Read the key benefits of using an anti-fatigue mat.
Read more about the research suggesting that anti-fatigue mats are beneficial.
We provide ergonomic product recommendations to help you work more comfortably.
Read our tips on working more comfortably from home.
The benefits of working from a sit-stand desk
Prolonged sitting is known to be bad for your health, and using a standing desk can help to combat health concerns caused by this. A hybrid sit-stand desk such as the Active sit-stand workstation is a great solution, as staying in the same position all day, whether sitting or standing, is bad for your physical health and can cause muscle strain. You can read more about sitting vs standing in the office here.
Standing rather than sitting can encourage more organic movement, and an anti-fatigue mat can encourage you to move even more often, redistributing your weight and helping with blood flow.
However, if you are standing in a non-ergonomic position, aches and pains can still occur. For the optimal result from your working day, varying your positions is the best choice, as this encourages even more movement than either sitting or standing in isolation.
You can read our full guide to the benefits of sit-stand desks here.
What is an anti-fatigue mat?
An anti-fatigue mat, or standing mat, is a small, lightweight mat that is easy to lift up and move. They encourage micro-movements that allow the muscles to contract and expand as they adjust to the flexibility of the mat and work to keep balance. Anti-fatigue mats are often sloped for maximum movement. Using an anti-fatigue mat will prevent you from remaining in one position for too long, helping to resist the soporific effects of stasis.
What are the key benefits of using an anti-fatigue mat?
There are many benefits of using an anti-fatigue mat. The key benefits are that you will find the pressure of standing is evenly distributed throughout your lower limbs, reducing the strain on your muscles and joints. They also help to stimulate blood circulation and can support improved posture, as you cannot become too relaxed while using one.
Anti-fatigue mats have also been proven to improve grip and reduce the risk of slipping – they are excellent for those who are acclimating to using a standing desk and want to make sure they are doing so safely and with the best results.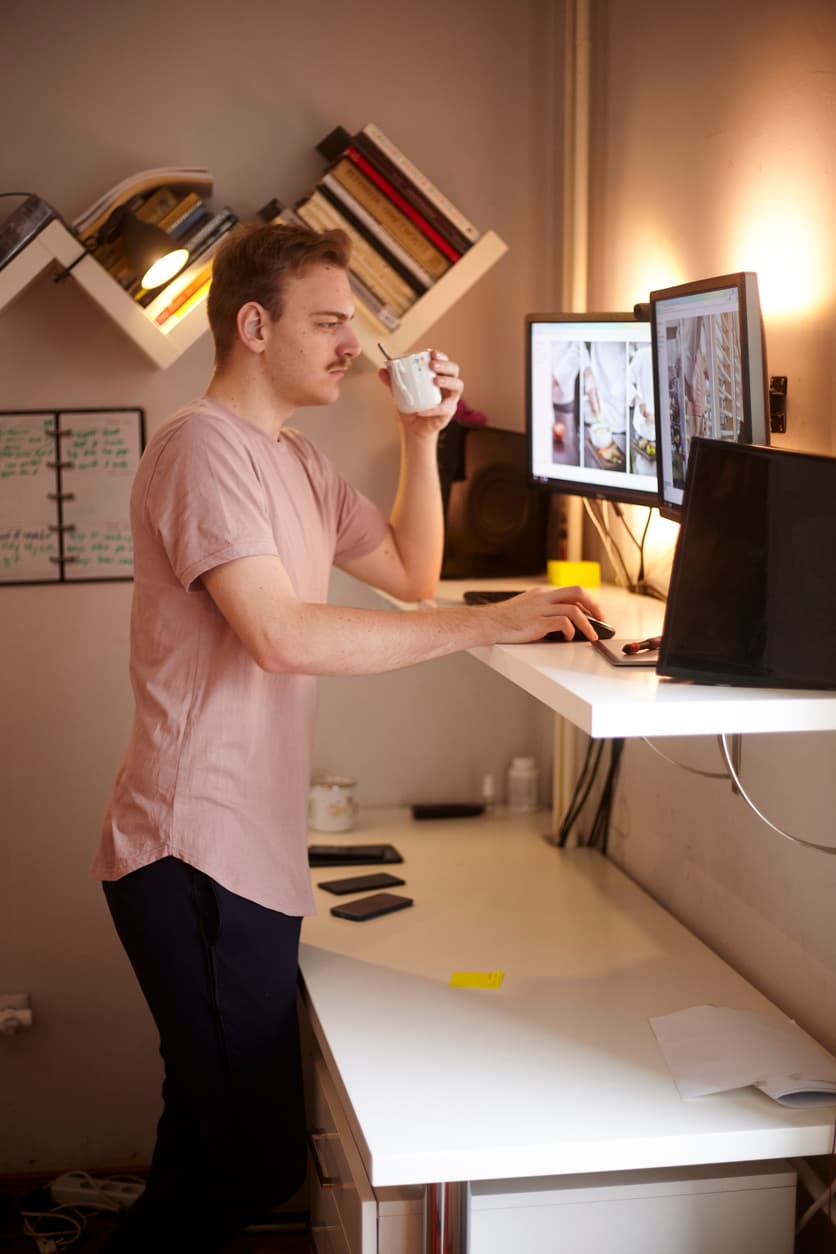 Have anti-fatigue mats been proven to be beneficial?
Anti-fatigue mats have been proven to ease back pain – as we know that standing for longer than an hour can increase back pain issues. It has been proven that the sloped and softer surface provided by an anti-fatigue mat can be especially effective in reducing lower back pain.
It has also been shown that, when used for longer periods of time, anti-fatigue mats can help to improve circulation and blood flow when compared to those who do not use them.
What other ergonomic products can help you work more comfortably?
There are some other ergonomic products which can help you to work more comfortably and productively.
A keyboard tray is a wonderful choice to make sure that your keyboard is not laying too flat against your desk. This can help to ensure your wrists and arms are at a good angle, reducing the chances of carpal tunnel syndrome and other strain injuries.
If you are working from a laptop, an external keyboard can help you to set up your screen, so it is more comfortable to view. This means you are also unlikely to hunch to use your keyboard and can see your screen at a better height.
Laptop and monitor stands can ensure you aren't straining or slouching and that your screen is placed at eye-level.
Recommended product
Reach spring assisted monitor arm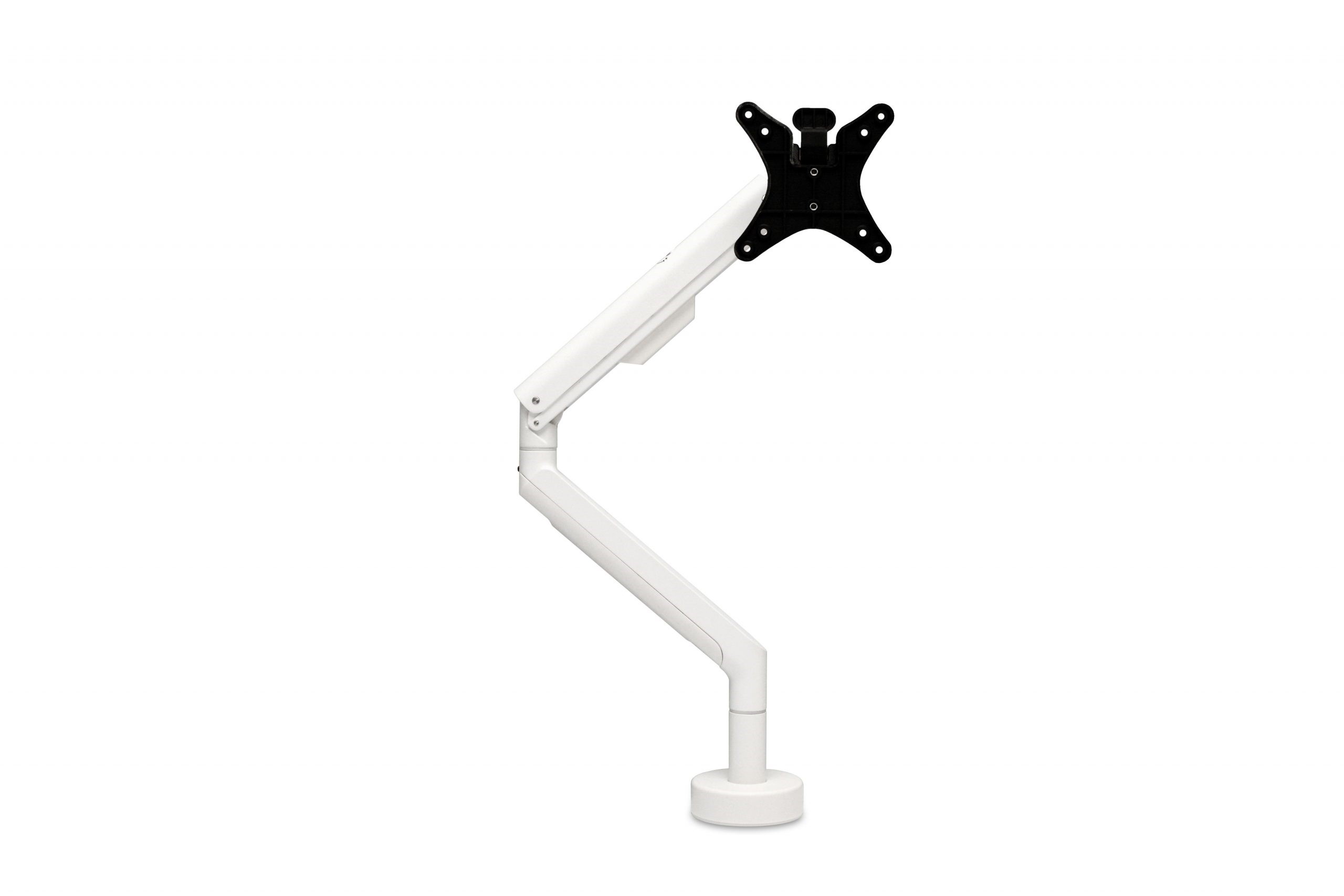 Awarded Ergonomics Excellence by FIRA
10 Year Warranty
Spring assistance for fingertip movement
Folds flat into 80mm of space
Integral cable management
Quick release VESA (Supports VESA 75mm & 100mm)
Cable management products such as a cable clip can help you to keep your desk space tidy so that you aren't working in an uncomfortable manner.
Adjusting your workspace if you work from home
If you are working from home for the time being, you will need to adjust your workspace so that you are enjoying a healthy and happy environment. There are some easy tips and tricks you can use to make sure you get the best ergonomic benefit from your home office without making huge alterations.
For example, if you find that your monitor height or desk height is not quite right, use an external keyboard so that you can adjust it, or invest in a second screen. You can even simply sit on cushions placed on your to task chair to elevate yourself and improve your workday.
The Vision H Ergonomic Workstation could be the ideal desk converter for you. This product includes a single monitor or dual monitor support, and a single monitor and laptop support.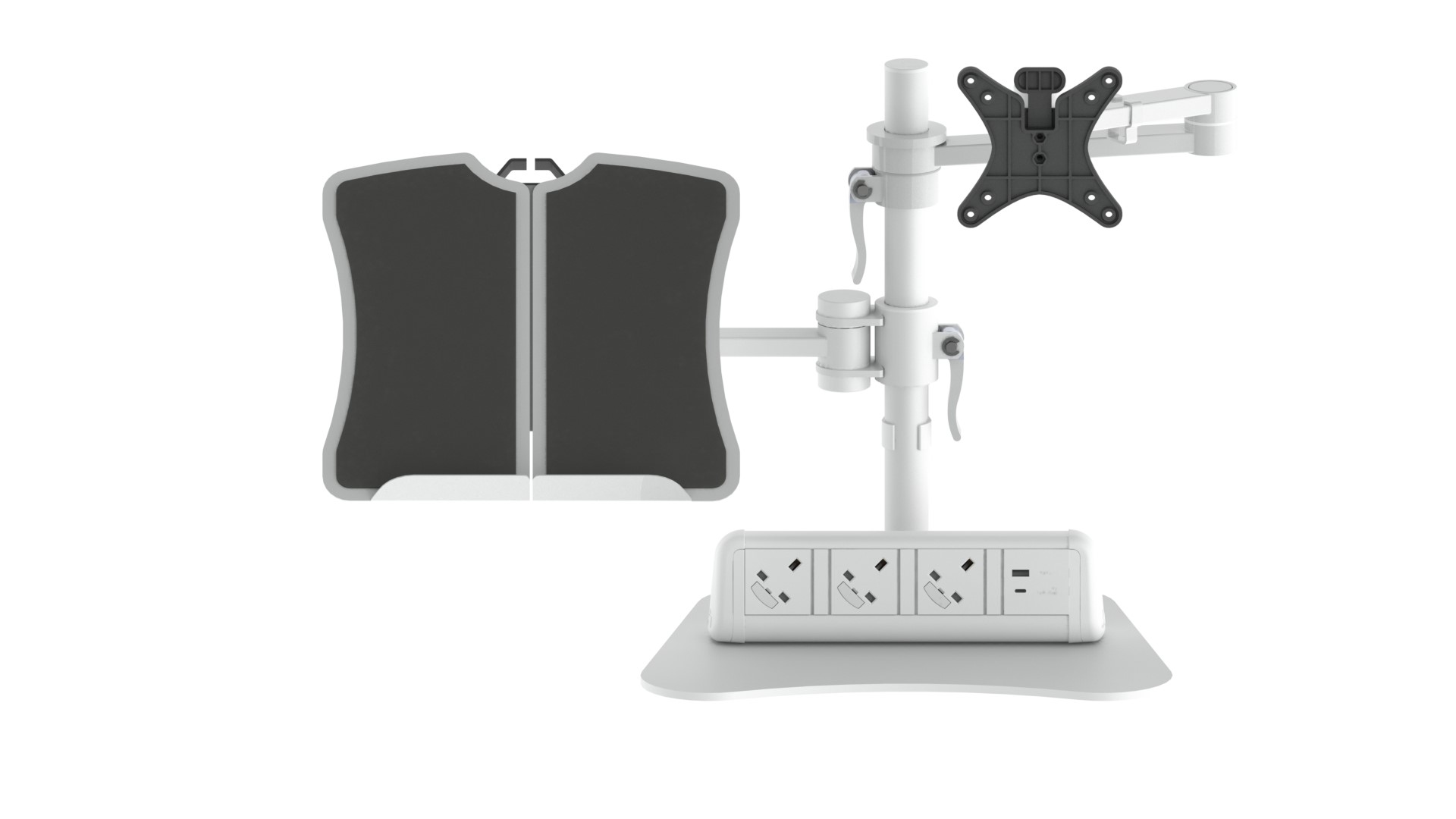 Designed for homeworking
Optional 3x power and 1x USB Type A&C charger sockets.
Includes cable management clips to secure cables to the arm and pole sections.
Supports monitors and laptops up to 5kgs (2x 5kgs when used with a dual monitor support or a single monitor and laptop support).
Quick and easy to install.
You can shop our full range of homeworking products here.
Related content
Using a laptop at a sit-stand desk