The workplace environment can have a significant impact on your health and physical well-being. Prolonged sitting as you work, or working with repetitive movements for long periods can lead to injuries such as back pain and carpal tunnel syndrome. Health problems like carpal tunnel syndrome and back pain can be tricky to resolve and can cause significant daily discomfort to the sufferer.
As manufacturers have a good understanding of ergonomics and the needs of people working at a desk for long hours, different products have been developed. You can now purchase sitting desks, standing desks, and height-adjustable desks which switch between the two options.
In this guide, we explain the risks and benefits of both sitting and standing in the workplace.
Click on a link to jump to that section:
Find out why choosing a desk that is the incorrect height can increase the risk of health issues and injury.
Read what factors to look for in an ergonomic desk.
Find out why it is important to sit correctly during the working day and the risks of prolonged sitting.
Read the benefits of using sit-stand desks.
Read the benefits of sitting or standing during the working day.
We answer frequently asked questions on sitting vs sitting in the office.
What are the risks of choosing a desk that is the incorrect height?
When your desk is too high, or too low, there are various knock-on effects to your body when you sit down to work. You have to compensate, usually with a bad posture, placing pressure on your arms and wrists as you overstretch to reach your keyboard. You may find yourself perched on the edge of your chair, or your feet are dangling because you've set your task chair at a higher position. On the other hand, if your desk's too low, you may find yourself slouched more than usual, increasing your bad posture.
When your desk height is incorrect, you can't find a good posture following ergonomic principles.
What to look for in an ergonomic desk
When choosing a desk, you need to understand the principles of ergonomics. The key considerations are as follows:
Elbows need to be at 90-degrees – with upper arms and forearms straight
The desk should ideally be adjustable
The lower back should be supported
Your shoulders should be relaxed
The top of your screen should sit at or just below eye level
The computer should be 45-70cm away from your body
Your feet should be flat on the floor
Everything you need should be within reach
Ideally, the desk should have a short minimum height which means you can find a suitable sitting position even if you're a short person. If you're under 5'8″ and considering a standing desk, you will need a standing desk which can go lower than 25″.
On the other hand, taller people can struggle with no legroom, a hunched back, and overextended arms. Anyone 6 feet tall will need a desk positioned around 29 inches high. For each inch of your height above 6 feet, you should add 0.4 inches to the starting point of 29 inches.
You can read more about choosing an ergonomic desk here.
Is it healthy to sit while working?
Sitting correctly will help you improve your posture, and avoid developing chronic pain conditions such as back pain and carpal tunnel syndrome – especially when you spend long hours working at your desk.
However, when sitting, it is important to avoid common mistakes, such as slouching, leaning forward, or using a chair that is the incorrect height and having your monitor at the incorrect height. These mistakes are common and can lead to chronic pain and injury. Monitor arms can help you to position your monitor perfectly.
A key rule to remember is that prolonged sitting should be avoided where possible. If you are sitting during the working day, ensure you take frequent breaks and remember to move throughout the day.
Using a sit-stand desk
Standing at work can help reduce the discomfort of sitting for long periods, causing discomfort likely to affect your productivity.
Standing has been shown to energise workers and improved productivity in a case study carried out by researchers in 2016.
However, you should bear in mind that standing all-day can hold the same risks as sitting all-day, as your muscles can become stiff and you are likely to strain certain muscles. Therefore, a sit-stand desk is the best option because it allows the worker to move and avoid stagnating in prolonged sitting or standing postures.
Should you sit or stand during a working day?
There are benefits to both sitting and standing during your workday. However, in either case, staying in one position for a prolonged period increases your risk of injury. The best way to avoid injury is to switch between both sitting and standing.
Healthline states people should aim to spend one hour standing for every one or two hours of sitting. This guideline is based on research from 2013 carried out as the popularity of standing desks increased.
Sometimes, it can be helpful to invest in equipment to help you sit in the best ergonomic position. Certain products can help to resolve problems such as feet dangling or working from the incorrect monitor height:
Footrest
A footrest can combat foot dangle when you need to raise the height of your chair.
Elbow rests
Extend the elbow rests on your chair, so you receive support for your arms as they are in the ideal 90-degree position.
Keyboard tray
A keyboard tray can help you correctly position your keyboard, reducing strain on your arms and wrists.
Monitor and laptop stands
Monitor and laptop stands help you to adjust the position of your monitor so you are correctly seated with the monitor close to you. A correctly positioned monitor prevents overreach.
Reach spring assisted monitor arm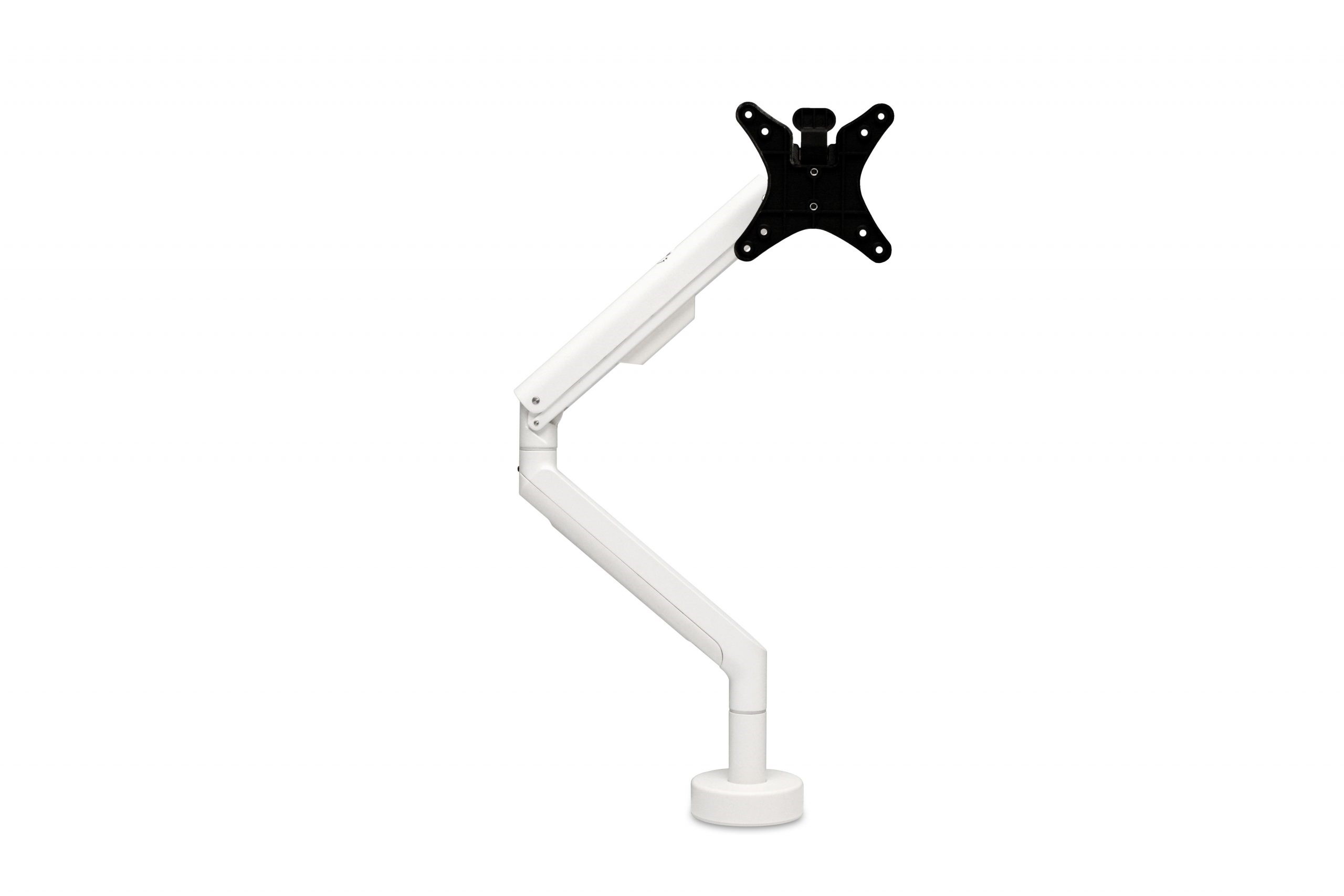 Spring assistance for fingertip movement
Folds flat into 80mm of space
Integral cable management
Quick release VESA (Supports VESA 75mm & 100mm)
Standard Arm supports monitor weights between 2Kg- 5Kg
Adjusting your workspace if you work from home
Sometimes, you already have a desk and chair set up at home, and you might not want to replace those items. In this case, you can use items in the house or professional products to help improve your posture.
For example, our Vision H workstation can help you to adjust the height of your monitor or laptop without needing to replace your desk. If you are using a laptop and a separate keyboard, you can also place your laptop on a stable object.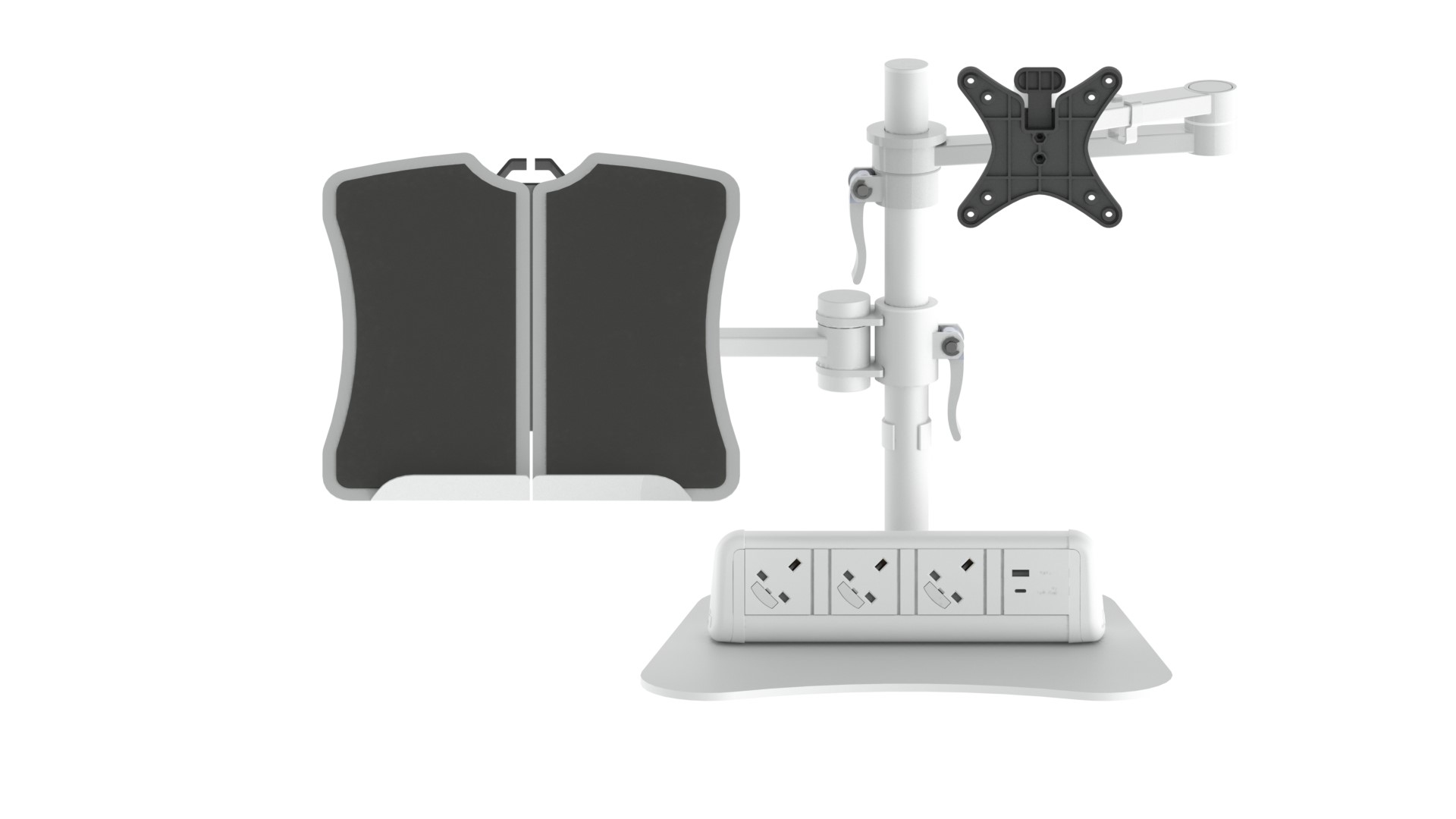 Designed for home workers
Available in white.
Range includes a single monitor support, a dual monitor support and a single monitor and laptop support.
Optional 3x power and 1x USB Type A&C charger sockets.
Includes cable management clips to secure cables to the arm and pole sections.
You can also use a cushion or pillow to improve the comfort of your chair and support your lumbar region.
Visit our homeworking product bundles here.
Frequently asked questions
What is the best office chair for sitting for long hours?
The best office chair for sitting long hours will be adjustable with a solid backrest. You will want to adjust the back, height and armrests. The width will suit your body size so you can comfortably use the armrests without causing your elbows to be too far away or too close to your body.
What is the best office chair for a short person?
A short person will need to look for a chair with adjustable height. A built-in footrest is another good feature to look out for.
Is it better to have an office task chair with or without arms?
A task chair with armrests supporting your arms in the 90-degree position benefits you. However, if the armrests don't support your lower arms, they are somewhat redundant and an unnecessary feature.
When sitting, should your knees be higher than your hips?
When you sit, your knees should bend at a right angle, and either be level with or a tad higher than your hips.
Should your arms rest on the desk while typing?
Your arms can rest on the desk or your chair arms, however, it's important to avoid your wrists getting tilted due to the position of your arms. Therefore, it's often better to sit with your arms supported by your chair armrests. You can find detailed tips on correct sitting posture in the Physiomed sitting guide.
How can you increase the height of your coffee table?
A laptop stand or adjustable workstation can help to adjust the height of your monitor despite your low coffee table. Or our active electric sit-stand workstation can convert your coffee table to a sit-stand desk.
Active electric sit-stand workstation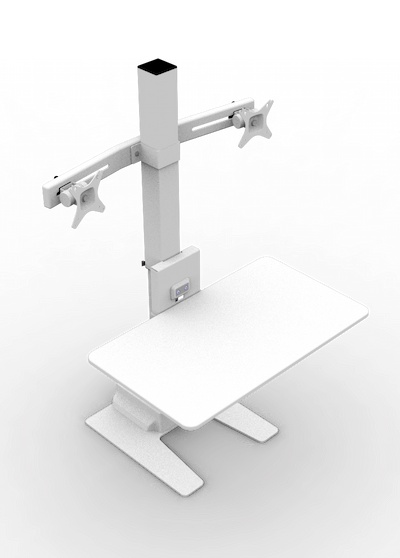 Instantly converts any desk into a sit-stand workstation
700mm x 400mm solid working surface
Quick and easy assembly
Comes complete with a single and double supports
Power assisted height adjustment
Related content
Using a laptop at a sit-stand desk