Whether you work in an office environment or from home, we all tend to stay in the same position for longer than we should. The importance of investing in the correct ergonomics, and being comfortable in your working environment cannot be overstated, as maintaining the same position may lead to physical issues.
A standing desk can be the answer to switching your working position frequently. However, when used with a laptop, this can often lead to posture mistakes such as slouching and straining the muscles.
In this guide, we explain how to work from a laptop at a standing desk ergonomically.
Click on a link to jump to that section:
Read the potential health risks of working from a desk that is the incorrect height.
Read how to choose an ergonomic standing desk.
The key benefits of working from a sit-stand desk.
Find out whether you can ergonomically work from a laptop at a standing desk.
Read our tips on working from a laptop at a standing desk correctly.
Find out how you can adjust your workspace to work ergonomically from home.
We answer frequently asked questions on working from a laptop at a sit-stand desk.
What are the risks of choosing a desk that is the incorrect height?
If you are working at a desk that is not suitable for your height, you may encounter a range of short and long-term health issues. If your desk is too low, you may find that you are hunching over to work, resulting in back and neck pain. Should your desk be too high for you, you may find that you are straining to reach and this can cause discomfort and stress in your hands, wrists, shoulders and arms. These uncomfortable feelings may cause more serious issues, such as carpal tunnel syndrome or other kinds of repetitive stress injury.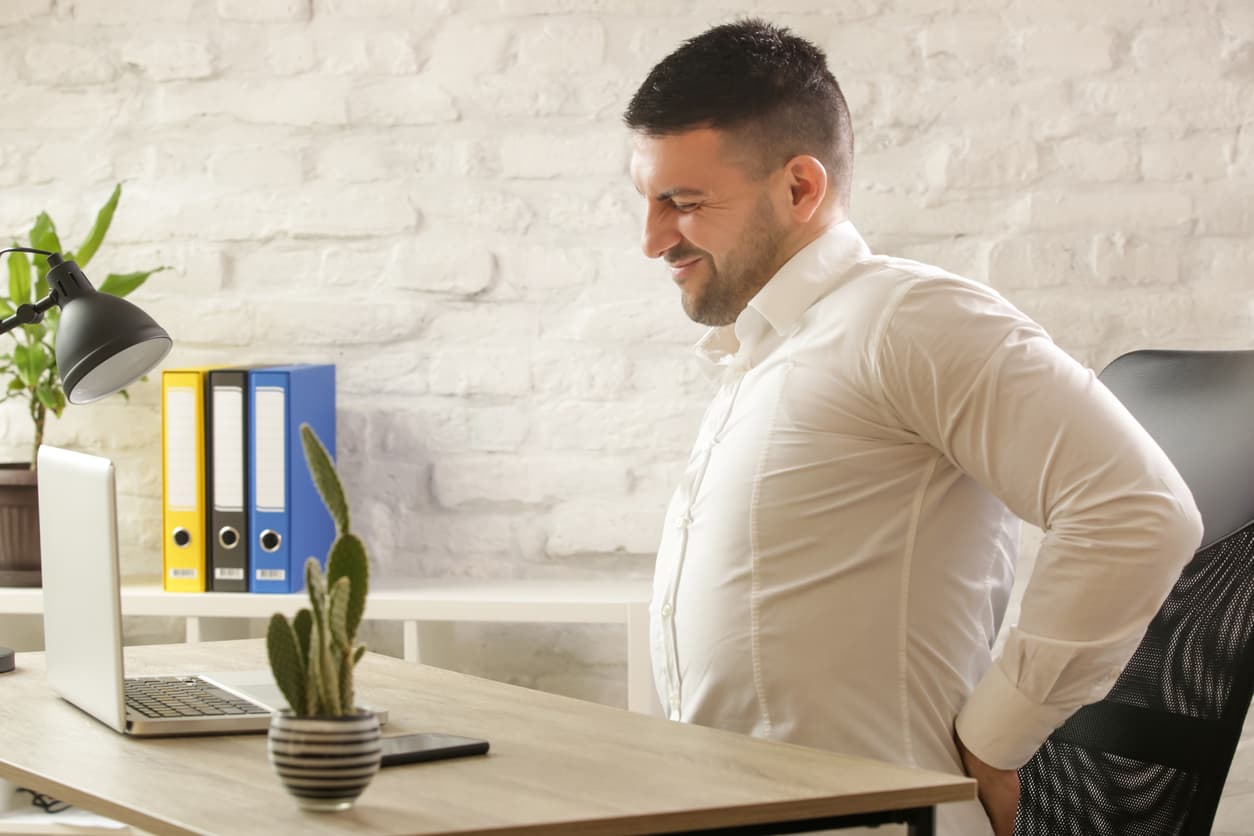 What to look for in an ergonomic standing desk
When searching for an ergonomic standing desk, there are some things you especially need to look for. You must be able to keep your elbows at a ninety-degree angle for maximum comfort. The desk should be adjustable so that you can keep it at the correct height. It must also allow for the correct monitor height – when looking at your monitor, you should have the top of the screen at or slightly below your natural eye level, as you should be looking down at the screen.
Be sure that the screen can be placed at the recommended distance from you – this should be somewhere between twelve and twenty-two inches away from your face. The desk shouldn't be too large to the point where you can't do this, and you should not need to strain to reach your equipment.
You can read more about ensuring your desk is ergonomic here.
The benefits of working from a sit-stand desk
We have all heard that sitting for too long can be bad for your health. Using a standing desk is a great way to alleviate some of the common health concerns and injuries often caused by sitting in your task chair for too long – for example, standing rather than sitting can help to improve your health by encouraging more natural movement than when you are seated. This can support a healthy lifestyle. It can also help to lower blood sugar levels, and studies have proven that it can even support a reduction in back pain.
However, standing can also have its possible health risks. If the desk is the incorrect height or if you are standing in a non-ergonomic position, you may end up with pain that is the same or worse than you may suffer at a traditional sitting desk. You should also refrain from standing for the entire day, as the main perk of a sit-stand desk setup is being able to vary your positions. You can suffer injuries from staying in the same position all day, whether sitting or standing.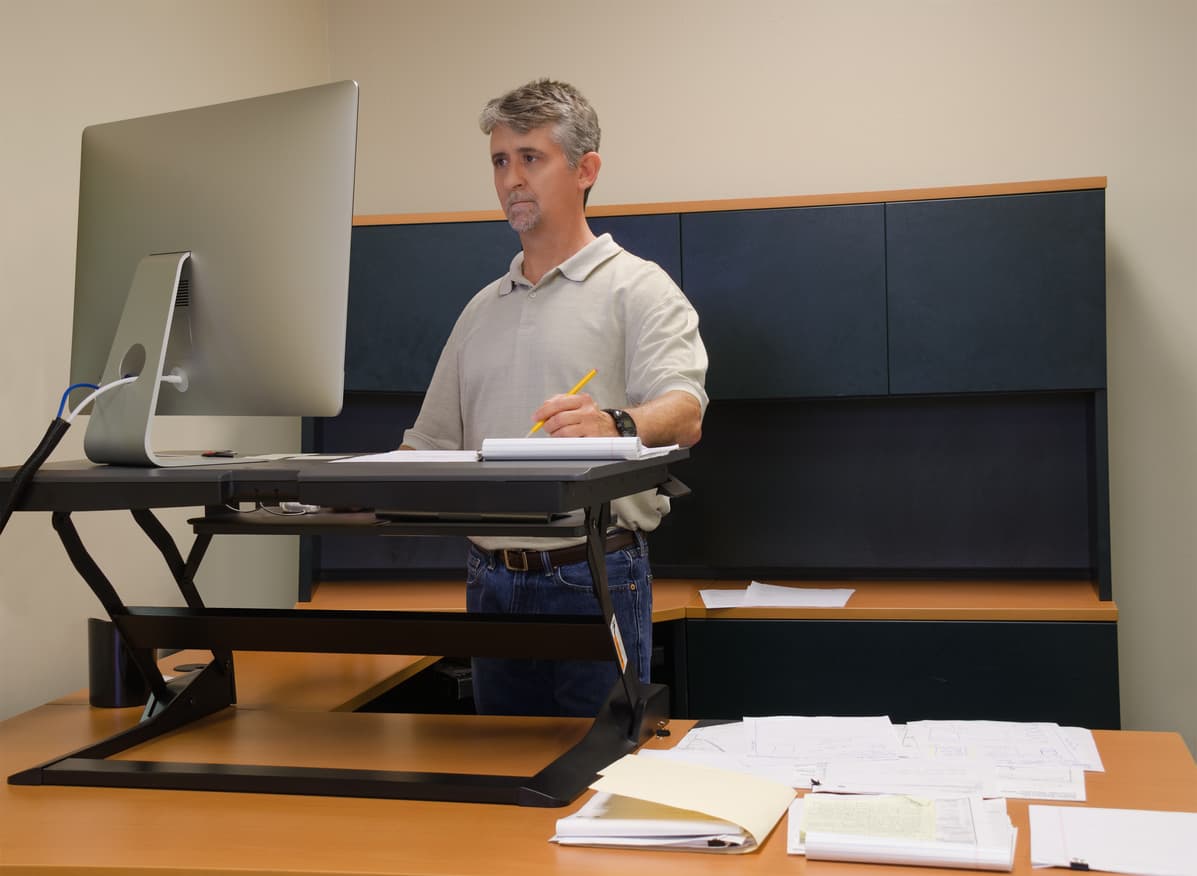 You can read our guide to sitting vs standing in the office here.
Can working from a laptop at a standing desk be ergonomic?
Working from a laptop at a standing desk can be ergonomic, but only if you make appropriate adjustments to allow you to be as comfortable as possible. If you use your laptop as it is, you will find that the display is too close to the keyboard for it to be correct for optimal ergonomics. Therefore, you will need to adapt your laptop so it can work for you.
Working from a laptop at a standing desk ergonomically
In order to work ergonomically at a standing desk when using a laptop, there are some adjustments you need to make. First, make sure that you have set the laptop up so that your screen is at eye level and you do not have to tilt your head. If you have a laptop stand, utilise it, or you can prop your screen on books. You may wish to use an external monitor so that you can still use your laptop keyboard easily.
Alternatively, you can use a separate keyboard to help take the pressure off your wrists, shoulders and neck. Your keyboard should be at a height that allows your elbows you hand naturally at your sides. You should be able to bend them at an angle which is slightly more than ninety degrees. Keep your wrists supported to prevent repetitive strain injuries.
If possible, consider a desk with a keyboard tray to make for much more comfortable typing.
Related product
Reach spring-assisted monitor arm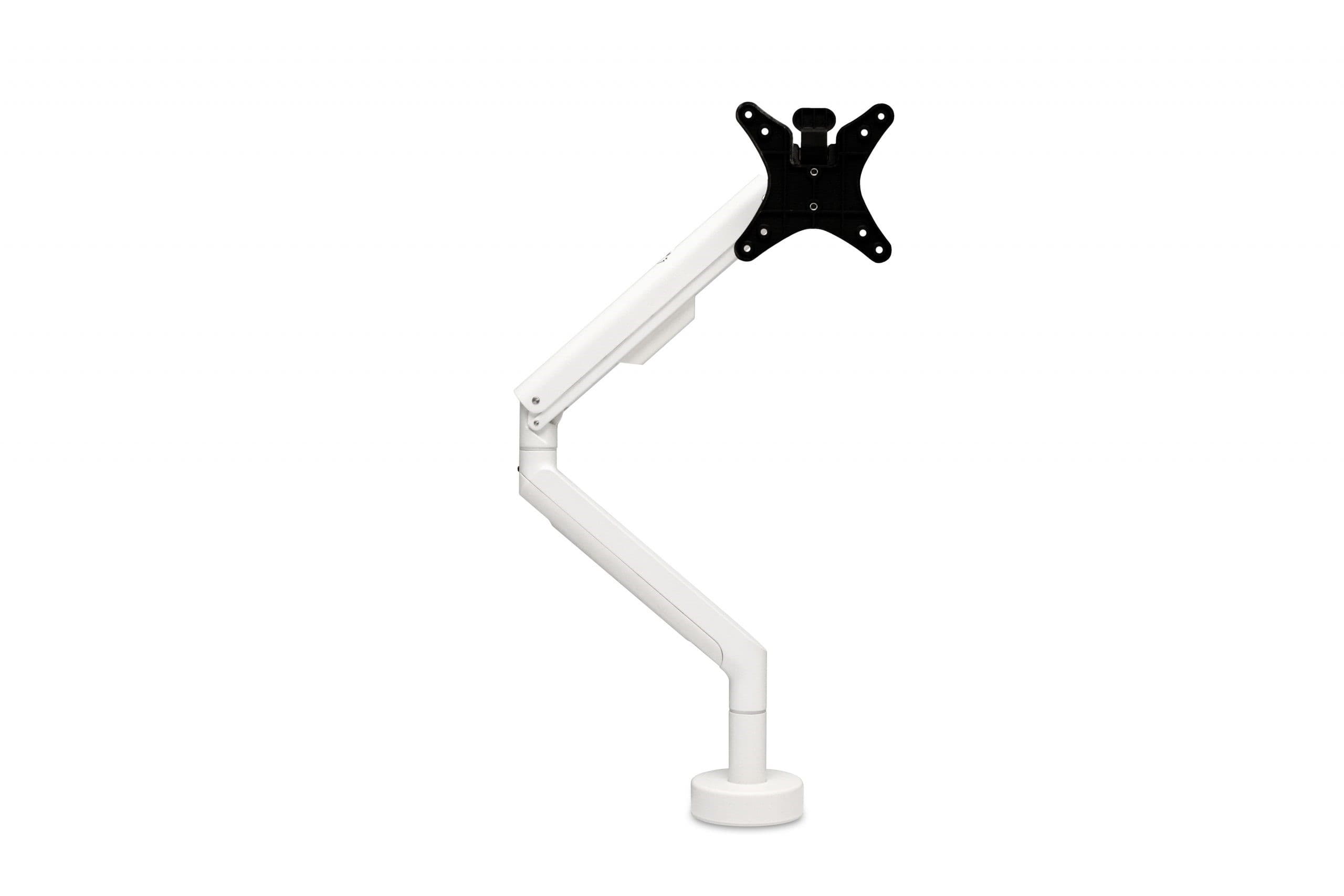 Awarded Ergonomics Excellence by FIRA
10 Year Warranty
Spring assistance for fingertip movement
Folds flat into 80mm of space
Integral cable management
Quick-release VESA (Supports VESA 75mm & 100mm)
Standard Arm supports monitor weights between 2Kg- 5Kg
Adjusting your workspace if you work from home
When working from home, it can be difficult to set up your workspace in a way that works for you. Make sure that you have adjusted your monitor height if possible, using an external keyboard to allow for this. You may wish to invest in an external mouse and a mouse mat with wrist support to allow for maximum comfort. Something as simple as using cushions to elevate your seated position can help to you be the correct height for your screen.
The Vision H Ergonomic Workstation is a great choice of desk converter if you want to set up an ergonomic workspace. This range includes a single monitor or dual monitor support, and a single monitor and laptop support. It is perfect for working in comfort easily.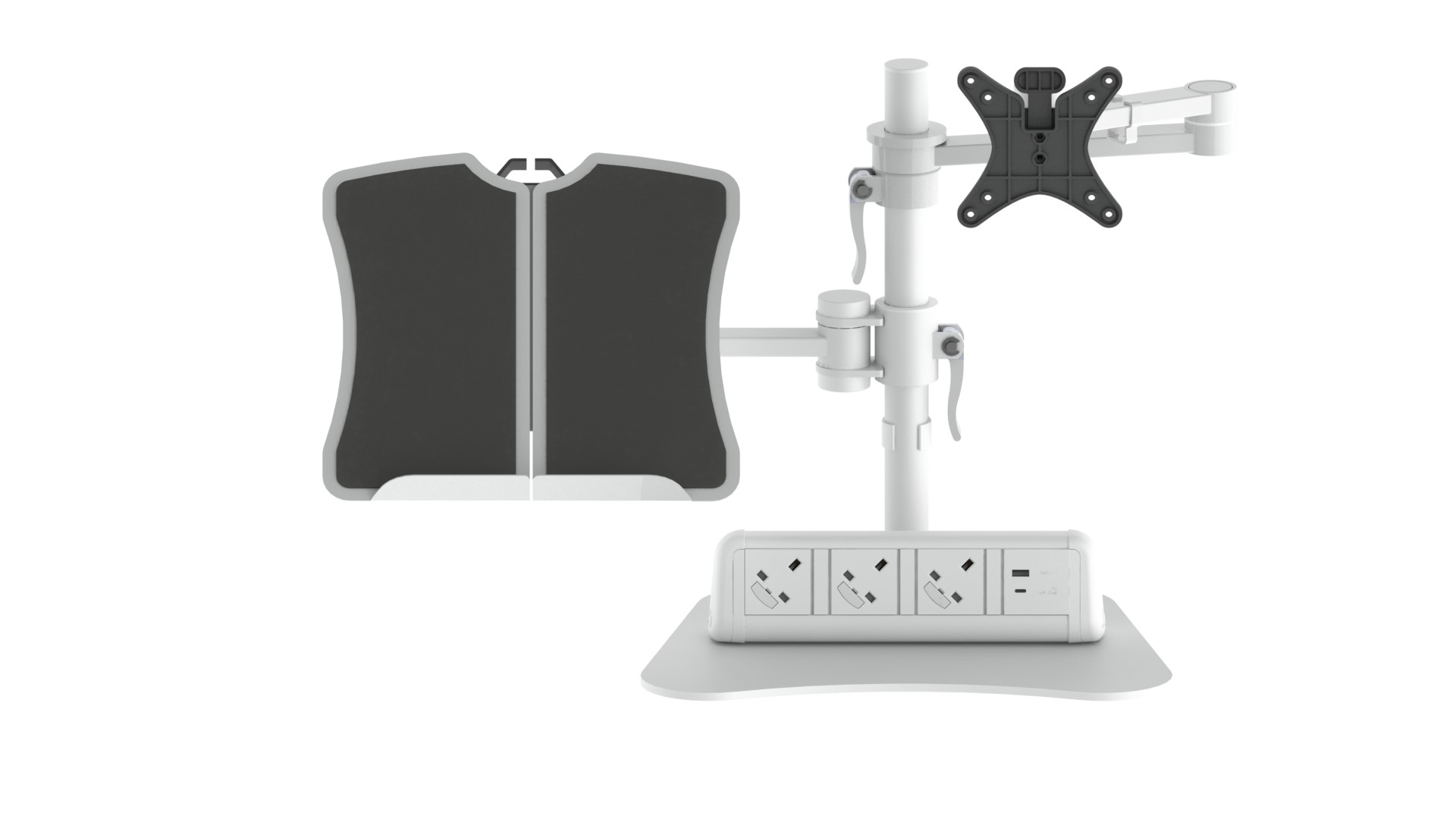 Available in white.
Range includes a single monitor support, a dual monitor support and a single monitor and laptop support.
Optional 3x power and 1x USB Type A&C charger sockets.
Includes cable management clips to secure cables to the arm and pole sections.
Supports monitors and laptops up to 5kgs (2x 5kgs when used with a dual monitor support or a single monitor and laptop support).
Quick and easy to install.
You can also view our range of homeworking bundles here.
Working from a laptop at a standing desk – Frequently asked questions
What is the correct posture for sitting at a laptop?
You should sit make sure that your elbows are at a ninety-degree angle and that the screen height is correct for your own height – you should not have to crane your neck or hunch to see your screen.
How can you eliminate back pain when using your standing desk?
Make sure to keep a good posture and that the desk is appropriate for your height. Alternate your position to relieve tension in your back.
Are standing desks good for posture?
Standing desks are good for posture as long as they are set up correctly to suit your height.
Are standing desks good for lower back pain?
Standing desks can be good for lower back pain by taking the pressure off your back.
Should you use a standing desk all day?
You should alternate between sitting and standing throughout the day.
How can you reduce wrist pain from typing on a laptop?
In order to reduce wrist pain, you can maintain proper posture, make sure your workstation is set up correctly, and stretch your hands regularly.
Are standing desks bad for your knees?
Standing desks can result in knee pain if used for too long.
Related content
Sitting vs standing while working