With more of us than ever working from home, assessing our environment can be a vital part of working effectively
and safely in our new space. Even an ergonomic desk can be a non-optimal working environment if it isn't clean,
tidy and well organised.
A poorly organised workspace can increase the chances of injuries or simply reduce your productivity. Clutter can
be restrictive, difficult to navigate, and cause distractions. These issues have only increased as we work from
home and become fully responsible for organising our own area.
Thankfully, there are now more available products than ever to help you to improve your workspace, including
cable spines, which can be used to organise your wires and cables.
In this piece, we will look at why it is important to keep cables out of the way, whether or not it is worth
investing in a cable spine, and choosing a cable spine. We will also look into CMD's cable spines and cover some
frequently asked questions.
Click on a link to jump to that section:
Find out why it is important to keep your cables tidy.
Read the benefits of a cable spine and whether it is worth investing in one for your desk.
We provide tips on choosing a cable spine and what features to look for.
Learn about the cable spines we offer.
Read additional tips on keeping your cables organised.
We provide answers to frequently asked questions on choosing a cable spine.
Why is it important to keep cables out of the way?
It can be easy to let your cables get out of control, but cable organisation is vitally important to your
workspace.
Messy cables can be a tripping hazard in your work area; falling over tangled cables is easy to do if you're
distracted. If you happen to have a sit-stand or standing desk, messy cables can impede your ability to move
freely up and down as your cables are likely to get in the way.
There is also a mental element to organising your cables; you may waste time untangling wires if they are not
tidy, and visual clutter can damage your productivity. A study on the effects of clutter in the home found that
individuals who felt overwhelmed by the amount of clutter in their homes were more likely to procrastinate.
Not only that, but wires and cables being in your way can cause them to suffer from wear and tear more quickly.
So, getting your cables under control can not only save you money, but it can also prevent unexpected power cuts
from damaged cables.
Is it really worth investing in a cable spine?
A cable spine is an excellent way to create tidiness in your space in an easy and affordable way. Cable spines
are easy to install into your existing desk setup; you can simply feed your cables into the spine to protect and
secure them in place. This means that not only are your cables out of your way, but they will remain undamaged
and secure within the cable spine.
You may have heard of a cable tray, which is also used to contain wires. However, this is traditionally used
under your desk and is an inflexible option for adjustable desks. Cable clamps are another option for cable
management, which are often useful for the on-desk organisation of thinner cables but do not anchor the whole
cable in place.
Choosing a cable spine
Cable spines come in several different forms. You can choose a cable spine which is a spiral, an expandable cable
spine, or a cable spine that allows you to separate your power cables and your data cables while still keeping
them contained.
Some cable spines, such as an expandable option, will be better suited if you have a sit-stand or otherwise
adjustable desk. The shape of your cable spine should also suit your needs; there are oval-shaped segment spines
or those that cover your wires entirely and have a zip opening for ease of access.
When selecting the right cable spine for you, you need to consider the practicality of which cable spine will be
right for your particular desk setup. Do you need your cables to be loose at all times? Do you need access to
some cables and not others, and will the cable spine accommodate the number of cables you need?
You will also want to be certain that the cable spine is made from high-quality plastic so that it lasts for a
long time.
Consider also the adjustable height of the cable spine; does it suit your needs? Make sure that it fits in with
your desk and is easy to install, potentially with a weighted base for extra stability. If you have an
adjustable or sit-stand desk, you will want to ensure that your cable spine is suitable for this.
When it comes to aesthetics, you want to ensure that the colour of the cable spine is "at home" in your office
space so that you can incorporate it easily into your space.
CMD's cable spines
CMD has some excellent cable spines for cable organisation:
The Tidy Expandable Cable Spine is adjustable
from 690mm to 790mm and comes in black, white and grey. This is fixed to your desk and is made from fabric
rather than plastic, making it more flexible and strong. You can internally separate power and data cables, and
it has a zip opening for easy access. Perfect for if you need to reorganise your cables, it is available in
black, white or grey.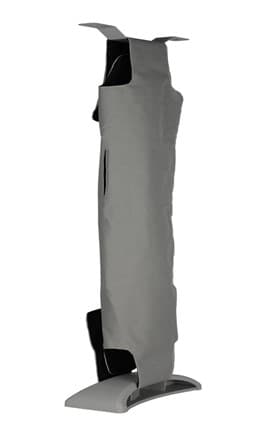 Adjustable height from 690mm to 790mm to cater to different desk heights
different coloured zips are available subject to a minimum order quantity
Each unit is made from a high-quality fabric, which gives it strength and flexibility
Available in black, white and grey
Product weight 500g
Internal segregation for power and data cables
Zip opening
Adjustable fabric hook and loop fixing straps
Weighted base
Cable Hive fixing available
Available in 3 colours
The Spiral Cable Spine is a great choice if
you have a sit-stand desk, as it can expand from 150mm to 1300mm, making it adaptable to a range of desks. When
compressed, cables can be easily fed through and it is available in silver or translucent or black to suit your
aesthetic.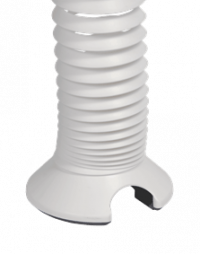 Spring-like expansion from 150mm to 1300mm working length means suitable for various desk setups, including
sit-stand desks.
Cables can be simply fed through the spine in its compressed state
Available in RAL 9006 silver or translucent spine with silver base, or black with black base
Easy installation with a single screwed fixing peg locating the top of the spine under the desk
Weighted "horseshoe" style base with cable exit cut out
Product weight 1kg
The Cableway Cable Spine has separate
compartments for power and data cable separation. The weighted base allows the floor to desk part to be
free-standing. You can detach the segments to change your set up as needed, and it looks highly professional for
the home or traditional office.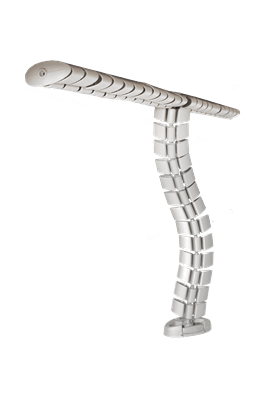 Two compartments to allow for power and data cable segregation
The Vertical Cableway screws to underside of the desk using a top bracket (fixing kit included)
Weighted base for free standing floor to desk section
Internal channel allows 3 pole connectors (Wieland) through
Allows conduit up to 25mm diameter to be swiped in
Segments are detachable for easy re-configuration
What else can I do to prevent cable damage and improve desk organisation?
Keeping a tidy desk is a great way to stay organised at work. You can invest in a whole range of excellent
products as well as cable spines, such as cable clips for keeping wires together under your desk, cable clamps
for slimmer cables such as chargers and headphones that you need easy access to, and cable management trays for
larger cables.
Read
our guide to choosing under-desk cable solutions here.
You may also want to look into things like a flexible monitor arm, and laptop and monitor stands to create a more
ergonomic working environment that decreases the risk of common workplace injuries, such as a sore neck and even
repetitive stress disorder.
One of the main things you can do to keep your home office working well is to keep your desk clean and tidy.
Ensure that your equipment is within reach, with less necessary items stored securely in a less visibly obvious
location. Use a document folder to keep your paperwork in order and keep waste paper to a minimum to achieve
less visual clutter.
You can find out more
about keeping your desk organised here.
Choosing a cable spine – Frequently asked questions
How important is cable management?
Cable management is highly important both for your physical health and focus and to maintain your cables.
Why can desk clutter be a problem?
Desk clutter can cause visual distraction and reduced productivity and can also cause poor ergonomic setup.
How much wire management do you need?
The amount of wire management you need depends on the number of wires you have, and which wires you wish to be
tidied away versus how many you need to have available to be moved easily.
How do you hide unsightly cables?
Cables can be hidden using a cable spine.
How can you manage your cables under your desk?
Cable clips can be useful for cables that have to be underneath your desk.
Related content
Using an
under-desk cable management tray and why it is important