In order to increase our productivity and comfort, it is vital to create a working environment that prevents injuries and improves posture. However, for those who are shorter or taller than the average person, it can be difficult to know which desks, chairs and other pieces of office equipment are ideal.
In this guide, we explain how to ensure your desk is suitable for your height, and discuss the best ways to sit to prevent injuries.
Click on a link to jump to that section:
Find out how tall the standard office desk is and why working from a desk that is the incorrect height can cause health risks.
Find out how to find the ideal desk height for you and what to consider.
Read the features of an ideal chair for short people.
Our recommended products for ensuring an ergonomic set-up.
Find out how you can make adjustments to your home workstation to ensure it is ergonomic.
We answer frequently asked questions on choosing the ideal desk for your height.
How tall are standard office desks?
Standard office desks which measure 73cm tall are designed to seat people who are up to 6ft tall (source). The height of these desks means many people are likely to be sitting in a compromised working position. For example, if you are perched on the edge of your chair to raise yourself to the height of your desk, you will naturally start to slouch after 10-15 minutes. This will put an increased load on your lower back, and you will start to lean on the desk for support, which will enhance lower back pain over time. Likewise, if you are taller than this height, you will likely find yourself hunched over the desk and looking down, causing stiff muscles and neck, back and shoulder pain. Studies have proven that using a desk that is the incorrect height can even cause chronic back pain. Legroom may also be inadequate for taller workers.
How to choose a desk that is ideal for your height
As a general rule, the ideal desk and chair height combination should position the eyes within the top third of your computer screen, without the need to tilt or turn the head. This will reduce stress on the back and neck, providing a more comfortable working position. Your elbows should be positioned at a 90-degree angle without needing to strain to reach the equipment.
If you are a shorter individual, you may need to raise the monitor to create the correct angle. For example, if you are 5 feet tall, the monitor height will need to be 43″ from the floor when your chair is correctly positioned. It is also important that the desk allows for the monitor to be positioned at the correct distance away from you, which should be between 20″ and 30″ from your head.
If you are unsure how to position your chair, the first thing you should do is ensure the height of the chair allows you to position your knees at a 90-degree angle. If you are a shorter worker, you may have to use a footrest to ensure your feet are able to rest on a flat surface. You should also consider how far you need to reach for your keyboard and mouse, as repetitive reaching will cause stress on your back and joints.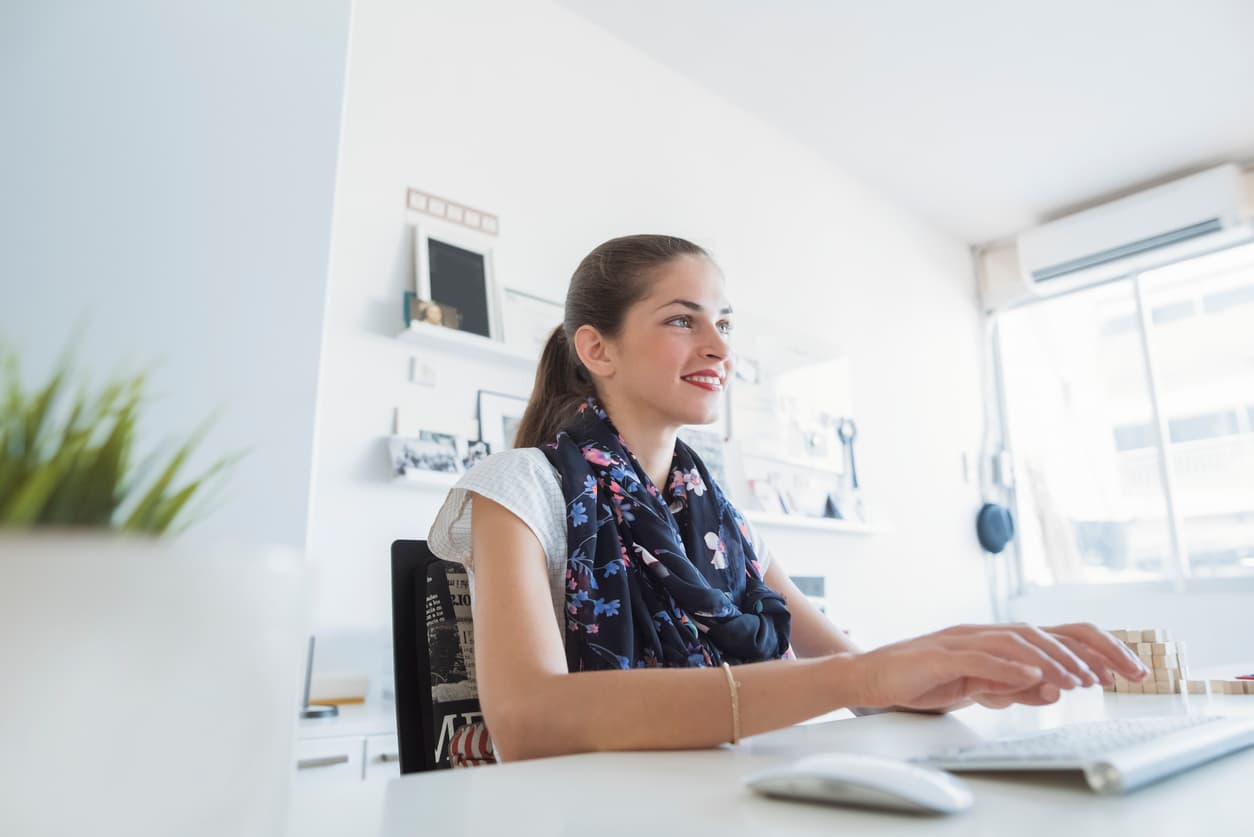 If you are taller than 6ft and working from a fixed height desk, you have the option to raise your desk with some desk raisers, or use a monitor or laptop stand to raise your screen to the correct height. However, a height adjustable or standing desk is often the best solution for people who are taller than 6ft.
The following can serve as a guide to the ideal desk height for you:
| Your Height (Feet and Inches) | Seated Desk Height (cm) | Standing Desk Height (cm) |
| --- | --- | --- |
| 5' 6" | 67 | 94 |
| 5' 7" | 68 | 96.5 |
| 5' 8" | 69 | 99 |
| 5' 9" | 70 | 101.5 |
| 5' 10" | 71 | 104 |
| 5' 11" | 72 | 106.5 |
| 6' | 73 | 109 |
| 6' 1" | 74 | 111.5 |
| 6' 2" | 75 | 114 |
| 6' 3" | 76 | 117 |
| 6' 4" | 77 | 119 |
| 6' 5" | 78 | 122 |
| 6' 6" | 79 | 124.5 |
Standing desks are becoming an increasingly popular option, especially for workers who are much taller and shorter than the average height. The ideal standing desk will be adjustable and should descend low enough for you to position your monitor at the ideal height. For example, for those who are 5 feet tall, the monitor will need to be 57″ from the floor when you are standing. For someone at 6 feet tall, the perfect height for a standing desk will be around 109cm.
There are a variety of sit-stand workstations available, such as the Active Electric Sit Stand workstation. These allow any desk to be converted into a sit stand desk, creating a height-adjustable solution.
Choosing the correct task chair
Ideally, your chair should be adjustable to ensure you can work in the ergonomic position for your height. The right height is achieved if your knees are bent at 90 degrees and parallel to the hips, your thighs parallel to the floor and both the feet are flat on the floor. In addition, the backrest and armrests should be adjustable so that the worker can support their working position. The back of your chair should be reclined to a 100-110 degree angle.
You can read more about ensuring your task chair is ergonomic here.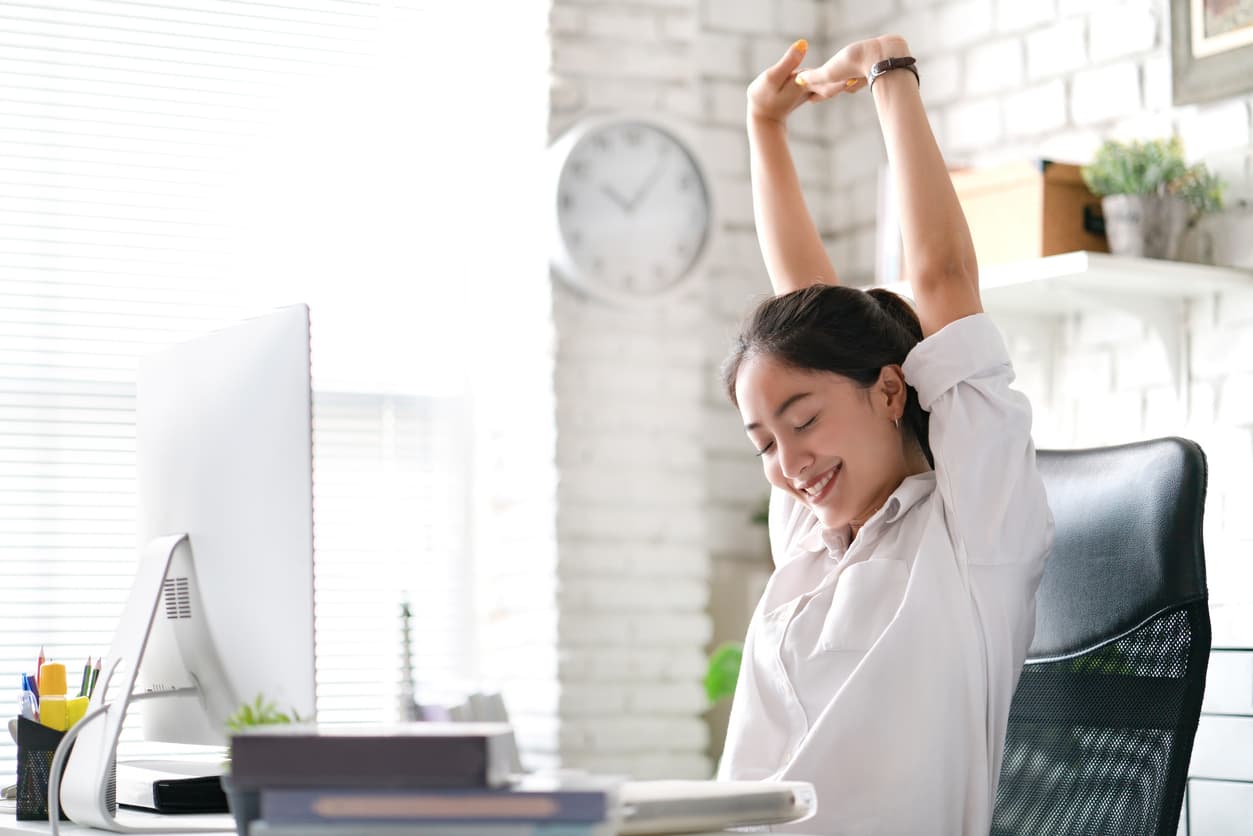 Considering other ergonomic office products
A footrest
This will provide extra support to those who are sitting for long periods of time and will help shorter individuals ensure their knees can remain bent at a 90-degree angle.
Elbow rests
These will provide additional support to the shoulders so that the worker is not encouraged to bend their wrists whilst using the keyboard.
Keyboard tray
This will allow the office worker to adjust the keyboard to the correct height, so that it is positioned just below elbow level.
Monitor and laptop arms
To avoid headaches and neck and shoulder pain, it is important to position the screen correctly. A stand will allow the screen to be raised to the correct eye level and prevent straining.
Shop our selection of laptop and monitor arms here.
Recommended products
Vision pole monitor arm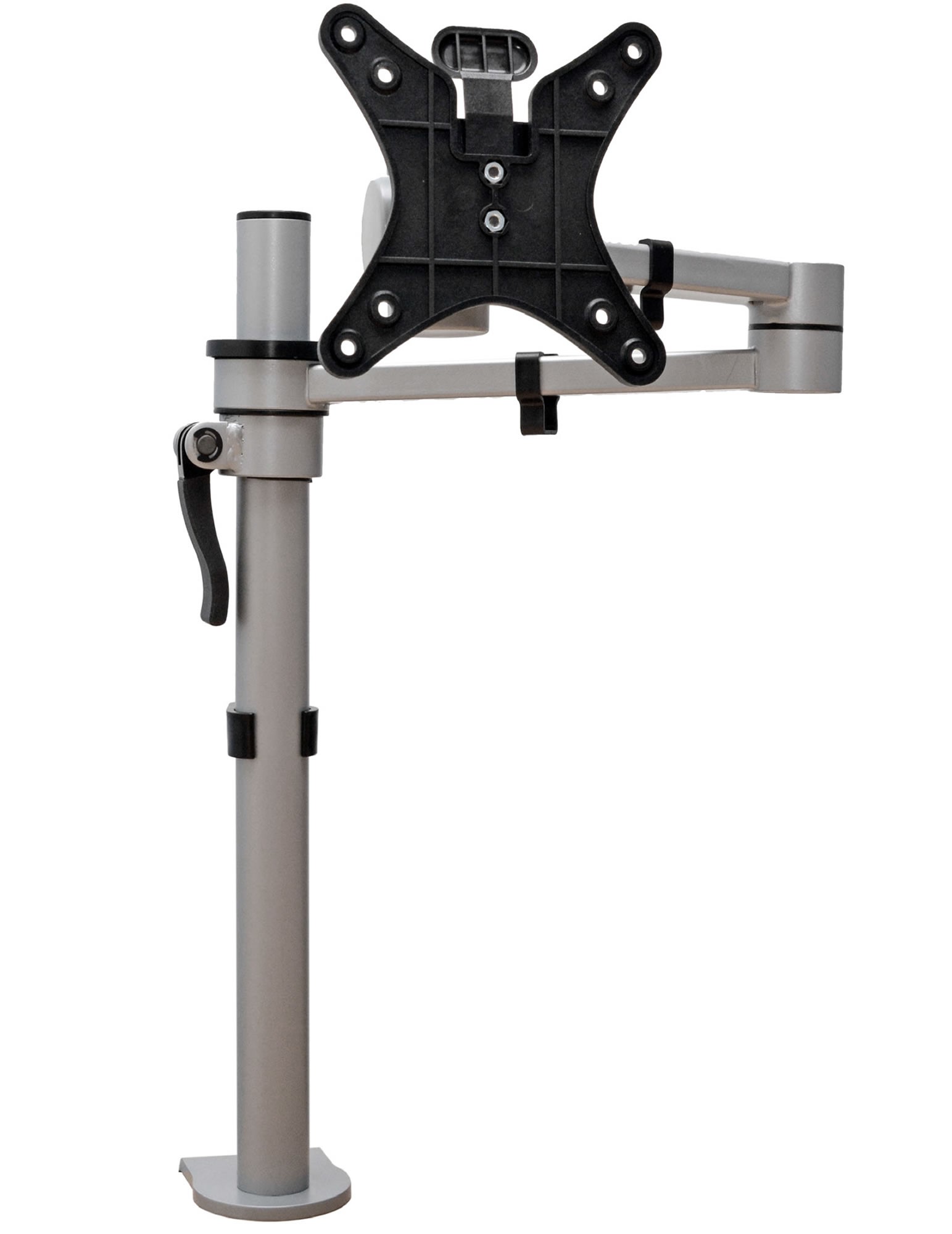 Quick release VESA now standard (VESA 75mm & 100mm)
Single or dual screen options available
Supports monitors up to 6Kgs (6Kg per arm on Vision S Double)
Optional laptop support available
Slimmer pole – 32mm diameter
Arm sections have been dramatically reduced and reshaped
Cable management clips
Reach spring assisted monitor arm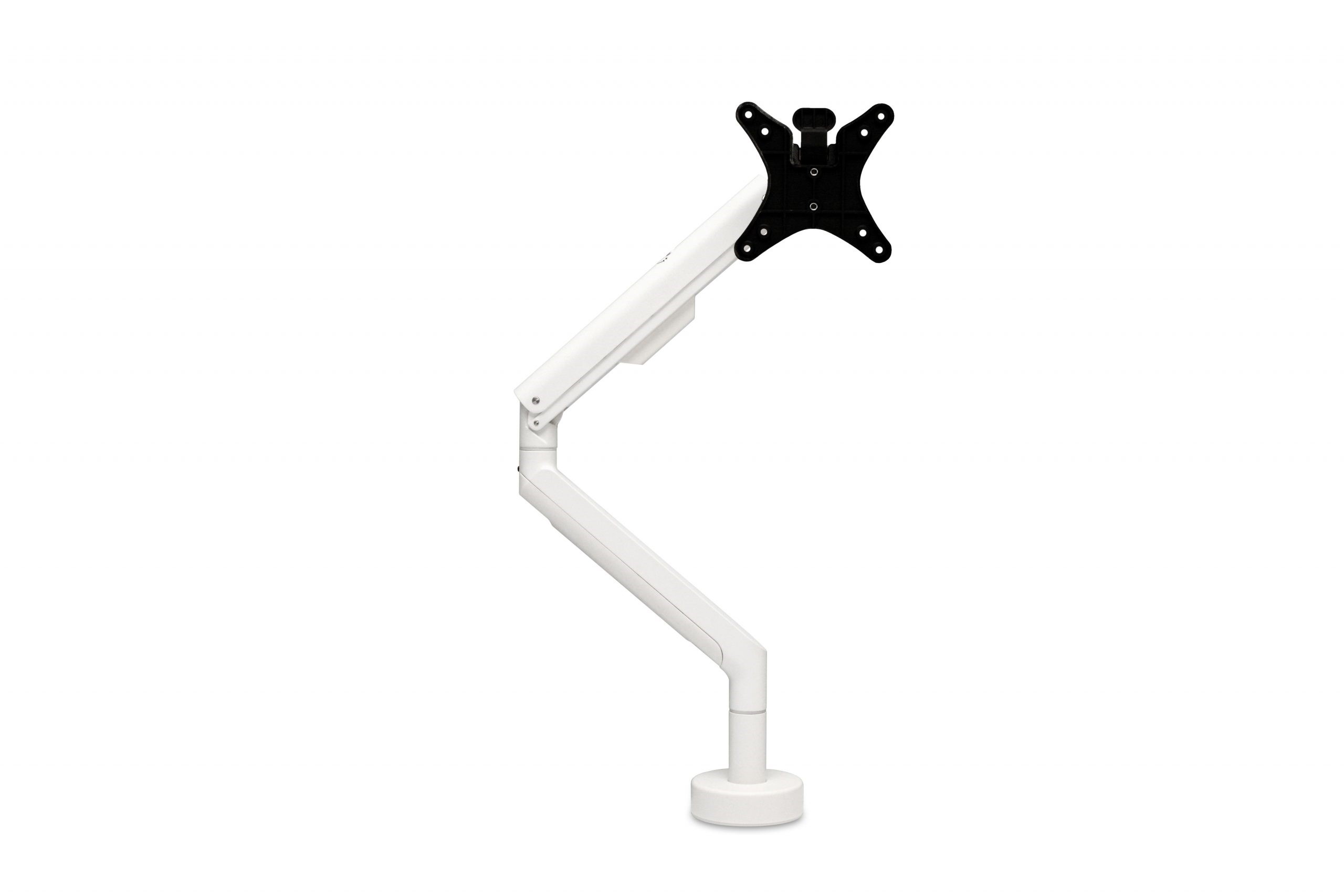 Awarded Ergonomics Excellence by FIRA
10 Year Warranty
Spring assistance for fingertip movement
Folds flat into 80mm of space
Integral cable management
Quick release VESA (Supports VESA 75mm & 100mm)
Standard Arm supports monitor weights between 2Kg- 5Kg
HD version product supports monitor weights between 3Kg- 8Kg
Adjusting your workspace if you work from home
Whether you are willing to invest in new products or improvise, there are some ways you can adjust your workspace easily.
If you are struggling with a desk that is too high for you, you can create an improved seating position by placing a cushion on your seat and a rolled-up towel against the backrest for increased lumbar support. Next, create a 90-degree angle with your knees by using a box or a stool as a footrest. If your desk is too low for you, you can raise the monitor height to suit you using a box or books. You can do this with a laptop if you are using a separate keyboard. A laptop or monitor stand can also be a useful option if needed.
Recommended product
Vision H ergonomic workstation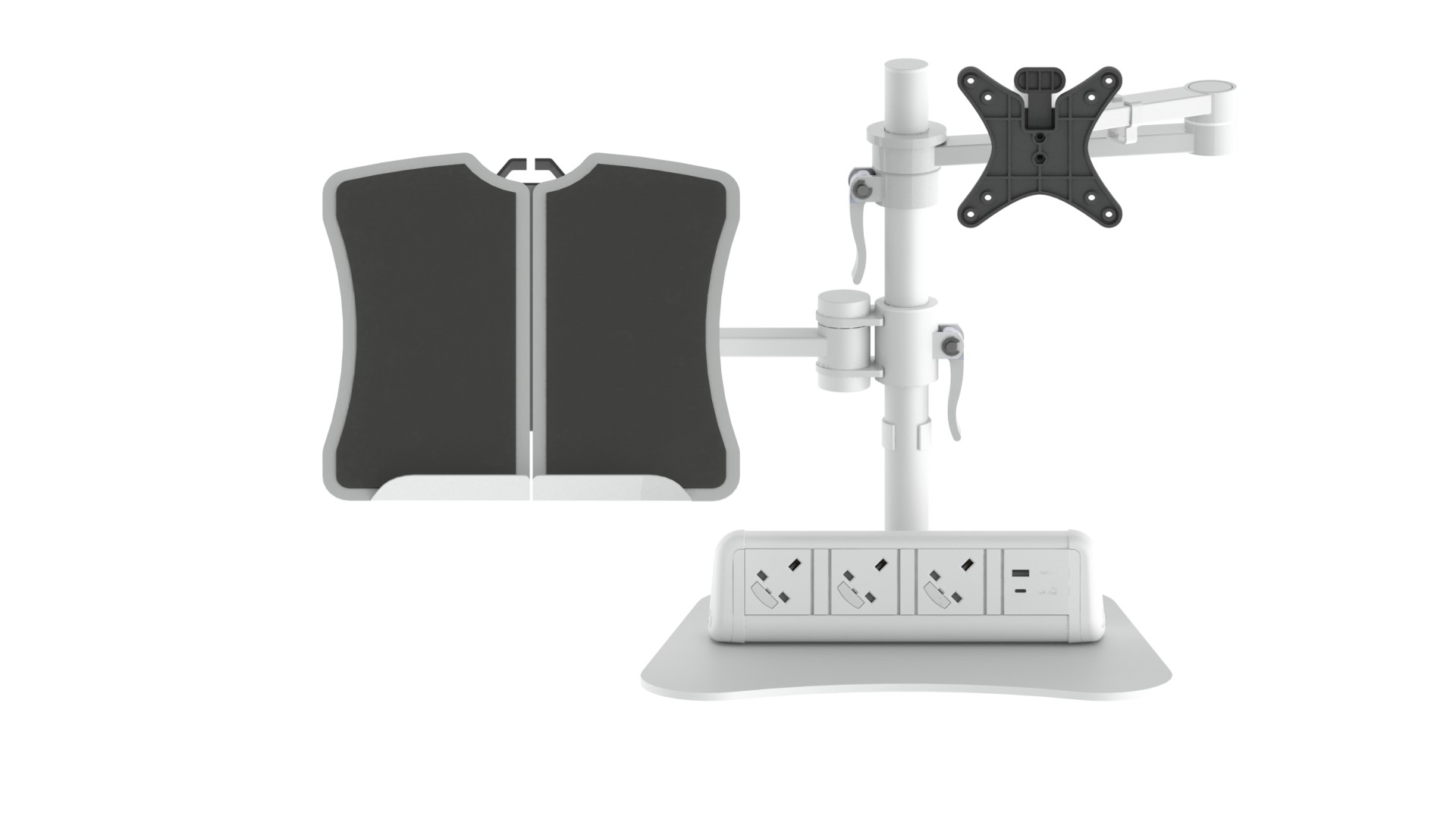 Designed for homeworkers
A single monitor support, a dual monitor support and a single monitor and laptop support
Optional 3x power and 1x USB Type A&C charger sockets
Includes cable management clips
Supports monitors and laptops up to 5kgs
Quick and easy to install
Read our tips on maintaining an ergonomic typing position at home here.
Desks for different heights – Frequently asked questions
What is the best office chair for a shorter person?
You should choose a chair that offers a seat height range of between 15 and 19″, which is ideal for anyone measuring between 4'10" and 5'9″.
You can read our guide to ensuring your office chair is ergonomic here.
Is it better to have an office chair with or without arms?
It is recommended to use an ergonomic chair with adjustable armrests, as they will support the upper torso and reduce strain on your shoulders and neck.
When sitting should your knees be higher than your hips?
No, the chair must be at a height which positions your hips roughly level with your knees as this will aid a more natural back alignment.
What happens if your desk is too high?
If your desk is too high it is likely that you will experience elbow, wrist, shoulder and hand pain, with back pain also becoming an issue over time.
Read our guide to ensuring your desk is ergonomic here.
How can you increase the height of your coffee table?
It is possible to raise the height of your table by positioning wooden or rubber spaces under the feet. When working from home, you may also want to consider placing your laptop under a stable object and working from a separate keyboard.
Why should you be using a laptop stand?
A stand will reduce the risk of repetitive strain injury, by raising the screen to eye level and preventing neck and back strain. You can shop our range of laptop and monitor stands here.
Should your arms rest on the desk while typing?
Your arms should be at a position which allows your elbows to comfortably sit at a 90-degree angle, with your arms hanging freely whilst typing.
At CMD, we create solutions for offices, with a product range including everything from standing desks to monitor arms. To find out more about our solutions for shorter office workers, please contact our team today.
Are you working from home? Visit our homeworking page for a full selection of homeworking products and advice pages.
Related content
The best workstations for carpal tunnel syndrome