During the working day, it is common for workers to slouch forward and adapt to positions that put pressure on the muscles. Read our guide to solving pain with ergonomics at worFatigue often causes workers to sit in an overly relaxed position. However, these habits can have a long-term impact on our health, even contributing to chronic neck, back and shoulder pain.
This guide will discuss how pain can be prevented and treated with ergonomics, explaining how the correct ergonomics can help back, neck and shoulder pain.
Click on a link to jump to that section:
Read about the relationship between pain and aspects of our working environment or habits.
Find out what ergonomic products and posture adjustments can help support the back.
Read about the ergonomic products that can help prevent shoulder pain, such as using an economic mouse.
Find out how you can support and treat neck pain through using specific products such as neck pillows and heat gels.
Read our tips on working ergonomically from home.
The link between pain and our working environment
The following factors are common causes of muscle pain:
Posture mistakes
Poor posture whilst sitting at a desk might be triggered by sitting too far from your monitor, or placing your monitor at the wrong height, meaning that you are looking up or down too much. It is very common for office workers sat at computers to start to slouch, which over time can cause muscle strain, aching joints, and might even constrict nerves (radiculopathy), leading to long-term pain.
You can read more about the correct ergonomic sitting posture here.
Using unsupportive equipment
Just as maintaining the incorrect posture can cause pain – using unsupportive equipment can also contribute towards back, neck and shoulder pain. An office task chair without lumbar support, or a desk that is too high or low for us to work comfortably can contribute towards injury and conditions.
Maintaining a sedentary lifestyle
A study conducted in April 2019 investigated the relationship between levels of sedentary behavior, physical activity, and back pain and their psychosocial correlates among university employees. The study found that sedentary behavior was significantly associated with those who experienced either lower or upper back pain.
Straining and reaching for cables
Routinely straining to reach cables, or leaning forwards to reach other implements on your desk can also trigger or exacerbate pain.
Failing to take regular breaks
Not taking regular breaks means we don't get enough chances to stretch and relax our muscles, contributing towards muscle pain (source). Alongside neck, back and shoulder pain, not taking breaks also increases the risk of muscle repetitive strain injury and carpal tunnel syndrome.
An ideal ergonomic workstation set-up for solving pain
Whether you are suffering from back, shoulder or neck pain – it is essential to work from an ergonomic task chair. An ergonomic task chair should be able to recline, with easily reachable controls. For optimum back support, you should recline the chair to between 100 and 110 degrees (source). A fully adjustable ergonomic design will also allow you to adjust the tilt angle of the seat.
The seat height should also be adjustable – particularly if you are working at a fixed height desk. Your feet should be able to rest flat on the floor, and your knees should be at a 90-degree angle, in line with your hips. A footrest may be a helpful addition to your desk environment, keeping your feet and legs stable without needing you to lower your chair as much.
You should also follow these ergonomic posture tips:
1. Sit up straight with your head aligned over your neck and chest.
2. Adjust your office task chair to ensure your hips are raised slightly higher than your knees when feet are on the floor or on a footrest. Elbows should be bent at a 90-degree angle when the palms rest on the desk.
3. Raise or lower your monitor to ensure you can see the whole screen without tilting the head up or down.
4. Keep the mouse and keyboard close to your hands.
If your monitor is the incorrect height, you should always use a monitor arm to prevent back, neck and shoulder pain by lifting the monitor to the correct height.
Reach Spring Assisted Monitor Arm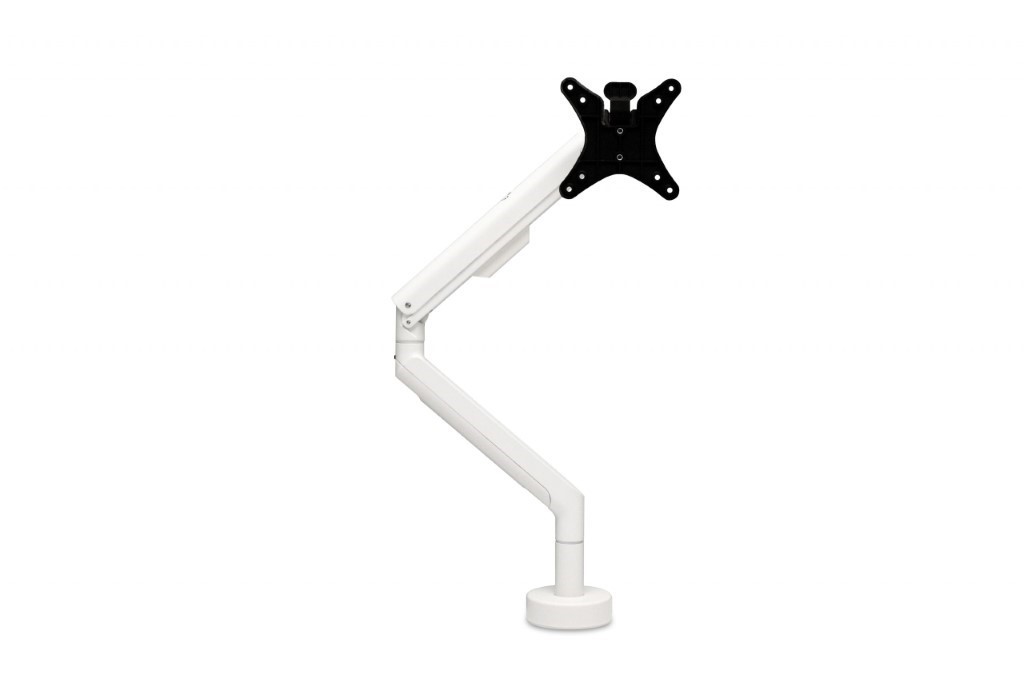 Awarded Ergonomics Excellence by FIRA
10 Year Warranty
Spring assistance for fingertip movement
Folds flat into 80mm of space
Integral cable management
Quick release VESA (Supports VESA 75mm & 100mm)
Supporting the back
The lower portion of your spine naturally curves inwards – this is called the lordotic curve. Lumbar support helps your posture because it fills the gap between the back of your task chair, and this part of your spine. It supports the natural inward curve and means that the muscles in that area don't have to strain to keep your back in its natural position.
Lumbar pillows
Some ergonomic task chairs require separate back support to be attached – meaning a lumbar support pillow is essential. Although this may feel like a less convenient solution, there are advantages to detachable back supports – particularly if you share a desk or work in an environment where hot desking is common.
Sit-stand desk
This is a great option for people who want the freedom of being able to walk around during the working day. The standing position places less stress on the lumbar region of your back and is generally considered to help overall fitness. We have a range of solutions to help convert any workspace into a sit-stand desk.
Recommended product
Active Electric Sit Stand Desk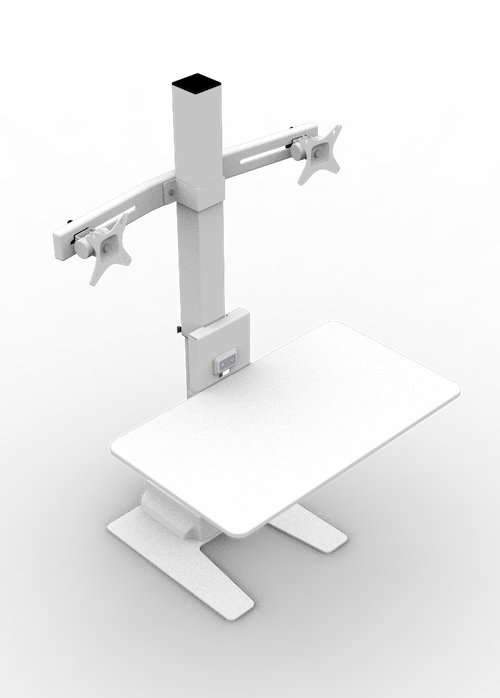 Instantly converts any desk into a sit-stand workstation
700mm x 400mm solid working surface
Quick and easy assembly
Comes complete with a single and double supports
Power assisted height adjustment
Single option supports monitor weights up to 7kg and the double option supports monitor weights up to 14kg
VESA Complaint 75mm & 100mm
You can find out more about how adjustable workstations can help back pain here.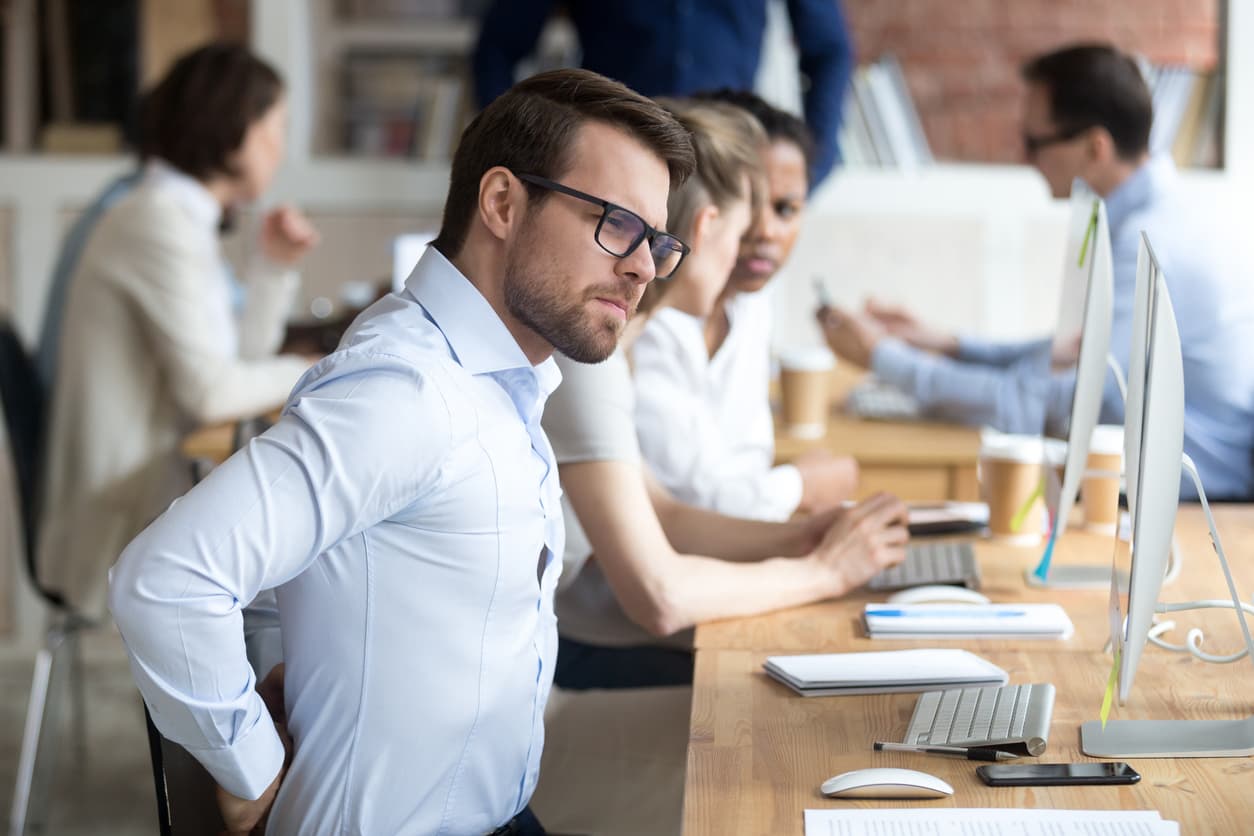 CPU holders
Though it may not be an obvious solution to preventing back pain, buying a CPU Holder to protect and position your PC under your workstation gives you one less way to pull or cramp the muscles in your back. This includes avoiding strains from frequently reaching for inconveniently placed connections and ports and the danger of tripping over cables.
You can read more about how CPU holders can help back pain here.
Supporting the shoulders
Shoulder pain for computer users is typically caused by the muscles and tendons between neck and wrist being held tensed in one posture for long periods. Often, your shoulder posture is not at rest but supporting your mouse arm or your other arm but not in a resting position. The result is muscle/tendon fatigue and damage which causes shoulder pain.
Products for shoulder pain
An ergonomic mouse
An ergonomic mouse, which fits more naturally into the palm of the hand than a traditional mouse, could help you to avoid over-rotating the wrist and putting strain on the shoulder. Adjustable keyboards are another great way to avoid having to tense the arms or wrists while typing.
An ergonomic keyboard
Ergonomic keyboards are another great way to avoid having to tense the arms or wrists while typing. An ergonomic keyboard encourages natural hand, wrist and forearm positions.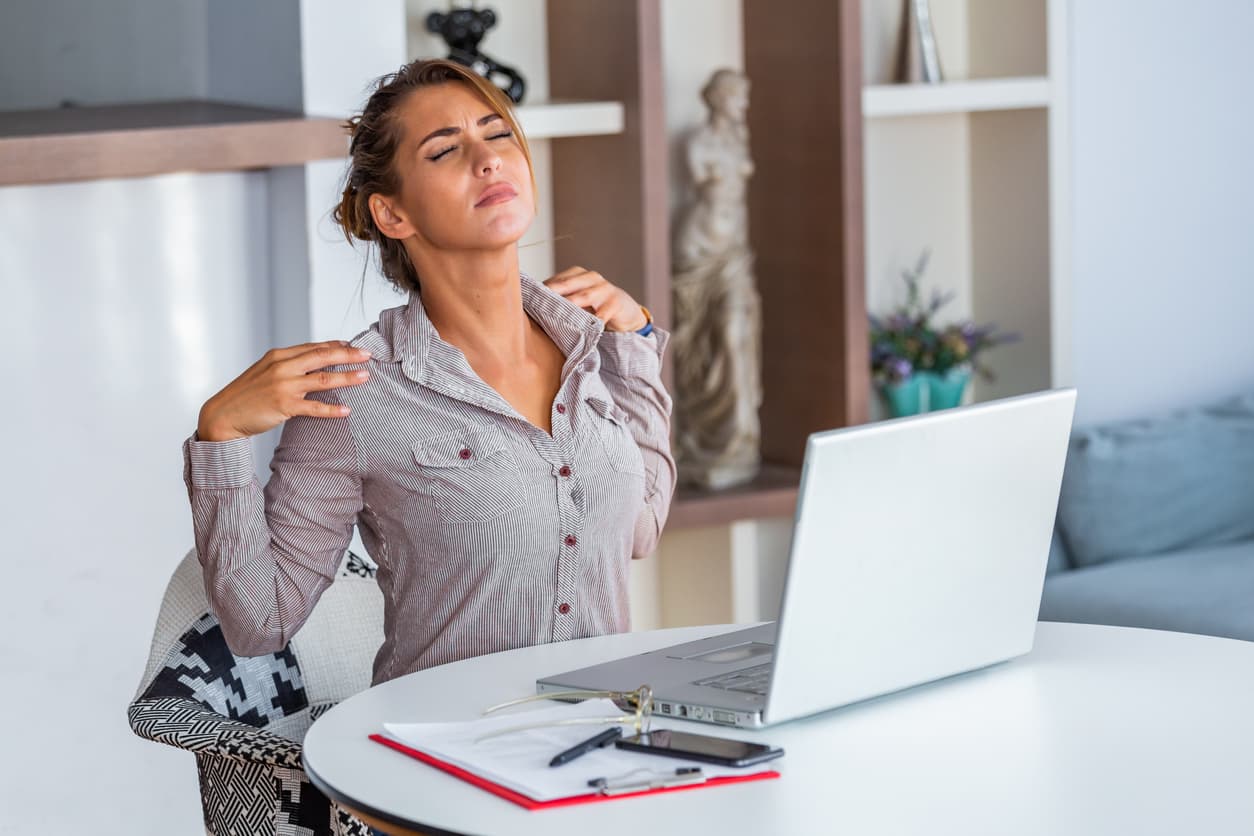 A monitor arm
To avoid holding the neck in an awkward position, try a monitor arm to ensure your computer screen is at perfect eye level.
Document holders
Document holders are also very handy for avoiding craning the neck or hunching the shoulders when referring to physical documents while using a computer.
You can read our guide to ergonomic products for shoulder pain here.
Supporting the neck
Neck pain is often linked to your body positioning when working, gaming or using your mobile phone. Most commonly, it is caused by the habit of leaning forwards or even slouching across your neck and shoulders. All of these habits put pressure on or overly extend neck muscles.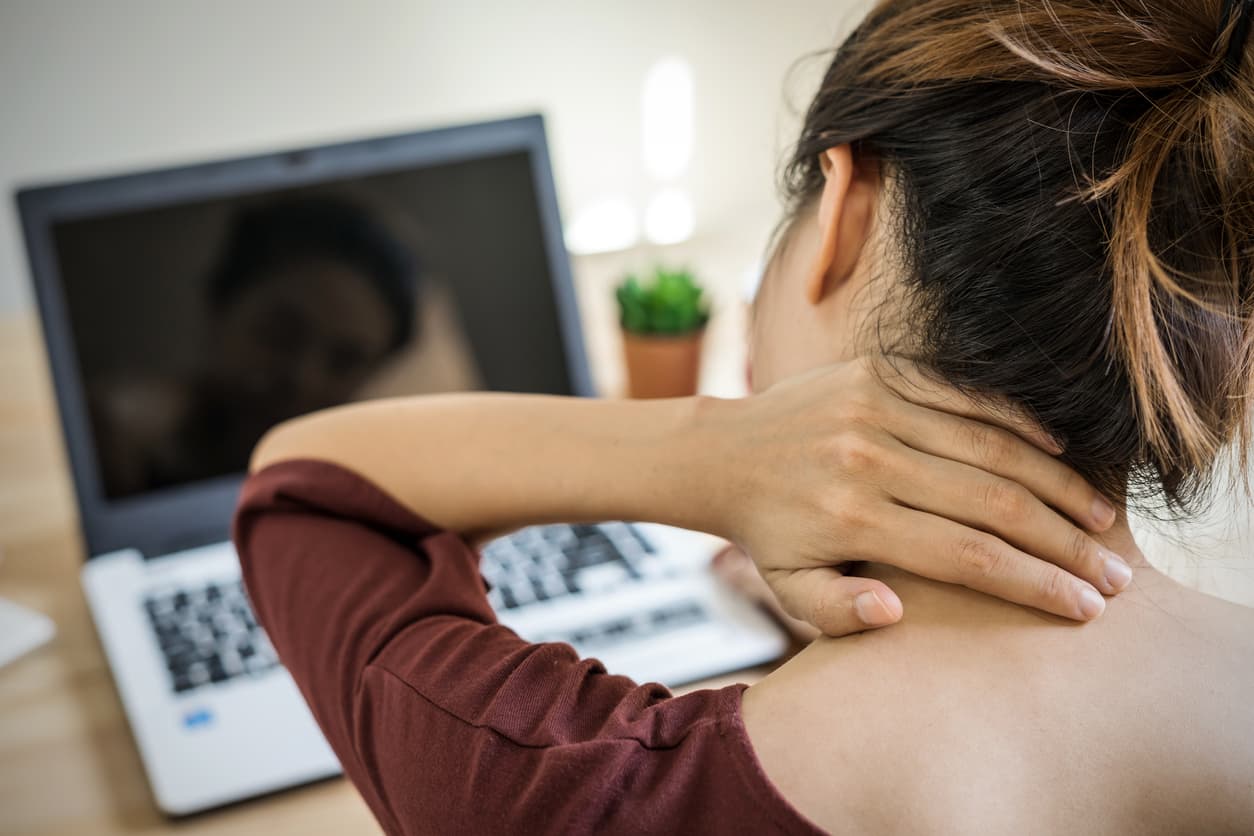 Ergonomic products for neck pain
Ergonomic neck pillows
A good neck pillow for your chair cradles your cervical spine as you work, taking tremendous pressure off your neck. An adjustable headrest with memory foam is particularly effective, as it can provide therapeutic level support and comfort. Memory foam's flexibility ensures consistent comfort and pain relief to your neck. Some pillows come with elastic straps, which allows you to fit it onto your chair easily.
Over the counter pain medication in recommended doses can give relief for neck pain, as can heat gels and cushions you warm in the microwave.
You can read our full guide to ergonomic products for neck pain here.
Additional ergonomic tips for preventing pain
Take frequent movement breaks and drink water throughout the day.
Set your screen about an arm's length away.
The top of your screen should be at eye level.
When you're typing or moving the mouse, keep your wrists straight and your arms close to your sides.
Solving pain when working from home
It can be tempting when working from home to simply rest a laptop on your knees and work from a comfortable armchair, sofa or even bed. However, this is bad news for the back, neck and shoulders which will be unnaturally hunched over while working. Instead, try to work at a dining table and sit in a chair with a firm back for lumbar support.
You can visit our homeworking page here for a full range of homeworking products and advice pages.
Related content
Ergonomic products for neck pain
Ergonomic products for back pain
Ergonomic products for shoulder pain
How adjustable workstations can help back pain