As an employer, you have a wide range of responsibilities. One of the most vital responsibilities you have is to ensure that your employees are comfortable while they work. You are actively engaged in preventing musculoskeletal injuries that may occur due to poor workplace ergonomics. Knowing how to reduce ergonomic hazards in the office is essential and can help to make your life easier and your employees happier and safer.
This page explores why preventing ergonomic hazards in the office is essential, what an ergonomic hazard is, and what you can do to solve them. We also examine whether you should invest in ergonomic products and provide additional tips for taking care of your employees.
Click on a link to jump to that section:
Read the importance of preventing ergonomic hazards in your office.
Read the meaning of an ergonomic hazard.
Find out how you can prevent ergonomic hazards in the office.
Read the benefit of investing in professional ergonomic solutions.
We answer frequently asked questions on ergonomic hazards.
Why is it essential to prevent ergonomic hazards in the office?
Preventing risks in the office can ensure your employees are as productive as possible and help prevent your employees from taking sick days, bringing more money into your business. In the UK in 2019/2020, there was an average of 9.1 sick days taken due to workplace injuries. Ergonomically working can improve many facets of your employees' working lives. For example, introducing office furniture that promotes better posture is good for spinal and general muscular health and can also prevent injuries caused by awkward posture.
The right ergonomic environment can also positively impact employee well-being and happiness, ensuring that they feel valued and remain in good health. This can directly improve employee productivity and happiness, resulting in better work output and fewer sick days.
Creating a positive ergonomic setup also prevents injuries caused by strain and can improve overall posture. This can, in the long run, prevent further employee injuries.
What is an ergonomic hazard?
An ergonomic hazard is a factor in the workplace that may cause discomfort or injuries to workers, such as muscle strain. Office-based hazards such as a poorly designed desk space, the wrong monitor height, and task chairs that are not comfortable and lack support are common ergonomic issues. The wrong kind of lighting and too much noise are also common ergonomic hazards for an office worker.
Read more about ergonomic hazards in our guide What is the meaning of an ergonomic hazard?
Preventing ergonomic hazards from arising
To prevent ergonomic hazards from arising, you should keep an eye on several factors around your office space.
For example, you should ensure that keyboards and monitors are placed correctly and will not lead to unnecessary straining. Computer mice and keyboards should be easily accessible and placed in a comfortable position. Monitors should be an arm's length away from the body, and the monitor screen should be at – or slightly below eye level for maximum comfort. A great way to adjust your monitor's height is to invest in monitor arms that can be lowered or raised to your employees' needs.
Recommended products
Reach Plus Monitor Arm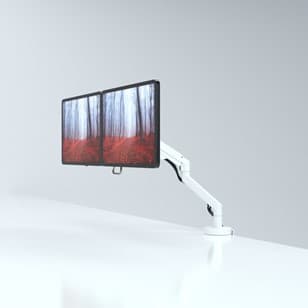 5 Year Warranty
Fingertip movement
Integral cable management
Quick release VESA (Supports VESA 75mm & 100mm)
Reach Plus supports combined monitor weights between 6kg – 15kg
Supplied with top mounting universal C clamp fixing
180 Degree lockout option as standard
Folds flat into 80mm of space
Available in three colours; Silver, Black and White
You should also check that desk heights allow your staff members to work comfortably, whether they are normal desks or sit-stand desks. Introducing sit-stand desks can be an excellent way to ensure employees do not remain in the same position for too long.
Recommended product
Active Electric Sit Stand Workstation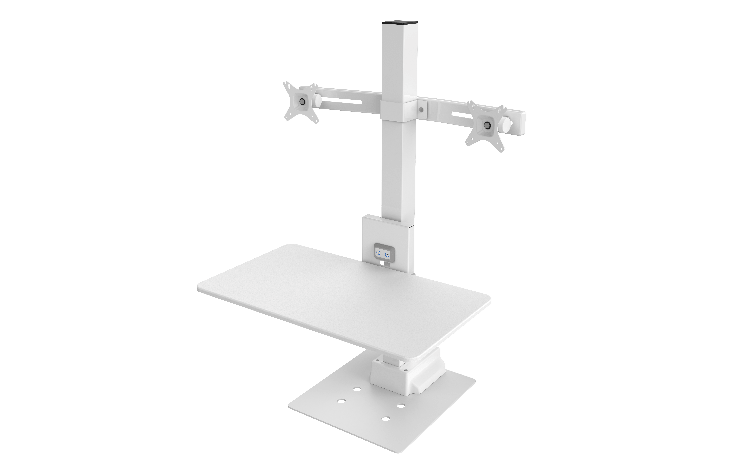 Instantly converts any desk into a sit-stand workstation
700mm x 400mm solid working surface
Quick and easy assembly
Comes complete with a single and double supports
Power assisted height adjustment
Single option supports monitor weights up to 7kg and the double option supports monitor weights up to 14kg
VESA Complaint 75mm & 100mm
Travel range is 450mm ±5mm
Travel time is approx. 11 seconds
When ensuring an ergonomic desk setup, you should also assess the management of cables and see whether a cable management product such as a cable basket might be suitable for your employee's workspace. This can reduce tripping hazards, as well as potential electrical hazards.
Recommended products
Premium cable basket
Available in Silver (RAL 7040) or White (RAL 9010)
5 Standard lengths – 1,000mm, 1,200mm, 1,400mm, 1,600mm, 1,800mm
Includes an earthing point
Width 150mm x 85mm high
Mild Steel Nylon coated Wire Basket
Weight depends on length
Fusion cable basket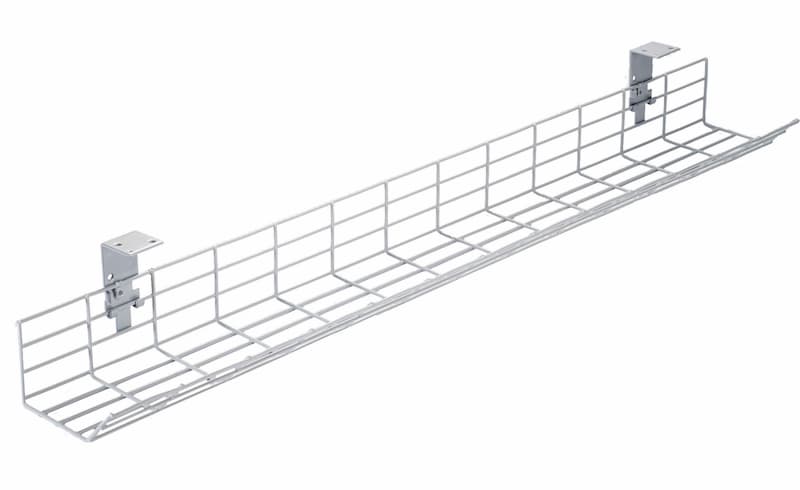 Silver low density poly coated wire basket complete with 2 brackets
Available in 5 standard lengths, 800mm, 1,000mm, 1,200mm, 1,400mm, 1600mm.
Weight depends on length
Sloped on front facing side for easy access
Silver (RAL 7040)
Includes an earthing point
Task chairs should be suitable for your employees to work for long periods and should ideally be adjustable. Task chairs should also offer enough lumbar support to prevent back pain and support the spine's natural "S" curve. Find out more about ensuring task chairs are ergonomic here.
When it comes to noise and office lighting, the noise levels should be kept to a minimum where possible. The lighting should duplicate daylight while being steady all day long, with minimal fluctuations.
You should also be conscious that areas with water (bathrooms, kitchens, or workspaces that involve liquids or other materials) are kept clean and tidy to prevent slipping hazards and that every floor is kept dry and safe at all times.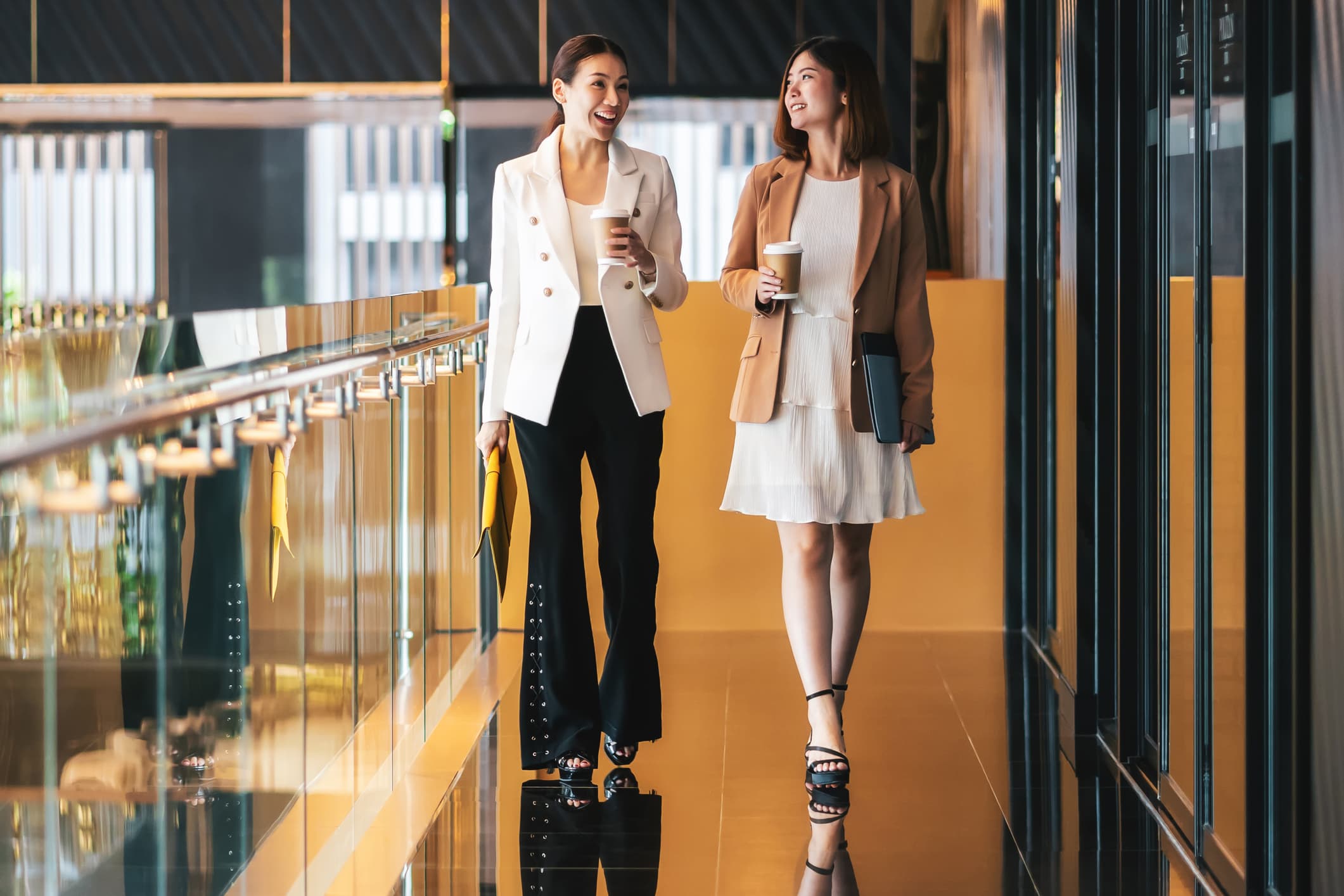 Should you invest in ergonomic products for your office?
When you are trying to prevent hazards from occurring within your office, investing in ergonomic products is an excellent way to do this. For example, flexible monitor arms and laptop arms allow employees to sit more comfortably and ensure correct placement. Meanwhile, a basket for cables provides a cable management system that can reduce electrical hazards.
Are you looking to invest in ergonomic products for your office? View our full range of ergonomic products here.
How else can you look after your employees to prevent injuries from occurring?
There are other ways that you can take better care of your employees and ensure that the chances of injuries are reduced. By allowing employees to take adequate breaks, the chances of strain injuries caused by sitting in the same position are reduced. This also allows employees to rest their eyes.
During break times, employees should be encouraged to take regular walks and exercise – or even just walks around the office during their work time. This also reduces the chances of them developing strain injuries and allows them to stretch out their muscles. It is also suitable for mental health and makes employees feel more cared for.
You should be aware of ergonomic hazards and have ongoing assessments of your office space to ensure that it is ergonomic and that the equipment suits your employees. Part of this should involve regularly trying out equipment such as task chairs and desks to check that all equipment is good quality and still supportive. Office furniture is used daily and can quickly become worn out or outdated, so these checks are vital in making sure your ergonomics still work for your workforce.
Frequently asked questions
How do you treat a stiff hand from typing?
You can use ice or heat packs to treat a stiff hand. In some cases, you may require a splint or cast.
How do you increase back support in the office?
You can use a lumbar support cushion and an anti-fatigue mat to improve back support in the office.
What is an ergonomic mouse?
An ergonomic mouse is a mouse that is designed to fit the human hand. It is generally larger than a normal mouse and can reduce strain during use.
What are common electrical hazards in the office?
Common electrical hazards include frayed cables, tangled cables, old outlets, out of date electrical equipment that has not been checked, overheating equipment, and overloaded extension cords.
What are the benefits of office safety?
Office safety reduces the likelihood of workplace injury-based illness and employee absence. It also improves employee retention and can help your company to be more successful overall.
How do you set up a desk ergonomically?
When setting up a desk ergonomically, you should ensure that the top of your monitor is just below eye level and you are able to sit in your chair comfortably without straining forward or slouching. You should be able to rest your forearms comfortably on your desk without twisting your wrists, hands or arms.
How do you identify a hazard?
Ensure that you assess all aspects of the work environment, the equipment used, the work done, and the person carrying out the office work to identify any workplace hazards.
What type of hazard is poor ventilation?
Poor ventilation increases the likelihood of airborne illnesses spreading, causing a physical hazard.
What is an ergonomic keyboard?
An ergonomic keyboard is designed in a v-shape to allow two-handed typists to type in a more natural position.
Related content