Choosing the correct ergonomic products can be daunting when you aren't sure on the best choice for your situation. For example; you may be working from a sit-stand desk for the first time, or working from home and unsure whether your desk is the correct height.
In this guide, we explain how to choose the correct ergonomic products for different situations and provide tips on working comfortably.
Click on a link to jump to that section:
Read our tips on how to work from home ergonomically.
Find out how to choose the best desk for your height.
Find out how to work ergonomically from a sit-stand desk.
We provide recommendations on ergonomic products that can reduce pain from carpal tunnel syndrome.
Working from home ergonomically
Working from home can be difficult and uncomfortable – particularly if this is something you aren't used to. However, there are certain things you can do to make your experience less painful and increase productivity. Here are some useful product recommendations to help you work from home comfortably:
A laptop or monitor stand
Having an appropriate stand for your laptop or monitor can support your posture and prevent bad habits such as slouching forward or hunching over your screen. If you are using a laptop, you can use an external keyboard alongside a stand.
Recommended products
Reach Spring-Assisted Monitor Arm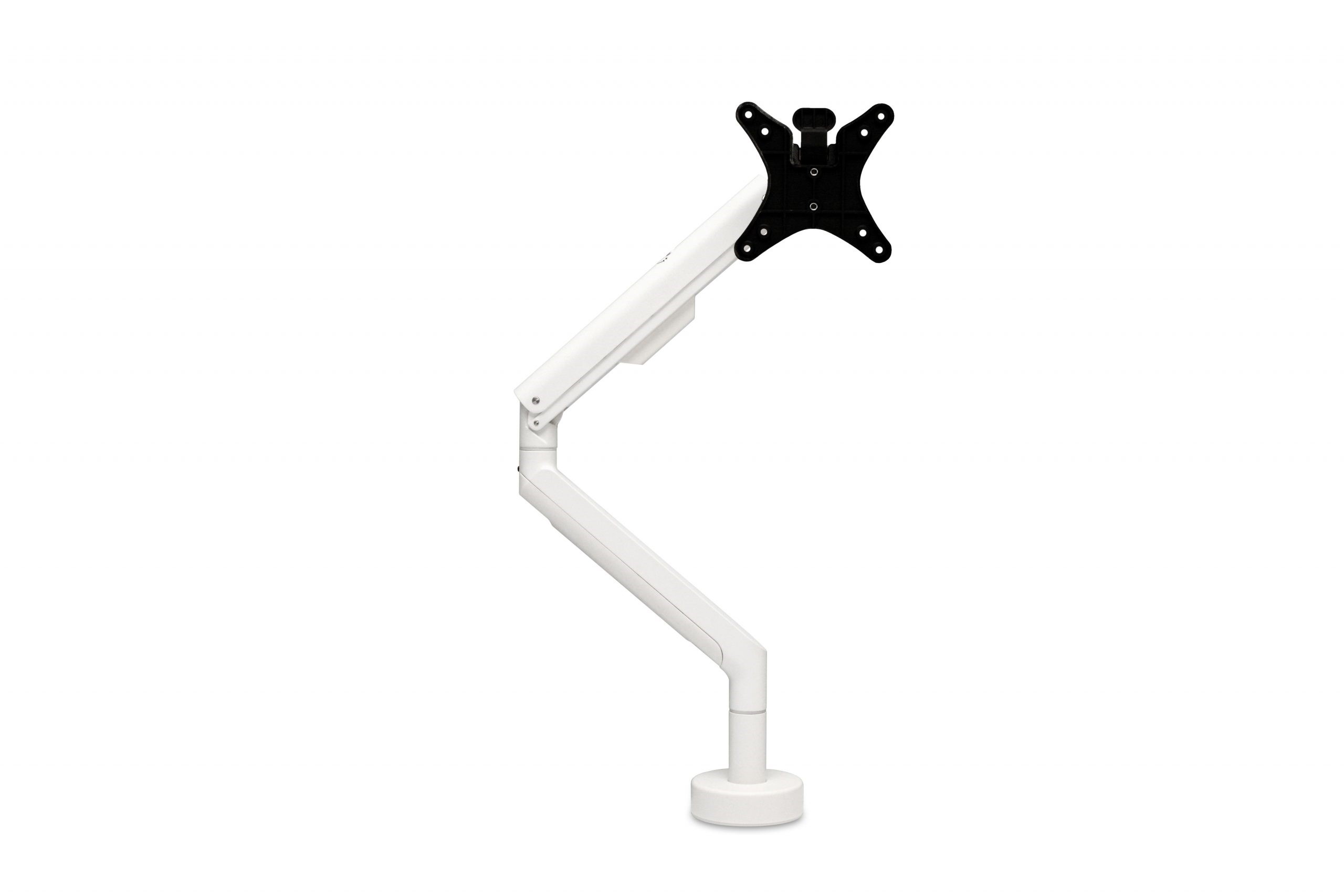 Awarded Ergonomics Excellence by FIRA
10 Year Warranty
Spring assistance for fingertip movement
Folds flat into 80mm of space
Integral cable management
Quick-release VESA (Supports VESA 75mm & 100mm)
Standard Arm supports monitor weights between 2Kg- 5Kg
Vision H Ergonomic Workstation
The Vision H Ergonomic Workstation could be the ideal desk converter for you. This product includes a single monitor or dual monitor support and a single monitor and laptop support.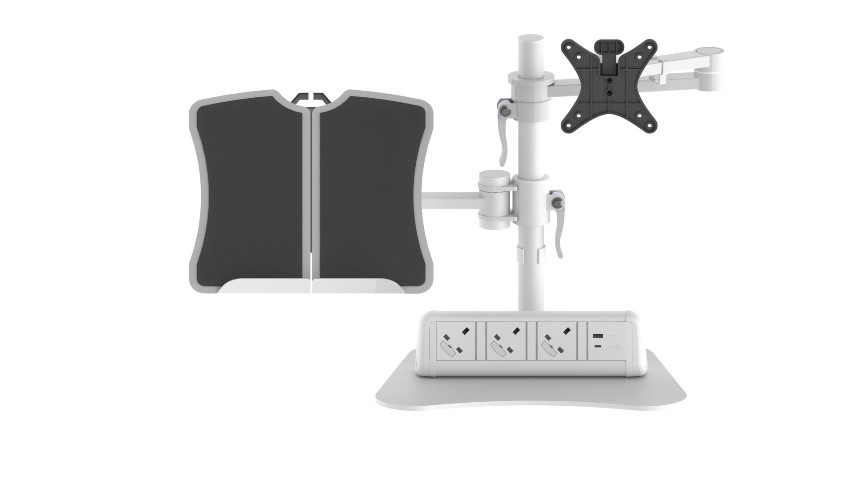 Designed for homeworking
Optional 3x power and 1x USB Type A&C charger sockets.
Includes cable management clips to secure cables to the arm and pole sections.
Supports monitors and laptops up to 5kgs (2x 5kgs when used with a dual monitor support or a single monitor and laptop support).
Quick and easy to install.
Footrests
Footrests help ensure your feet are in the best position for your posture and are a highly affordable addition to any ergonomic set-up. If you haven't got a lot of cash to spare and you want to make an instant improvement, a footrest is an all-around good choice.
A keyboard tray
A keyboard tray ensures you have plenty of room to type as well as ensuring you don't injure your wrists. If you are using an external keyboard, a tray can help to prevent common issues caused by working from a laptop.
Cable management
Cable management can prevent you from straining to reach wires and potentially pulling muscles. The spiral cable spine is a great solution for any set-up, and can ensure you don't risk injuries through straining or tripping over wires.
Are you interested in finding more products for homeworking? You can shop our homeworking bundles here.
You can also shop our range of homeworking bundles here.
Improvising while working from home
Making your homeworking set-up ergonomic doesn't have to cost a lot of money. First, consider whether you have adequate back support. If not, you can put a pillow behind you to support your back. If you don't give yourself the support your spine needs, you can end up slouching or find your posture getting worse by the day.
If you find you are slouching, consider putting your laptop higher up on something stable (if you have an external keyboard). If you have an adjustable chair – reduce your chair height. If you find you are too low down, boost yourself up with a cushion, so everything is more in line.
You can find out more about working from home ergonomically here.
Choosing desks for different heights
Standard office desks which measure 73cm tall are designed to seat people who are up to 6ft tall. Find out more here. The height of these desks means many people are likely to be sitting in a compromised working position. If you are taller or shorter than the average height and feel your desk is too high or low – it probably is!
The following is a useful table for choosing a desk that is the correct height, or adjusting it so you can work ergonomically:
| Your Height (Feet and Inches) | Seated Desk Height (cm) | Standing Desk Height (cm) |
| --- | --- | --- |
| 5' 6" | 67 | 94 |
| 5' 7" | 68 | 96.5 |
| 5' 8" | 69 | 99 |
| 5' 9" | 70 | 101.5 |
| 5' 10" | 71 | 104 |
| 5' 11" | 72 | 106.5 |
| 6' | 73 | 109 |
| 6' 1" | 74 | 111.5 |
| 6' 2" | 75 | 114 |
| 6' 3" | 76 | 117 |
| 6' 4" | 77 | 119 |
| 6' 5" | 78 | 122 |
| 6' 6" | 79 | 124.5 |
You can find out more about a desk that is the correct height in our full guide.
Standing desks are becoming an increasingly popular option, especially for workers who are much taller and shorter than the average height. There are a variety of sit-stand workstations available, such as the Active Electric Sit Stand workstation. These allow any desk to be converted into a sit stand desk, creating a height-adjustable solution.
Working from a sit-stand desk
When you are working in a standing position at a sit-stand desk, there are certain factors to consider. Firstly, try not to slouch and sit straight and upright with your legs tucked under. Foot support can be useful in keeping your feet in the correct position – to prevent injury, you may want to invest in an anti-fatigue mat. You should also check whether you can comfortably work with your arms bent at a 90-degree angle. Here are some tips for standing at a sit-stand desk:
Change positions frequently. Try and switch between sitting and standing throughout the day, and take adequate breaks.
Adjust your keyboard and mouse position. To work ergonomically, you need to have your arms and wrists in a comfortable position whilst you work. The angle between your forearm and upper arm should be between 90 degrees and 110 degrees.
Use arm supports. Armrests can help reduce the strain on your upper arms.
You can find out more about working from a sit-stand desk ergonomically here.
Working with carpal tunnel syndrome
Carpal tunnel syndrome occurs when pressure is applied to the median nerve in the wrist. This nerve works to control many muscle movements in the thumb, and it carries sensation from the fingers and thumb to the brain. When tendons surrounding the nerve become swollen, they squeeze this nerve and prevent it from working correctly, resulting in pain. Tendons and tissues in the wrist can often become swollen due to repetitive bending of the wrist or poor alignment.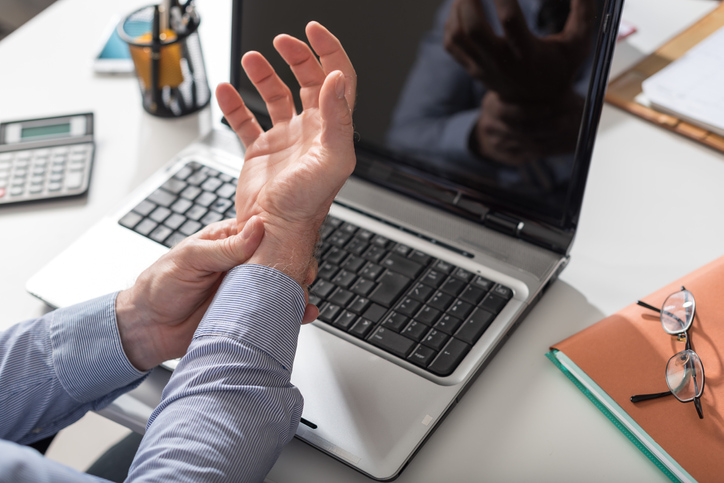 To prevent or lessen the effects of carpal tunnel syndrome, ensure your wrists are fully supported. The following tips can ensure your wrists are supported:
Wrists and hands should be in line with the forearms with elbows held close to your sides.
Try and avoid leaning on the wrists or the heel of the hand.
Invest in wrist pads to take the pressure off the wrists.
Use an ergonomic task chair with armrests.
Ergonomic keyboards can help you to maintain an optimum typing position to reduce strain on the wrists.
Consider investing in an ergonomic mouse.
You should also eliminate any clutter from your desk to prevent straining and reaching for your equipment, and this can increase the pain. A clear desk will also give you space to stretch your arms.
You can find out more about working with carpal tunnel syndrome in our full guide.
Related content
The best workstations for carpal tunnel syndrome
Using an anti-fatigue mat at a sit-stand desk
Standing vs sitting at your desk